Archived News
Tribal Council candidates speak on the issues
Wednesday, August 21, 2019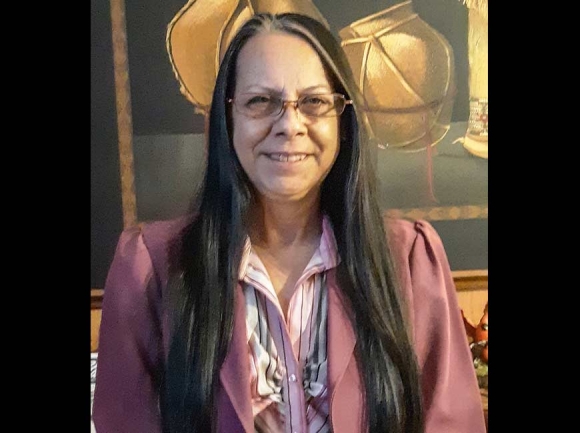 Sherry Smoker. Donated photo
When Election Day arrives in Cherokee Sept. 5, all 12 Tribal Council seats will be up for grabs, as well as the offices of principal chief and vice chief and three school board seats.
The Smoky Mountain News has sent each of the 24 candidates for Tribal Council and the two for vice chief a series of questions about various issues facing the tribe. So far, four Tribal Council candidates have responded, with the latest submission printed here.
Previously printed responses from Tribal Council candidates are available at https://bit.ly/2Z3Dtd8, and a story written following sit-down interviews with the two candidates for principal chief is online at https://bit.ly/2ZeHP0f.
Sherry Smoker, Snowbird/Cherokee County candidate
Smoker, 57, has been involved with community and tribal functions throughout her life and is looking forward to being further involved with the tribe has a whole. She is proposing the "Pay it Forward Initiative."
Reason to run: "We must prepare and educate our generations to come on how to carry our communities and the tribe forward. We must begin to heal our past and continue on to the great things to come, and I feel that I can help lead that progress in the right direction."
Top three issues: Smoker wants to see continued work toward economic diversification, given the possibility of future regional gaming competition and of a broader economic downturn; improved quality of and access to health care; and expanded access to housing, renewable energy and broadband internet.
Opinion on tribe's current direction: Things are trending in a better direction than in the not-too-distant past, but there is still plenty of room for further growth.
Transparency and the media: More transparency is needed as it relates to elections, and Tribal Council should have fewer closed sessions. Smoker would need to review the specifics of the current media policy before voting on a change but believes that having a free press is important to keeping people honest. If sessions will be recorded and broadcast anyway, why not let non-tribal outlets in too?
Housing: Many tribal members need land and housing, needs that the tribe has the ability and responsibility to fulfill. Increased housing is also necessary for non-enrolled tribal and casino employees — expanding housing opportunities for these workers will make life better for them while also providing additional revenue for the tribe.
Economic diversification: The tribe should expand bingo gaming outside of Cherokee while also partnering with ecotourism and cultural businesses to capitalize on those opportunities. Expanded internet access would help lure new businesses and allow established operations to thrive, while also enhancing educational and occupational opportunities for people currently without access.
Catawba casino: Allowing the Catawba to build a casino in North Carolina would set a dangerous national precedent, and Cherokee should pursue every legal avenue available to thwart that effort. However, were the Catawba to build on their own land in South Carolina, it would make sense for Cherokee to work with them for the benefit of both tribes.
Opioid epidemic: The new rehab center is a big leap forward in the tribe's efforts to tackle the problem, but the origin of the epidemic is big pharmaceutical companies that make billions by pumping unnecessary pills into vulnerable areas like Western North Carolina. Additional regulations are needed to govern what can be prescribed, in what quantities and by whom. Hopefully the tribe will continue to develop more resources to help those who have already been affected return to society.
Saving the language: The language can be saved with effort, determination and encouragement. The immersive experience at New Kituwah Academy is fantastic, and more such opportunities are needed.
Who's running?
Voters will choose two Tribal Council candidates to represent their community as well as a candidate for the chief and vice chief offices. Polls will be open 6 a.m. to 6 p.m. on Thursday, Sept. 5, and early voting will be held 9 a.m. to 4 p.m. through Monday, Aug. 26, at the Board of Elections office, located in the Ginger Lynn Welch Complex on Acquoni Road. Early voting dates include Saturday, Aug. 24, but not Sunday, Aug. 25. Absentee voting ends Aug. 30.
Principal Chief
Teresa McCoy *
Richard Sneed †
Vice Chief
Alan "B" Ensley †*
Jim Owle *
Birdtown Tribal Council
Albert Rose †
Boyd Owle †
Ashley Sessions
Nelson Lambert
Painttown Tribal Council
Tommye Saunooke †
Dike Sneed
Cherie Bird Rose
Pamela Sneed
Big Y/Wolfetown Tribal Council
Bo Crowe †
Bill Taylor *
Chelsea Saunooke
Nathanial "Bunsey" Crowe
Yellowhill Tribal Council
Tom Wahnetah †
David T. Wolfe †
Tawania Ensley
Stephanie Saunooke French
Big Cove Tribal Council
Fred Penick
Richard French †
Renee Long Cole
Perry Shell †
Snowbird/Cherokee County Tribal Council
Adam Wachacha †
Janell Rattler
Bucky Brown †
Sherry Smoker
Painttown School Board
Regina Ledford Rosario
Charlotte Ann Saunooke †
Big Y School Board
Sharon E. Bradley
Tara Reed-Cooper
Yellowhill School Board
† incumbent
* former councilmember