Archived News
Fair time for future farmers
Wednesday, August 14, 2019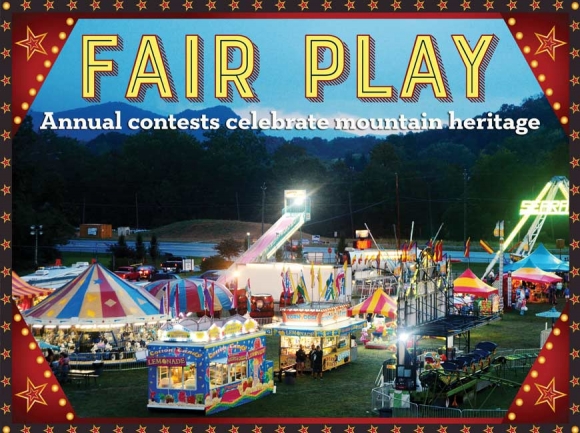 For many people the county fair conjures up images of Ferris wheels, carnival games and cotton candy, but here in Western North Carolina the annual events represent a time of year when the region's agricultural roots get to take center stage.
Of course there will be the beloved fair foods, carnival rides and children giggling on the Ferris wheel, but there will also be hundreds of gardeners, farmers, agricultural students and others signing up to show off their prized plants, produce and cattle.
Every county fair has its own focus and identity that makes it unique. While Haywood County's multi-day fair attracts those looking for both agriculture and adventure, Macon and Swain counties offer an experience more focused on old-time traditions and local heritage. Jackson County doesn't have its own agricultural fair, but Western Carolina University does have Mountain Heritage Day in September.
With Swain County kicking off fair season this weekend, folks are encouraged to attend and support the efforts of local farmers and the youth who represent the future of farmers in WNC.
Swain County
The first county fair in Swain County was only held three years ago. The first year the county extension office and the Future Farmers of America Club at Swain High School partnered with the Darnell family to hold a small agricultural fair at Darnell Farms, but the last two years the fair has been held at the county's brand new event park. The county recently purchased about 12 acres of the Inspiration Park property in Ela for an outdoor event space. Rob Hawk, extension director for Swain and Jackson counties, said the county and the Tourism Development Authority wanted outdoor space to host events but also being able to have a county fair was an important driving factor as well.
"There was a fair and livestock shows years ago in the 1940s and 50s in Swain County but there hasn't been anything a concerted effort until recently," he said. "We needed a way to celebrate agriculture, which has a rich history in Swain. The county government wanted a fair because they're really trying to focus on heritage and agriculture. It's about self sufficiency but also a large part of it is trying to get people more interested in agriculture. We lost some of that through the years just like everywhere in America."
With some interest in getting a livestock club going, the extension office made it a goal when hiring Kendra Norton last year to help develop a livestock youth club. Between that effort and the strong FFA Club at Swain High under the direction of Toby Sorrell, the newly established fair has had great participation so far from the community.
"We thought it went very well. We had a good turn out for livestock show — probably about 30 entries and everything from poultry to sheep, cattle and even some rabbits," Hawk said. "We had a lot of people from Swainthere and other counties as well. We were very pleased."
With this year's theme being "Homegrown, Handmade, Farm Fresh," the Swain County fair's entries for adults and youth will be judged by extension staff, typically from outside the county. Categories include vegetables, flowers, eggs, youth livestock, 4-H arts and crafts, quilts, jams, jellies and canned goods. There will also be old time tractors from the '40s and '50s on display, traditional demonstrations, cloggers and live music.
The fair is also a time for agricultural students to shine. When a student competes in the livestock show, it means they've spent months, if not more, learning what it takes to raise an animal. While some kids have grown up on a farm all their lives, others don't live anywhere they can keep an animal. But that doesn't mean they can't participate. Hawk said local farmers will often allow a student to keep an animal at their farm or raise one of their farm animals from a young age to allow them to get the full 4-H or FFA experience.
"The judges are looking for good animal husbandry. That's what 4-H students in essence are learning — how to take care of an animal. Have they fed it well, has it been given enough water, is it well groomed, safe handling, safe shelter — all the things to show it's been well taken care of," Hawk said. "It teaches the youth leadership and responsibility — it's not just showing the animal at the fair but they have to raise it and take care of it."
Kaylan Cochran, 11, of Swain County, will be showing her lamb at the Swain County Agricultural Fair this weekend. Donated photo
Shaylina Cochran's three young girls — Kaylan, Reagyn and Breckyn — all participate in the livestock show at the Swain County Fair. She said the tradition was passed on from her mother who lives next door.
"They picked it up at a young age from my mother. She had me and my brothers and sisters do it too when we were growing up," Shaylina said. "They seem to really enjoy it. One might phase out of it but I think the other two might be farmers one day."
Kaylan, 11, and her little sister Breckyn, 3, both work with lambs and Reagyn, 8, shows a lamb and a cow at the fair. Though 3 year olds don't compete for judges at the fair, it's never too early to start showing them the ropes.
"She loves it. That lamb is her best friend," Shaylina said. "The girls are really good at caring for them. They feed and water them and wash them a lot and they've learned how to sheer them at home."
Haywood County
The Haywood County Fair has been going on for 100 years and it's one of the largest in the region outside of the North Carolina Mountain State Fair held in Fletcher in September.
Haywood's fair attracts upward of 15,000 people over a four-day period in late August and includes something for everyone — it's a celebration of Haywood's agricultural traditions, including livestock shows, tractor pulls, horse riding competitions, farm and garden exhibits, and rabbit and poultry shows and exhibits. The fair also includes carnival rides and games, food vendors, arts and crafts, stage shows for kids, mountain music and storytelling, ice cream and watermelon eating contests, a cornhole tournament, a climbing wall, bingo and so much more.
Coley Bartholomew, a Haywood County 4-H extension agent, said it's great to see so many generations come together as a community at the fair. As an extension agent, she is in charge of collecting all the entries for the youth competitions — and there are a lot of them.
"We have about 400 entries each fall. This is really important for the kids because it's a culmination of all their hard work," she said. "They been working with animals or involved with their parents working in the garden and they're proud of what they've accomplished. It's all about bringing agriculture into the younger generation."
The fair competitions go far beyond livestock though — there are categories for artwork, photography, baked goods, vegetables and flowers, canned goods, honey, jewelry, quilting and other handiwork. Bartholomew said the fair provides a great opportunity for the youth to explore different aspects of traditional Appalachian culture and learn about where their food comes from.
"It gives them a chance to explore their interests and especially with the 4-H aspect, they're learning about healthy living while celebrating agriculture as a community and as a family," she said.
The 4-H Livestock Club will present the livestock show at the fair Friday, Aug. 23. Personally, Bartholomew loves to watch the Cloverbuds show their animals. Cloverbuds are 4-H'ers ages 5 to 8 who show animals during the livestock shows.
School children learn how to milk a cow at the Haywood County Fair. Jessi Stone photo
"They work with animals like lambs to get comfortable leading them around the ring," she said. "It's non-competitive so we're just making an effort to celebrate their successes. They are so excited and when you hand them the trophy they look like they just got a million dollars."
For the older students, the Haywood County Fair is the kick off of the showing season as many of them will go on to compete regionally in the N.C. Mountain State Fair in September and then hopefully in the N.C. State Fair in Raleigh in October.
With fewer families living on farms these days, Bartholomew said it was important for the extension service, FFA and 4-H Clubs to help expose youth to growing and preserving food, raising livestock and other self-sufficient mountain traditions.
"Lot of kids don't really get a chance to see a lot of agricultural heritage so the fair can be their first exposure to it. Luckily, we have strong programs in the schools," she said. "Learning to grow and pruduce your own food and prepare it is one of the strongest indicators for healthy living and once you're exposed to having a garden the more likely you're going to do it later in life."
Macon County
Carnival rides won't be found at the Macon County Agricultural Fair next month — it's strictly focused on the old-time traditions of Southern Appalachia.
"According to the fair board, the fair began back in 1953 so this last year marked the 65th year of the fair and it originally was held at Franklin High School," said Alan Durden, Macon County extension director. "And it's always been pretty much the way it is now — focused mainly on what individuals produce in Macon County whether it's crafts, baked goods, canned goods, flowers, fruits, vegetables or whatever it may be."
Despite a lack of carnival rides like the ones offered in Haywood or at the state fairs, Macon County and its residents are proud of their agricultural roots and many take their entries very seriously. Where else can one find appreciation and recognition for their giant pumpkin, the largest sunflower or the perfect jar of honey? With hundreds of entries into different categories each year, Durden said people work hard to ensure their entry meets all the criteria the judges will be considering.
"In Macon, it's simply a tradition we've had for a long time — even before this fair got started there were probably county fairs back in the '30s that were never really a regular, organized event," Durden said. "In a big way it's a social gathering and a way to support agriculture, local businesses and community nonprofits."
All of the livestock showings are done by the youth in Macon County and most of the livestock are raised and fitted by the youth as well thanks to help from the cooperative extension's market lamb and market steer programs. Durden said the programs help young students learn how to feed and groom the livestock and how to show it properly while in the ring.
The Macon County Poultry Club hosts exhibits and works with 4-H students to prepare them for a poultry showmanship program.
"You never think about showing a chicken at the fair but there are proper ways to do it," Durden laughed.
For those who have never experienced an old-time county fair, Durden encourages them to come out and see what it's all about. It's not too late to enter your blue ribbon worthy produce or handicraft. The fair is free to the public, which means the Macon County Fair Board has to fundraise throughout the year to cover costs. Donations of any amount are appreciated to keep the tradition going.
Haywood County students check out the ribbon winning canned goods at the 2016 county fair. Jessi Stone photo
Fairs
Swain County Agricultural Fair
• Noon to 6 p.m. Saturday, Aug. 17
• Swain County Event Park, 1130 Hyatt Creek Rd., Bryson City
• Free admission
• https://swain.ces.ncsu.edu/2019/05/2019-swain-county-agricultural-fair/
Haywood County Fair
• Thursday, Aug. 22 through Sunday, Aug. 25
• Haywood County Fairgrounds, 758 Crabtree Rd.
• $5 per car load
• www.haywoodcountyfairgrounds.org
Macon County Agricultural Fair
• Sept. 11 through Sept. 14
• Wayne Proffitt Agricultural Center (Macon County Fairgrounds), 1436 Georgia Rd., Franklin
• Free admission
• https://macon.ces.ncsu.edu/categories/4-h-youth-development/
Mountain Heritage Day
• 10 a.m. to 5 p.m. Saturday, Sept. 28
• Western Carolina University's Mountain Heritage Center
• Free admission