Archived Outdoors
The Naturalist's Corner: Speak up
Wednesday, August 07, 2019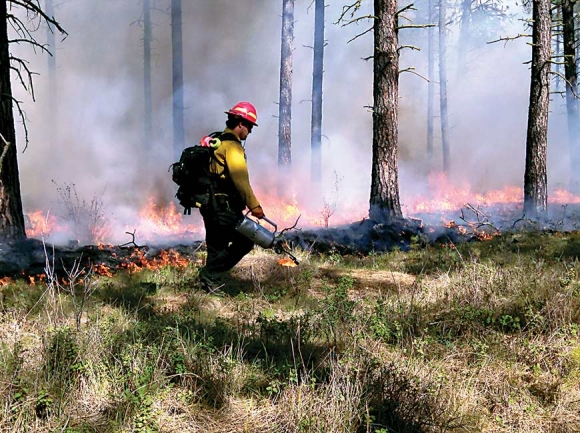 Prescribed burns are one method Forest Service uses to mitigate for wildfires. creative commons photo
If you want the opportunity to have knowledge about and input on actions, policies and/or decisions affecting property you own, you need to speak up now. The present administration and the USDA Forest Service announced, in June, plans to "streamline" the National Environmental Policy Act (NEPA) protocols when it comes to actions receiving federal funding on federal lands, which the public owns.
If you're a fisherman or woman this "streamlining" may more resemble "gutting" the NEPA process. Some of the actions it would allow without public notification and/or comment include allowing logging on up to 4,200 acres or 6.6 square miles; building five miles of new roads and/or closing existing roads; or allowing mining projects smaller than 640 acres. These actions would be allowed under a process called categorical exclusions or CEs. Up to 75 percent of current Forest Service actions that require environmental analyses and/or public comment could be executed under these new CEs and modifications to current CEs with no public notice, no public comment and no environmental analysis.
The Forest Service and proponents of this new rule constantly point to insect infestations and more prevalent catastrophic wildfire as needs for implementing the new rule. However, according to Josh Kelly, public lands field biologist with MountainTrue, in a piece he wrote for the Transylvania Times, "The Forest Service already has more than a dozen CEs that preclude the requirement for development of alternatives and that shorten the period of public input. The existing CEs are fairly broad and cover many actions, including those to address forest pests and disease on up to 2,000 acres at a time and wildfire risks on up to 4,000 acres at a time. The insect and disease CE has been used to good effect on Pisgah National Forest to allow the treatment of ash trees for emerald ash borer, to reduce the risk of severe fire and to restore yellow pines."
NEPA was years in the making, likely dating back to a 1967 task force report directed to the Secretary of Health Education and Welfare called "A Strategy for a Livable Environment" amid growing concern about environmental abuses generated by the industrial and economic boom following World War II. It can be onerous at times and surely could use some streamlining – not gutting. You can take a look at some of NEPA's success stories here: www.nrdc.org/resources/never-eliminate-public-advice-nepa-success-stories.
Kelly told me a good analogy for the NEPA process would be if you were considering building a home. One would do all the groundwork first, selecting a site, getting architectural plans having a good framework before you actually begin construction — that's what NEPA does, he said.
We don't need to scrap it. Rather, "We need to continue building on the successes of collaborative management and stewardship and scale up for more success. The Forest Service has all of the authorities it needs to complete its mission. What is needed is continued progress on the current path, not shortcuts," Kelly wrote.
Kelly said by commenting you can, "show your support for NEPA and value your right as a citizen to oversee government policy."
There are several ways to comment according to the Forest Service: Go to the Federal eRulemaking Portal. You may submit a comment by clicking on "Comment Now!"
Mail written comments to USDA-Forest Service Attn: Amy Barker, USDA Forest Service, Geospatial Technology and Applications Center, 125 South State Street, Suite 7105, Salt Lake City, UT 84138.
There is also a link for commenting at https://mountaintrue.org/take-action-protect-the-publics-role-in-public-lands/ and/or the Southern Environmental Law Center's action page http://ourforestsourvoice.org.
I imagine many of you are like I with friends who are biologists, botanists, foresters, technicians etc with the Forest Service — who you likely trust implicitly. But there are a few things to consider — all too often these employees are left to implement plans passed down to them — who will be in their place 20 years from now — and even if these actions are much needed and results will be welcomed, it's still my property and I want to be informed.
(Don Hendershot is a writer and naturalist. His book, A Year From the Naturalist's Corner, Vol. 1, is available at regional bookstores or by contacting Don at This email address is being protected from spambots. You need JavaScript enabled to view it.)