Archived Reading Room
The Great Escape? Read a book
Wednesday, August 07, 2019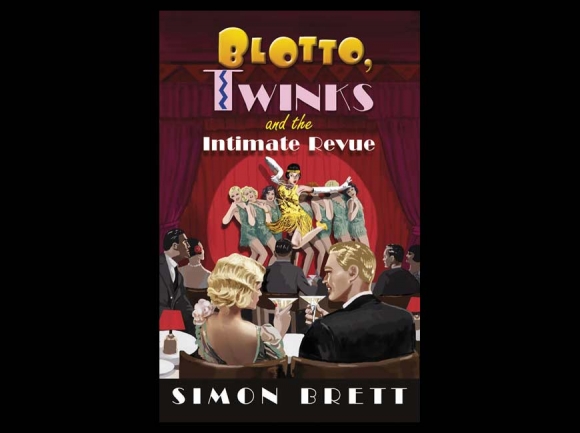 July had come and gone, a month filled with obligations, all of them good, but exhaustion walked hand in hand with those commitments. Often I was tired just kicking off the sheets in the morning. Various projects gobbled up the hours of those long days, and by the time I crashed into my mattress at night, I was one with the walking dead.
A vacation wasn't an option, and I've never done well lounging about in the backyard, twiddling my thumbs and contemplating the sunset. And no omphaloskepsis for me, thank you very much. If I'm going to gaze at someone's navel, bring me the Queen of Sheba.
At any rate, I needed a break.
I needed some fun.
I needed a book.
And Blotto, Twinks and the Intimate Revue (Constable, 2018, 201 pages) came to the rescue.
British novelist Simon Britt's story of Blotto and Twinks, siblings who are also amateur detectives, is the silliest, most absurd novel I've read in a long time. Perhaps ever. Just when you think the plot can't possibly get more daft, Britt ladles on another dipper of nonsense: kidnappings, unreal coincidences, Blotto and Twinks trying to escape arranged marriages, a revolution concocted by Barmy Evans, a Welshman with plans to put rich toffs like Blotto and Twinks to work in the coalmines and insert the coalminers into their estates.
The story begins when Giles "Whiffler" Tortington, who has fallen in love with a revue dancer, Frou-Frou Gavotte, is kidnapped. Blotto, whose light bulb is dimmer than most, witnesses the kidnapping, and he and Twinks, who is "a woman of astonishing intellect and remarkable beauty," determine to rescue Whiffler. These two aristocrats enter the world of the London stage, brush elbows with ruffians who have set up a shady business marrying aristocrats to stage girls, and find themselves hunted by the evil Barmy Evans. At one point, Twinks — her real name is Honoria Lyminster — passes muster when she disguises herself first as a Cockney singer and dancer, and later as a man, while brother Blotto, aka Devereux, bumbles in and out of dire situations, armed only with his impenetrable ignorance and his beloved cricket bat.
It is not the plot, however, that amuses so much as the language. Here is P.G. Wodehouse, the creator of Jeeves and Bertie Wooster, on steroids. Let's listen in as Blotto argues with the impresario of the revue, a Frenchman, over his treatment of his female performers:
"Dolly," snarled the impresario, "you are just such a common slut!"
"Now rein in the roans a moment there," said Blotto. "Don't forget you are talking to a lady."
"Lady? If that's a lady, I'm a Dutchman."
"Well, you're not a Dutchman," asserted Blotto, "but you still suffer the appalling disadvantage of not being British. You're a Frenchman, which is an even worse kind of stencher."
"How dare you speak of my countrymen like that?" His Gallic temperament flared. "You are speaking of the country of Napoleon."
"Tickey-Tockey," Blotto agreed. "But we're speaking in the country of Wellington. And we all know how that particular ding-dong turned out, don't we?"
In this next exchange, Twinks is questioning her brother about a woman he'd met who now won't speak to him. Twinks asks Blotto if he didn't say something to the woman that "put lumps in her custard:"
Blotto searched the contents of his brain. It didn't take long. "Can't think of anything. We parted as harmonious as two swallows on a telegraph wire."
"What, you saw the young thimble to a cab?"
"No, she had her own 'special taxi service.'"
"And what's that when it's got spats on?"
"A black saloon with tinted glass in the window."
On and on and on it goes. Frou-Frou Gavotte is "an absolute eyewobbler" and "as English as a ham sandwich with mustard, though with a "spoffing odd name." Admitting to a mistake, Blotto declares himself as "shinnying up the wrong drainpipe." Whiffler's desire to marry Frou-Frou "could, by Blotto's reckoning, cause an eruption comparable to that of Krakatoa." Though Blotto is a "fluent fat-chewer, Whiffler's announcement had momentarily robbed him of the power of speech."
All of this linguistic gusto occurs on one single page.
If you're in the mood for some wild antics and champagne prose, give Blotto, Twinks and the Intimate Revue a look.
Tickey-Tockey.
•••
If instead of humor you're looking for an adventure to sweep you away from your fatigue or ennui, let me recommend Rafael Sabatini's Captain Blood.
Nearly a century in print, mention of Captain Blood kept popping up over the years in various books that passed through my hands, yet I never hunted down the novel, believing it to be some tale of a pirate furnished with a hackneyed plot, flat characters, and wooden dialogue.
Boy, was I ever wrong.
Here is the saga of Peter Blood, physician and former soldier of fortune, who in late seventeenth century England is falsely accused of treason and shipped off as a slave to Barbados. He wins his freedom when he and some other slaves take over a lightly guarded Spanish warship at anchor while her soldiers and sailors ransack the English colony. A man of honor and grit, Blood soon wins the respect of other buccaneers as well as many high-ranking citizens. This tale of romance and warfare on the high seas, of a good man wronged, also polishes up the meaning of some words we neglect today to our shame: courage, honor, prudence, true wisdom.
In 1,000 Books to Read Before You Die, renowned book-lover and critic James Mustich says of Captain Blood "the book dares you to put it down. You won't."
He was right. I didn't.
(Jeff Minick is a writer and teacher. This email address is being protected from spambots. You need JavaScript enabled to view it.)