Archived Opinion
Like canaries in a coal mine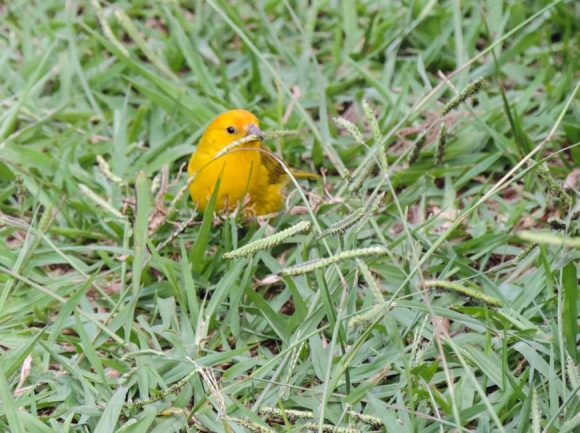 Photo by ctroque1 from FreeImages
By Sandi Sox • Guest Columnist
I have been haunted this week by words Kathryn Stripling Byer wrote in a piece about changes around her home near Cullowhee. "We are losing our homes," she wrote.
Denuding paradise to erect strip malls and apartment complexes is certainly heartrending, especially when ugliness slouches ever closer while you watch from your front yard.
What awakens me in the middle of the night, however, and keeps me sitting up in the darkness is the singular of the sentence Byer quoted. "We are losing our home." I cannot stop repeating that line in my head.
No developer is likely to take my home by eminent domain, but day by day, my home moves inexorably closer to becoming a place where I, and creatures like me, cannot live. It's no use putting up a fence or buying a gun to defend what is mine. "We have met the enemy," said Pogo, "and he is us." We humans are masters of the earth, or so we believe, and we have failed in our obligation.
"Well, I'm no scientist," disingenuous politicians say. Well, sir, neither am I, but these things I can observe.
It was 115 degrees in Paris yesterday — France, not Texas. Manatees have more than once been spotted off the North Carolina coast, about 600 miles away from their homes. Peaches in South Carolina and Georgia are ripening a month earlier, and the peak of autumn color in Western North Carolina is edging toward Christmas. Glaciers are crashing into the oceans, and the levees won't hold. Amphibians go extinct when the temperature gets too high for their gut microbes to survive. Extinct means not ever coming back. Like the manatees, those creatures who can are running and swimming for their lives. A stranded polar bear doesn't know where to go.
The whole subject of losing our home is mind-numbingly immense, complex and terrifying. I can hardly find the right words to talk about it. I feel like there are no words.
Improbably, I began to think about canaries in coal mines this week. It was in the context of beauty and innocence and loss.
Miners no longer use canaries to detect carbon monoxide underground. They used to carry the little birds down into the mines, each bird in its tiny cage. I've tried to visualize the bright gold feathers disappearing into the darkness. Does a canary sing in the dark, sending its clear, ecstatic notes into the void? I think so, because miners would whistle to their birds, expecting surely to hear something in return.
Canaries detect carbon monoxide by dying, of course, when the level is too high. I've often wondered just how much time a miner had available for escape once the canary died. I don't know, but those miners got it. They understood, without being trained scientists, that if the bird can't live in a poisoned environment, neither could they. Canaries are a designated sentinel species — animals who give their lives to help humans. It's an honor bestowed posthumously.
These days, the coal industries use flame lamps, digital dials and gadgets to detect and warn miners about noxious threats. I think this is one of the points in history where humankind has made a fatal mistake. When miners stopped using canaries and began using gadgets, humankind clicked forward a notch in the belief that we are somehow different from canaries and other living creatures. We don't have to worry about a poisoned environment. We are exempt because we have technology, which is the modern equivalent of snake oil — which claims to cure all ills.
I think we may not be as smart as our ancestor miners. Birds are dying and have been for some time now, and other sentinel species are crying out, "warning, warning." But we still don't get it. I wonder how much of our allotted time is left.
Do we have time to gather around the TV to watch political debates that would do Barnum and Bailey proud? Do we have time to joke while an amoral pied-piper leads us proudly over the brink of extinction? The answer is: I don't know.
I do know that we are not as different as we like to think from other species. The fact is, there are more non-human microbes in our bodies than there are human cells. We are in no way separate from the non-human world, and we can't live if they can't live.
I think another of humankind's fatal flaws is that we have convinced ourselves that we are also different from other members of our own species. We have so many labels to assure ourselves that this is the case. Tribalism is a word I hear often these days. "My tribe is surely the right tribe, and I will defend this to the grave" — to all our graves apparently.
I too want to run for my life. I have already moved my gut microbes away from the coast to the mountains to escape the heat and the ever-present threat of powerful storms. When I got here, I found that I was living in a habitat that is also rapidly changing.
I will soon be 70 years old, and I am ashamed at how I have been distracted for most of my life by meaningless activities and concerns. I have missed so much. Now, I want to run here and there and drink in the beauties of my home in giant gulps before it is too late. But I can't run, and I cannot absorb the complexity of a double-petaled peony or the roar of a hummingbird's wings in giant gulps. Mindfulness requires stillness and time.
I have so little time, and there seems so little I can do. But that does not excuse me from responsibility. Future generations will not absolve me. Buddhist writers say, "Start where you are." I want to start by advocating that we return to the canary standard. Our fate is in lock step with theirs, and we have to stop pretending that it isn't.
I will return to Kathryn Stripling Byer, who wrote that we restore our home "word by word and line by line." While that is a metaphor, it is also literally true. I have to use my talents, whatever they may be, to help myself and others of my species. I have to find and speak the difficult words, and I am going to have to give up my thoughtless destructive ways. I'm not going to like it, but I have to do it. Survival is not just about me or the birds, the polar bears, and the manatees. It is also about human children, who deserve to be able to live in our home just as we have.