Archived Opinion
Drinking in the memories at the beach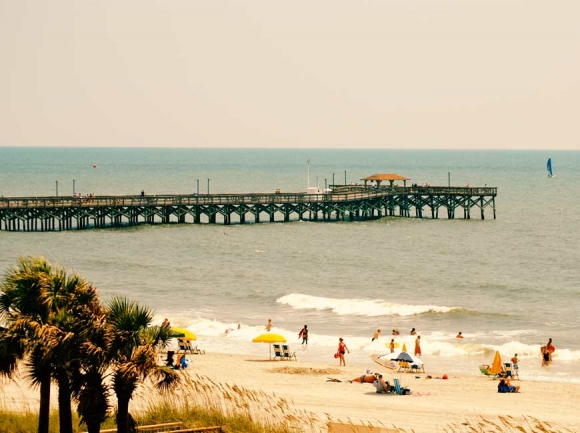 Photo by Thomas Gaudet from FreeImages
We had plans to take the kids to a remote island outside of Charleston for a summer beach trip. I had visions of cooking big meals, walking on the barren sand, quiet evenings and mornings on a balcony, perhaps some fishing and kayaking off a sound.
But, the universe had other plans, and sometimes, the universe knows best.
The place we were to stay near Charleston was being renovated and due to renovations not being finished, our trip was rerouted to Myrtle Beach, and as any Southerner knows, Myrtle Beach is much different than the Low Country.
While I've come to appreciate a quiet, subdued beach experience, I spent all of my childhood and adolescent summers at the bustling, rowdy Ocean Lakes campground in Surfside Beach, just a few miles south of Myrtle's Grand Strand.
During the early years, we had a little blue and white camper set up on Sharks Tooth Trail toward the back of the campground, then later, we bought a small unit that was more like a nice mobile home with two bedrooms and a deck. Because we owned the property, we never went to the lake or a different beach. All of my spring breaks, Labor Day and Memorial Day weekends, Fourth of July holidays, and summer vacations were spent at Ocean Lakes.
At lunchtime, we'd take a break from the surf and sand to stuff our bellies with homemade deli sandwiches, watermelon and BBQ potato chips. For dinner, we'd grill out burgers and hot dogs, or make spaghetti or tacos in the tiny kitchen.
After dinner, if we weren't catching fireflies, playing cards or swatting mosquitoes, we were competing at a local putt-putt place or sporting wrist bands at the Myrtle Beach Pavilion so we could ride roller coasters, the Gravitron and the pirate ship to our hearts' content.
The Myrtle Beach area is woven throughout my family fiber. My grandparents and parents all spent their vacations in Surfside or Garden City as well. The older generations sometimes call it the "seashore." When I think of them going to the seashore, I think of women in mod swimsuits and men with James Dean smiles and hair styled with Pomade. I think of shag dancing and Otis Redding, of Ferris wheels on piers, and classic Chevys or Mustang convertibles cruising down Ocean Boulevard. Thinking these thoughts just makes me smile.
My parents sold our property at Ocean Lakes when I was in college. My sister and I were doing our own traveling at that point and the homeowners' fees and what not just didn't seem worth it. During my early 20s, we started visiting the Outer Banks, Folly Beach and other more low-key destinations.
But, a piece of my heart will always be in Myrtle Beach.
One month before my mom passed away, she and I were sitting side by side at another heartbreaking funeral. She put her arm around me and said, "I want to be cremated and my ashes scattered in the sea near Ocean Lakes." I remember shaking off her comment, feeling uneasy when she talked about death. She was very sick at that time so dying had become a real possibility to her, but I was still trying to ignore the fact.
A month later, when she slipped into the great mystery, I was so grateful for that conversation and having clarity about what she wanted. So, we did just what she asked. We went to Ocean Lakes, sent her ashes out to sea and allowed decades of memories to rush out of our mouths and mix with the tears on our cheeks.
And now, as I sit here in Myrtle Beach with my boyfriend, Matthew, and four sweet kids, it feels serendipitous. Fate altered our plans and brought us here. It's the first trip to the Grand Strand since we said goodbye to my mom, and it feels both emotional and wonderful to be back.
I've also decided, no matter the generation or exact location, the beach is a magical place to be. Those of us from the Carolinas have a special fondness toward the sea. It's part of our heritage and history. Most of us Carolinians grew up going to North Carolina or South Carolina beaches.
The seashore is a special place that holds a large piece of my life and soul. I can't pinpoint one exact thing that makes it so unique. I don't know if it's the vastness of the ocean, the sounds of the seagulls, or the healing nature of the sea air, but whatever it is, I always leave feeling refreshed and enlightened, my restless spirit calmed.
Ralph Waldo Emerson once said, "Live in the sunshine, swim the sea, drink the wild air." This week, that's exactly what I plan to do.
(Susanna Shetley is marketing specialist who also writes and edits for The Smoky Mountain News and Smoky Mountain Living magazine. This email address is being protected from spambots. You need JavaScript enabled to view it.)