Archived Arts & Entertainment
Fred Chappell releases new poetry collection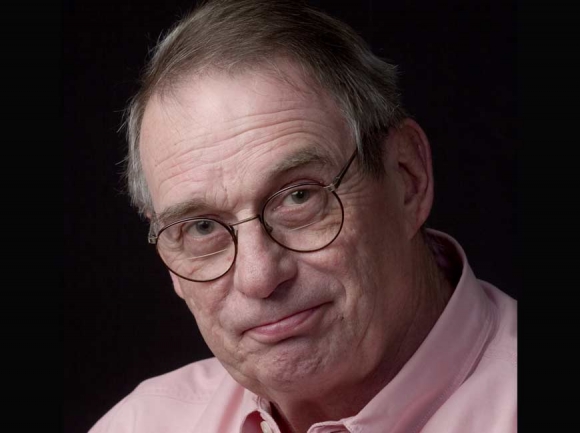 Fred Chappell.
The purpose of a writer is to take observations on life and distill those sights and sounds into words and sentiments reflecting the way the wind is blowing at a particular juncture in time.
It's also a purpose as to show the reader just how common and repetitive the themes of human nature are throughout the centuries and millennia. For we as a species tend to not stray far from our usual thoughts and actions: love and hate, fear and compassion, war and peace.
So, it's no wonder there's a "nothing's the same, everything's the same" vibrancy drifting through Fred Chappell's latest poetry collection, As If It Were.
The idea for the collection was sparked by Chappell's deep love of ancient fables, where he takes the observations, wisdoms and lessons learned in the earliest days of civilization and applies it to our 21st century modern world.
A Haywood County native, Chappell, now 83, has lived quite an existence as a writer. His catalog includes over 30 books of poetry and prose. He's received the Bollingen Prize, the T. S. Eliot Award, and the Thomas Wolfe Prize. And he was the poet laureate of North Carolina from 1997 to 2002.
But, through it all — the diligent work ethic and meanderings within Southern Appalachia — Chappell remains mesmerized by the high peaks and low valleys of his youth in Western North Carolina, of "places, people, rivers, sky, animals and a dog named Trix."
Smoky Mountain News: What was kind of the mindset and thought process behind the new poetry collection?
Fred Chappell: Well, I've always enjoyed the fables of yesterday, of ancient days. And I thought it'd be fun to present them in new versions — in poetry, verse, rhyme, and song. So, I tried to make it worldwide, trying to get them from all kinds of different sources, but mostly from ancient Greece. It's a Trumpian universe in the fables, at least in these fables — dog eat dog, devil take the hindmost, might makes right, so forth and so on.
SMN: What do see when you look out at the world today? In your time, you've witnessed a lot and also have a lot of wisdom to pull from…
FC: It's interesting to see Aesop's Fables, in particular, and the other ancient fables, and be able to highlight — through fable form — the worst parts of our human nature, so to speak. It's just fun to bring to light the things that seem very obvious to us, but what seems obvious — that means you're overlooking something.
SMN: Are you optimistic about the future?
FC: If there is one, I would be. I'm not optimistic right this moment. But, I've been down this road before, back during the early 1950s and the McCarthy era. And we came out of that OK. So, I think we will with this one, too.
SMN: At 83, how are you doing? What's your perspective these days?
FC: Well, when I look at from my usual haunts — doctor's waiting rooms and funeral parlors — I see it's a really pretty day outside. Not too hot, got some sunshine and a little breeze. And what I think I'll do is seize it. It was my lot in life to be called to write and I stepped up to the plate — struck out a whole lot of times, and once or twice did not. [The role of the poet and the writer] is to express what people don't want to acknowledge, to acknowledge what people don't want to express.
SMN: What was the best advice you ever got, in terms of writing, and of life, too?
FC: That's a very hard question to answer, because I don't know whether I've evolved or moved sideways. The only advice that means anything is "never say die." You're going to write no matter what, so do the best you can. I see just what I saw before — a whole universe that has to be expressed. [Life] has taught me a very familiar and important lesson that took a long time to absorb — which is to shut up and listen.
Want to go?
Acclaimed writer/poet Fred Chappell will present his new poetry collection As If It Were at 6:30 p.m. Friday, Aug. 2, at City Lights Bookstore in Sylva.
Inspired by ancient, modern, and contemporary writings, Chappell's sprightly new collection of verse presents tales, anecdotes, pointed stories, and aphorisms to spark the conscience of readers young and old.
Playful and even zany, the humor in these poems pulls readers into a world filled with noble lions, crafty foxes, predacious wolves, longsuffering asses, and fashionable peacocks.
To reserve copies of As If It Were, call City Lights Bookstore at 828.586.9499.