Archived News
Full slate of candidates in Franklin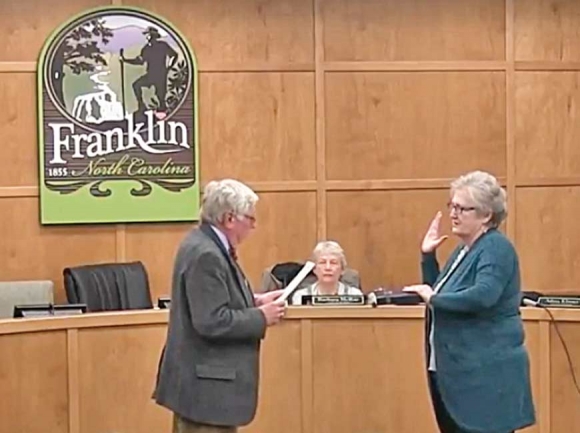 Franklin Mayor Bob Scott swears in Dinah Mashburn to fill the unexpired term of her late husband Billy Mashburn in January 2018.
Now that the sign-up period is over, there's a full slate of candidates running for seats on the Franklin Town Council.
Three four-year seats are open on the board and eight candidates have signed up to run, including two incumbents. While incumbent Adam Kimsey — who served one four-year term — is stepping down, incumbents Joe Collins and Brandon McMahan signed up to reclaim their seats.
They will be challenged by TJ Wright, Jack Horton, Michael Lewis, Daniel Coates, Charles Kevin Klatt and Peter Mosco. Some of the names are new to town politics while others are quite familiar. Horton has served two stints as Macon County's manager — 1985-1991 and again from 2008 until he retired in 2013. He also served as the county manager for Haywood County from 1991 until 2006.
Lewis is a civilian employee with the Macon County Sheriff's Office and worked as a reporter and then news editor at The Franklin Press from 2003-2015.
Then there is a two-year unexpired term open on the board. Councilmember Billy Mashburn passed away just days before the 2017 municipal election, but he was still re-elected to the board. The Town Council decided to appoint his widow Dinah Mashburn to the board to fill his seat until the next election. Now Dinah is running unopposed to fill the remainder of Billy's term.
The mayor's seat is also up for re-election this year. Incumbent Mayor Bob Scott signed up to run for his fourth two-year term and current Councilmember Barbara McRae is challenging him for the seat. If McRae loses the mayoral race, she will be able to keep her seat on the board and serve out her remaining two years, but if she wins the board will have to appoint someone to fill her vacated seat.
Klatt is the owner of Ruby City Gems & Minerals.
Mosco was a building contractor for 25 years, is a licensed Realtor and broker and has served on the town's Planning and Zoning Board of Appeals board since 2013.
Incumbent Councilmember Joe Collins, a local attorney, served as Franklin's mayor for 10 years before retiring in 2013. He is running for his second term on the board. McMahan is also running for a second term after being the top vote-getter in the 2015 election. Once the co-owner of The Rathskeller Coffee Haus & Pub in downtown, McMahan is now an elementary school teacher in Macon County.
Highlands Board of Commissioners has three seats open and seven candidates have signed up to run:
• John "Buzz" Dotson (incumbent)
• Eric Pierson (incumbent)
• Mark Hehn
• Hank "Henry" Ross
• Nicholas McCall
• Brian Stiehler (incumbent)
• Michael David Rogers