Archived Arts & Entertainment
Sylva Art + Design Committee gets the ball rolling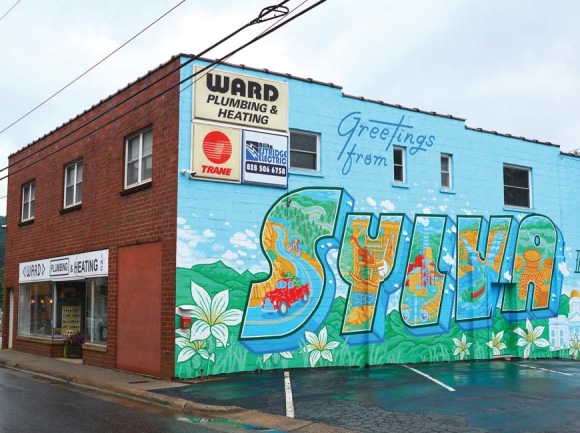 The mural on the Ward Plumbing & Heating Building on Mill Street in downtown Sylva. (photos: Garret K. Woodward)
Huddled around a table at the White Moon Coffee Shop on Mill Street in downtown Sylva one recent rainy afternoon, Kendall Waldrop, Georganna Seamon and Don Panicko discuss the group's latest endeavor — the Sylva Art + Design Committee.
"We not only focus on public art displays, but also other things around the community — building rehabilitation, art walks, new development, cleanup, landscaping," Seamon said. "It's been great to have new people involved that are excited to be part of this organization and make it grow."
Formerly the Sylva Public Art Committee (SPAC), the Sylva Art + Design Committee (SADC) is a new and improved version of the SPAC, of which several downtown business owners and artists have come onboard in support.
The SADC's aim is to combine older and contemporary ideas for positive artistic and economic growth within the small mountain town. Now in motion, the pursuits of the SADC are quickly coming to fruition.
Whereas the SPAC was under the banner and supervision of the Town of Sylva, the SADC is now under the guidance of the Main Street Sylva Association (MSSA) as a subcommittee of the nonprofit. Both the Town of Sylva and the SPAC felt it was mutually beneficial to have the art committee transition over to the MSSA.
"Everything we did had with the SPAC had to be approved by the town board — it was a lot more regimented," said Waldrop, a local interior designer. "Getting things done wasn't as streamlined of a task as it is now with the SADC. For us to be under the MSSA, it's a lot easier to get funding and also be able to conduct meetings and make our ideas comes to life."
Though the SPAC is now dissolved, it did, however, achieve one great milestone in its tenure — the "Greetings from Sylva N.C." mural. Funded by a $10,000 art grant, the giant painting is now prominently displayed on the side of the Ward Plumbing & Heating Building right on Mill Street (and just across the street from White Moon Coffee Shop).
Midway through the rainy-day conversation, Kendall's husband, Brad Waldrop, who's the owner of Ward Plumbing & Heating, has just closed up the business for the day and entered the coffee shop. Proud of the mural and what it represents, Brad — a native Jackson County resident — is the first to speak to the importance of art and artists being showcased in our mountain communities.
"Sylva needs art that's public because art enriches the experience when visiting the town," Brad said. "A lot of our commerce in Jackson County and Western North Carolina is dependent upon tourism, with arts and crafts being a big part of Appalachian culture — it's important to have Appalachian-themed art in and around the community."
Situated across the table from Brad is Seamon. A relatively new addition to the residential and business sectors of Sylva, she opened up Black Balsam Outdoors on Mill Street earlier this year.
"I've seen a lot of growth in Sylva in the eight months I've been here, and it's worthwhile to me because I'm making this place my home," Seamon said. "I have my business here. And I want people to come here and have a quality place to live and shop."
Georganna Seamon, Kendall Waldrop and Don Panicko.
"I definitely see the worth is promoting the arts and artists through the SADC. It brings people to Sylva and showcases our community and its businesses," said Panicko, owner of White Moon Coffee Shop. "When I first stumbled upon Sylva, I was inspired by the way it was — and is — and realizing that artists are what are actually bringing in the people. And I don't think there are a lot of places left where an artist can make a living doing their craft, but Sylva is one of those places."
With only a few months since its inception, the SADC will be hosting its first "Pop Up Gallery" on July 26 at Black Balsam Outdoors. The event will feature an array of local artisans, with a portion of the proceeds supporting future SADC events through the MSSA.
"If we as a community can collectively gather artists young and old, we now have this welcoming platform for all artists and local businesses to come and work together — where there's art there's people," Panicko said.
Want to go?
The Sylva Art + Design Committee will present its Pop-Up Art Gallery from 6 to 9 p.m. Friday, July 26, at Black Balsam Outdoors in downtown Sylva.
This public art installation will showcase the original work of over 20 local artists and includes pottery, watercolors, masks, jewelry, woodworking, crafts, acrylics, mixed media, photography, ceramics, and more.
Wine and light hors d'oeuvres will be served. All the work is for sale, prices range from $20-$350, and a portion of the proceeds will support future SADC events through the Main Street Sylva Association.
For updates, to join or to make a monetary donation to the SADC, go to Facebook and search "Sylva Art + Design." You can also find the organization on Instagram: @sylvaartdesigncommittee.