Archived Arts & Entertainment
This must be the place: If the thunder don't get you then the lightning will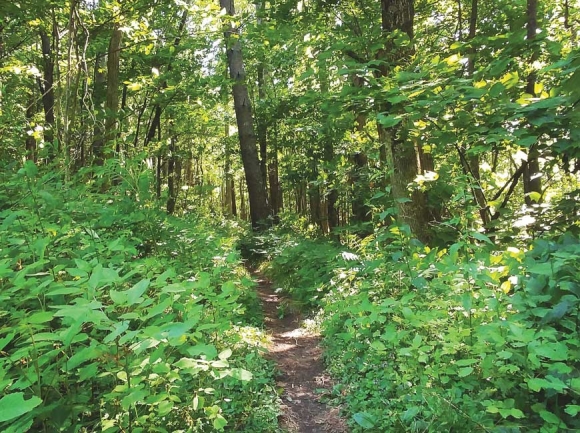 Though the roads were slick from heavy rainstorms on Tuesday morning, I momentarily couldn't figure out why my truck was pushing back against my gas pedal on the short drive from my apartment to The Smoky Mountain News office in downtown Waynesville.
At the stop light a block from work, a guy standing on the nearby corner yelled over to me. "Hey buddy, you got a flat tire," he pointed to the back rear of my Toyota Tacoma. Well, that would explain the push back from the vehicle when I would accelerate. "Thanks," I waved in gratitude to the good Samaritan, a forced smile in appreciation of the inevitable.
Hunched over in the rain at the Exxon gas station on Main Street, I was able to get enough air into the flat to get me across town to Waynesville Tire. Trotting across the parking lot to the beloved longtime business, and getting soaking wet in the process, the fine folks at Waynesville Tire were able to place my truck in the repair bay immediately.
Once I discovered the establishment did offer free Wi-Fi to its customers, I popped open my laptop and was able to finally get to writing this column on our tight Tuesday deadline (aka: press day).
Sitting in the waiting room, I was surrounded by several other downtrodden faces, all probably now late to wherever it was they were headed to before they realized a flat tire was now their main focus today.
And yet, while I was stuck there in that waiting room, all I could think of was my being around my father (as a kid and an adult) when he was faced with similar situations.
For a guy with a short temper and zero slack for bullshit and shenanigans, my dad would always find himself in the midst of vehicular trouble with one mantra in mind: "If it has got to be fixed, it's got to get fixed."
It is what it is, you know? The tire has to be replaced. Doesn't matter the cost at this point. It has to get repaired. Time will march on at it always does, and seemingly at the same speed as money disappears from your bank account due to impending bills and unforeseen costs — all of which serendipitously occurring within the same week. Funny how that works, huh?
Besides, I couldn't wait any longer. That tire had been giving me a little bit of trouble thus far this summer with a slow leak I had to inflate a couple times since Memorial Day. That, and I have three music festivals outside of the area over the course of the next three weeks: FloydFest (Floyd, Virginia), Confluence (Charlotte) and Railbird (Lexington, Kentucky).
As a journalist with a coverage area of about six states in Southern Appalachia, my truck is crucial to doing my job. If I can't drive to my interview subjects or events due to a lack of a vehicle, I'm at the mercy of whoever around me — and whatever mode of transportation is available — to get me (literally) to the show on-time.
And yet, there's this weird sort of calming feeling that washes over you when you find yourself randomly at the tire shop. We as a society get so wrapped up in the breakneck pace of the digital age that is the 21st century — one filled with mostly inconsequential priorities and nonsense — that we tend to lose sight of just taking a moment to stop, breathe, reflect, and repeat.
It's a moment also found when your flight gets cancelled or you slow up to a traffic jam on the highway. Nowhere to go from here, at least for right now. But, it's in those moments that you might make a new friend, perhaps someone sitting near you in the same situation.
That, or just taking the time to scan the world around you. Many-a-time when one finds themselves shook out of their daily realities, there comes a transition into deep thought where you start to wonder if what you're doing is what you should be doing with your life.
That feeling is more so existential pondering rather than a crisis. You find yourself sitting there, waiting while the whole world rushes by you — a race you're usually participating in, but with no finish line in sight as the wheels continue to go 'round-n-'round.
Just as I'm finishing up this column in the tire shop waiting room, I get a tap on the shoulder. It's the guy from behind the counter. I had my headphones on and couldn't hear his calls to retrieve my truck. I dreaded the news. Am I in for $100 or $200 this time around?
"That'll be $20, sir. Just needed to do a quick patch up," he smiled, handing me a tiny screw that was pulled from the tire.
I thank him and pay my bill. Twenty dollars? Good stuff. Looks like my FloydFest craft beer and food truck funds won't be as depleted as once thought. I hop into the truck and head for the office — the newspaper won't put itself out.
Back into my impending day. Back into reality. But, this time, my gas pedal isn't as hastily pushed down as earlier this morning. Maybe I'll even take the long way to FloydFest this weekend. Who knows? The grandiose nature of nothing and everything.
Life is beautiful, grasp for it, y'all.
Hot picks
1 Legendary rockers Drive-By Truckers and The Kentucky Headhunters will headline the Cherokee Summer Concert Series July 26-27 at the Cherokee Indian Fairgrounds.
2 The Sylva Art + Design Committee will present its Pop-Up Art Gallery from 6 to 9 p.m. Friday, July 26, at Black Balsam Outdoors in downtown Sylva.
3 Internationally known storyteller Elizabeth Ellis will present a program of humorous and poignant tales at 7 p.m. Friday, July 26, at the Macon County Public Library in Franklin.
4 There will be a community fish fry from 5 to 8 p.m. Saturday, July 27, at the Fines Creek Community Center at 190 Fines Creek Road in Clyde.
5 The stage version of Disney's "The Little Mermaid" will hit the stage at 7:30 p.m. July 26-27 and 3 p.m. July 28, at the Smoky Mountain Community Theatre in Bryson City.