Archived Arts & Entertainment
New book details the history of the John C. Campbell Folk School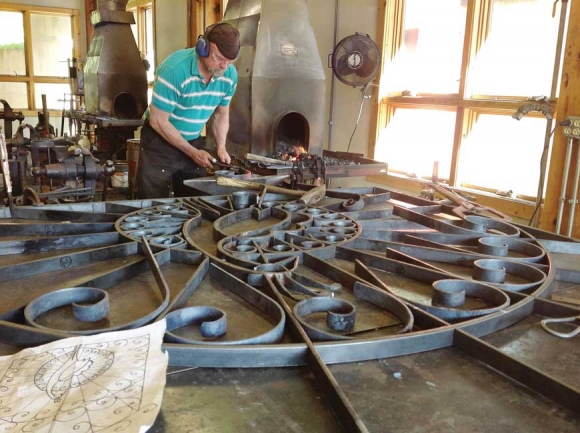 In Craft & Community, regional author Anna Fariello presents the early history of Western North Carolina's John C. Campbell Folk School.
Founded in 1925, the school was a dream of John and Olive Dame Campbell, a working couple who toured the Southern Appalachians in an effort to chronicle its people and their culture.
During a decade of travel, the Campbells visited schools and churches, exploring rural education, uplift work, and religion. Their work was guided by the Social Gospel, a doctrine that challenged congregations to actively demonstrate their faith through works of charity and service.
After her husband's death in 1919, Olive Campbell took up the reins, first to complete The Southern Highlander and His Homeland, published posthumously in 1921.
Independently, Campbell studied and documented folk singing. With famed English folk song collector Cecil Sharp, she co-authored English Folk-Songs from the Southern Appalachians, the first American songbook to capture traditional melodies along with lyrics.
But, Campbell's primary focus was education and this interest took her to Scandinavia to study folk schools first hand. She returned to the U.S. to search for a location to build a school to serve rural communities.
In the far western corner of North Carolina, the small community of Brasstown was eager for a school. Community support was evident when over 200 people showed up for a meeting at the Little Brasstown Baptist Church. The people asked themselves, "What do we have to offer?" and answered, "Land, labor, material, and folks." Over 100 community members, mostly farmers, donated everything from flower bulbs to farmland.
Olive Dame Campbell, along with Assistant School Director Marguerite Butler, were ambitious in their undertaking. The school soon added 100 acres to its campus.
Over the next two decades, new buildings were constructed including a springhouse, dairy barn, and co-op creamery. A mill house pumped water to an uphill reservoir, so that water was gravity fed to the school. There was even talk of straightening Brasstown Creek.
Besides the school itself, Campbell organized a number of financial and agricultural cooperatives to serve the farming communities immediately surrounding the school.
Her work was guided by a question she often asked herself: "How shall we keep an enlightened, progressive, and contented population on the land?" Throughout her work and her lifetime, she sought to unite school and community. "Community and school are one," she noted in one editorial.
The first students arrived at the John C. Campbell Folk School in 1927 and students have been filling the school ever since. Its first decades were focused on Clay and Cherokee counties with an aim to build a boarding school for young adults.
Aside from their lessons, students worked to keep the school going. Girls cooked and prepared meals; boys worked on farm upkeep. In 1929, tuition, room, and board was $22.50 a month for boys and $20 per month for girls; the difference being that girls ate less.
Although today the folk school is known as a place to learn about and experience craft, the school's initial offerings included courses like forestry, travel, history, public health, mechanical drawing, and agriculture.
It may have been Campbell's fortuitous meeting with Allen Eaton that helped push craft to the forefront. Eaton was an author, speaker, and curator, as well as a champion of handcraft.
In 1919, he wrote a book titled Arts and Crafts of the Homelands and then organized America's Making, a popular touring exhibition based on the book. When the exhibit traveled, 50,000 people came to see it.
During the school's first Handwork Week in 1928, local women arrived to card and spin wool from the school's sheep. Within a year, as the Great Depression hit, the folk school and other regional organizations — including the Southern Highland Handicraft Guild and Penland School of Handicrafts — encouraged the home production of items that could bring much needed income to local families.
One of the school's most successful endeavors was its Brasstown Carvers, a community cooperative of local families that continues today. Beginning in the early 1930s, carvers came together on Saturday mornings to share their work, practice, and learn new things. While in its earliest years, carvers were almost exclusively men and boys, by the 1940s, there were more women than men in the group.
The carvers continued to produce functional items, like breadboards, and decorative carvings, like animal and human figures and, today, are known for their Christmas nativities. The school provided rough-sawn blocks of wood that were taken home and carved with a pocketknife and returned to the school for a final polishing and marketing.
While craft making was an occupation and vocation for many, for Campbell and her colleague Allen Eaton, craft was an activity with an impact apart from financial.
Eaton often wrote of judging craft by two measures: "one by the product itself...the other by the effect of the work on the producer." This idea was that handcraft could inspire and encourage ordinary people to work toward creativity and extraordinary skill making things that would instill pride and accomplishment.
Fariello became interested in the folk school while doing research for a presentation at the National Museum of Women in the Arts in 1993, the Year of American Craft.
The museum hosted a conference on Women & Craft, where Fariello presented on the leadership that fueled the southeastern craft revival. At the time, she knew little about the school and, in fact, thought that it had been founded by John Campbell.
Fariello spent the next 10 years poking around regional archives to better understand the movement that advocated for self-sufficiency and creativity through the making of hand crafted articles.
Named a James Renwick Fellow in American Craft a few years later, the fellowship allowed her funding and free reign to conduct research at the Smithsonian Institution.
Want to go?
Anna Fariello will be presenting her book Craft & Community during the next Jackson County Genealogical Society meeting at 6:30 p.m. Thursday, Aug. 8, in the Community Room at the Jackson County Public Library in Sylva.
There will be another book signing and reception for Fariello at 6:30 p.m. Friday, Aug. 23, at City Lights Bookstore in Sylva.
Both events are free and open to the public.