Folkmoot USA
Keep on the sunny side: A conversation with Jim Avett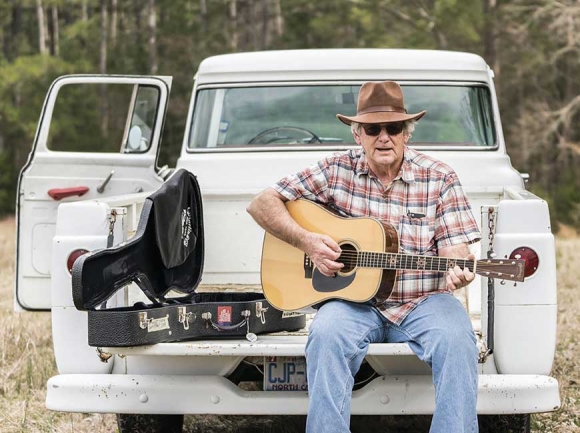 Jim Avett.
At 72 years old, singer-songwriter Jim Avett is a modern-day Renaissance man. Avett is a beloved Appalachian folk musician. Up at the crack of dawn farmer. Served in the Navy during Vietnam. A social worker for a period. And a welder for almost four decades. He's traveled across the country and around the world, and never once losing that childlike wonder that resides at the crossroads of curiosity, discovery and adventure.
He's also the father to Scott and Seth Avett (aka: The Avett Brothers), where the apple of the massively successful sibling Americana act doesn't fall far from the tree that is Jim Avett.
Just like his sons, he's a lifelong musician and storyteller in every facet of human interaction — whether he realizes it or not — which is all in a subconscious and conscious effort to share and radiate the unique beauty, sounds and culture of Western North Carolina and greater Southern Appalachia.
Smoky Mountain News: What is the role of songwriter in the digital age?
Jim Avett: The importance of creativity — songwriting, visual art, sculpting, poems, novels — is that, that's the way society moves ahead. That's the way we progress. If we don't have something new, we'll stay right where we are. It makes absolute sense. In art, there is no good and bad — there's only different. The way that you move ahead, sometimes it's more valuable to learn how to not to do something as it is how to do it.
SMN: Could you also apply that kind of logic to where we are in society these days? We seem to be trying to navigate choppy waters.
JA: That's exactly right. To get to the harbor, you've got to know how to get there. If you don't have creative people, you're not going anywhere. It's important to realize we move ahead with creativity. People are way too anxious to judge on limited knowledge. When you're planning out your life, don't let reality hold you back. Because what you know as "reality" probably isn't.
SMN: Where does the vibrancy and zest in your attitude come from?
JA: I come from a great line of storytellers — my dad, my uncles, my aunts, my neighbors. I sort of felt like I was a spectator in my young life — I did not spend a lot of time talking, I spent a lot of time watching and listening. And when I had a question, I'd ask that. And I don't mind getting up and making a fool of out of myself — and that's where the music comes in.
SMN: At 72, what does it mean to you to still have music such a big part of your life?
JA: It never was my dream to get onstage. [This past] Sunday night, I sang in front of 10,000 people [at Red Rocks Amphitheatre with The Avett Brothers]. I would just assume to sing in your backyard. I would just assume to play for 10 people who want to hear it [instead of in front of] 1,000 who don't. There is a place for older musicians. You need to tell what you know. You need to share. The things that have taken me 72 years to learn, I can share with a 20-something and they'll be way farther out of the swamp than trying to figure it out on their own.
Editor's Note: To listen to the entire audio stream of this conversation, go to YouTube and search: "Jim Avett Garret K. Woodward."
Want to go?
Appalachian folk singer-songwriter Jim Avett and his band will perform at Mootenanny that will take place during the Folkmoot International Dance & Music Festival from 2 to 9 p.m. Sunday, July 21, at the Folkmoot Friendship Center Greenspace in Waynesville.
Other performers include Amanda Anne Platt & The Honeycutters, Ol' Dirty Bathtub, and Joey Fortner & The Universal Sound. Tickets are $10 for adults and $5 for students. Kids ages 5 and under are free. For more information and/or to purchase tickets, click on www.folkmoot.org/mootenanny.
This past April, Avett released his latest album, "Take It From Me." For more information on Avett and the release, go to www.jimavett.com.