Archived News
Franklin mayor has challenger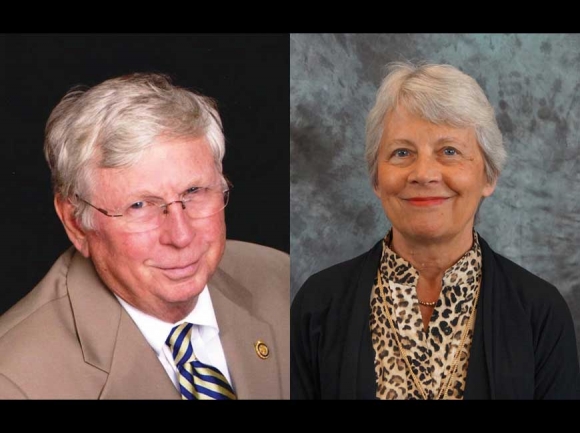 Bob Scott and Barbara McRae.
Franklin Mayor Bob Scott has signed up to run for re-election and so far has one challenger — current Councilmember Barbara McRae.
Scott is running for his fourth two-year term as the town's mayor. He also served on the town board for 10 years before running for mayor. He faced challenger Sissy Pattillo during his first race, but he went unchallenged during his second and third election. During his tenure, Scott has prided himself on transparency. The former journalist has said on several occasions that he's proud of the fact Franklin Town Council is one of the most open governments in the region.
McRae, former editor of The Franklin Press, has served on the town board for two four-year terms alongside Scott, but this is the first time she's run for mayor. During her tenure, McRae has been passionate about redevelopment projects and beautification efforts in town.
Scott and McRae typically see eye to eye on most issues, but the two found themselves in opposition earlier this year when the town board was wrangling over the future of Nikwasi Mound. The town has held the deed to the sacred Cherokee mound since 1947, but McRae and other stakeholders wanted to see ownership transferred to nonprofit Nikwasi Initiative. Representing the town, Macon County, Eastern Band of Cherokee Indians and Mainspring Conservation Trust, the nonprofit has plans of preserving and better marketing the mound as part of a larger cultural heritage tour through the region.
Scott and other town residents were adamant about honoring the 1947 deed and the town maintaining ownership in perpetuity for all residents. Scott also said he was in favor of a compromise to allow the Nikwasi Initiative to take over maintenance short term to see how the new nonprofit handled the responsibility before a long-term deed was granted.
The issue caused a deep divide in the community with passionate pleas on both sides, but in the end the town council voted unanimously to hand the deed over to Nikwasi Initiative.
The town council also has four seats up for grabs this year. Incumbent councilmember and former mayor Joe Collins was the only candidate that had signed up to run as of Tuesday morning. Collins served 10 years as mayor before retiring in 2013, but then came out of retirement in 2015 to seek a seat on the town council. He won that election and is now seeking a second term on the board this go around.
The other three seats up for re-election are currently held by Brandon McMahan, Adam Kimsey and Dinah Mashburn. Dinah was appointed to fill the unexpired term of her late husband Billy Mashburn in January 2018 but must run for re-election if she wants to continue to serve for the next three years.
Over in Highlands, three seats are open on the Town Commission. Incumbent Eric Pierson has signed up to run again as well as challengers Marc Hehn and Hank Ross.
In Bryson City, the mayor and two seats on the Board of Aldermen are up for re-election. As of Tuesday, incumbent Mayor Tom Sutton had signed up to run for a third term in office. Aldermen seats currently held by Heidi Woodard-Ramsey and Jim Gribble are up for re-election. Though the incumbents have not yet signed up to reclaim their seats, newcomer Chad Smith has thrown his hat into the ring.