Archived News
Better together: FUMC Waynesville welcomes LGBTQ members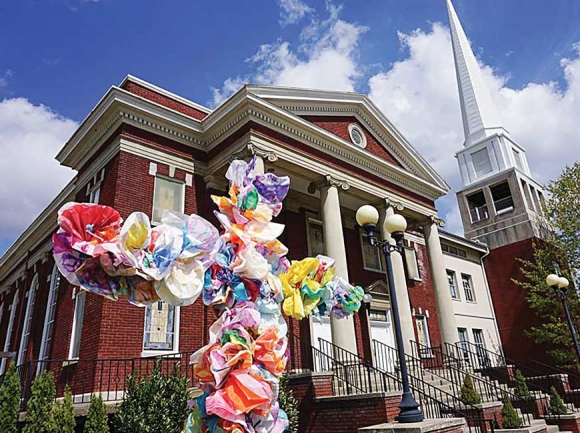 First United Methodist Church of Waynesville has adopted an identity statement making it clear the church is welcoming of LGBTQ members. FUMC Waynesville photo
The congregation at First United Methodist Church of Waynesville isn't changing who they are following a controversial vote taken at the denomination's General Conference special session in February.
While the General Conference's decision takes a hard stance against allowing same-sex marriages and ordained LGBTQ clergy in the church, Waynesville UMC has chosen to take a more inclusive route by letting the community know its doors are open to everyone.
"We chose to do the simplest thing we can do. We're not going to discriminate against anybody for any reason. We're not just going to talk about it or just hope things change — this church stands against that," said Burton Smith, a member of the church's leadership team.
The local church's stance has been outlined in its new identity statement, which was voted on and adopted with a 272 to 27 vote by members. The church's identity statement says the church will resist injustice and oppression and will not discriminate against anyone. For Rev. Keith Turman, that means LGBTQ members are welcome and same-sex marriage will be allowed at UMC Waynesville.
"The second part of the identity statement talks about resisting oppression in whatever form it presents itself, and we have a lot of passionate people who don't want to stand for injustice. They're not silent or afraid to say this isn't right," he said. "I'm amazed at how quickly the people respond to needs in the community because they have a desire to make a difference."
The identity statement came about after several months of discussing the issue before and after the General Conference took its vote. When asked if the local congregation's decision puts it at odds with the global denomination, Director of Operations Michael Blackburn was quick to reply.
"I think the church put itself at odds with us," he said. "We're not becoming something new — we are who we are. We're all different but we do believe we're better together. That's something Christ talks about — and being together isn't always easy — but how can we be who we are if this is what the church is saying we can't be?"
Book of Discipline
Turman said the debate over same-sex marriage and LGBTQ clergy has been happening for many years.
The Methodists are guided by the Book of Discipline — it outlines the law, doctrine, administration, organizational work and procedures of The United Methodist Church — and the General Conference is the only body that can make changes to the Book of Discipline.
The church worldwide is divided into geographical units, called "annual conferences." Each one elects delegates to the church's global meetings, called "general conferences," and it also elects "reserves" in case a delegate is not able to attend. The list of delegates and the reserves for each region is published at the start of the general conference.
In 1972, Turman said, the GC added language regarding homosexuality and it's been debated ever since. The Book's article on inclusiveness says all persons are of sacred worth and that the church shall not be structured "so as not to exclude any member or any constituent body of the church because of race, color, national origin, status or economic conditions."
However, the Qualifications for Ordination says the practice of homosexuality is incompatible with Christian teaching.
"Therefore self-avowed practicing homosexuals are not to be certified as candidates, ordained as ministers, or appointed to serve in The United Methodist Church," it reads.
With questions regarding the contradictions within the Book of Discipline and with an increasing number of Methodist clergy coming out as gay, the General Conference called a special session to discuss its official stance on same-sex marriage and the ordination of LGBTQ persons in the church.
More than 800 UMC delegates from all over the world joined together in St. Louis earlier this year for the GC special session. The delegates had a couple of options: they could vote to reaffirm the Traditional Plan, meaning they'd maintain their current stance against same-sex marriage and ordaining LGBTQ people, or they could vote for the One Church Plan to allow individual churches and regional conferences to decide whether to ordain and marry LGBTQ members.
Turman said he would have preferred to see the One Church Plan vote passed, but the delegates passed the Traditional Plan in a narrow majority (438 to 384) vote. Many UMC congregations were disappointed when the delegation voted to keep its traditional views on marriage and clergy instead of opting for a more progressive stance.
"They rejected the One Church Plan for churches to follow their own hearts and chose to stay the same," Turman said. "It hit this church pretty hard because we're a pretty diverse group theologically — we have gay couples who are members and we have members whose family members are gay so it's very personal for them — but we also have very traditional people here who hold a traditional view of marriage. We have a full spectrum and we've always known that."
The decision has caused much heartache and backlash within the second-largest Protestant denomination in the U.S., which has 12 million members worldwide. Even though reports found 75 percent of U.S. UMC churches were in favor of the One Church Plan, delegate votes from more conservative nations around the world were able to tip the vote.
Speaking out on Twitter, the Iowa Conference of the United Methodist Church compared the General Conference's latest decision to a 1939 GC vote regarding black people in the church by quoting Rev. Bryon Thomas of North Georgia.
"In 1939, the UMC was trying to figure out what to do with black people. At the GC, the Central Jurisdiction was voted into being. The late Bishop Thomas wrote that the white folks stood up and clapped, and the black folks sat down and cried," Thomas said following the special session. "I believe we are at another stand up and clap, sit down and cry moment."
Rev. Keith Turman (right) takes part in Community Impact Day, one of many community outreach programs at FUMC of Waynesville. Donated photo
Looking inward
The GC's decision was a hard pill to swallow for many progressive congregations around the world and was especially heartbreaking for LGBTQ Methodists who have been welcomed and supported by their church.
Jeanne Nabor and Lisa Brown, a married couple who've attended UMC Waynesville since 2010, said they've always felt supported and included at their church and couldn't believe the outcome of the GC's vote.
"As you can imagine, when we first heard of the vote, we were stunned that in this day and age, in 2019, there are still people in the UMC that do not accept LGBTQ members as being persons of 'full sacred worth,'" said Naber. "Yes, that stings a lot, but in all truthfulness, most gay people we know have been treated like this by their church and society as a whole their entire lives … as being the outsiders who cannot participate or be regarded as a fully encompassed child of God."
But instead of trying to adapt to the GC's reaffirmed stance, the congregation at Waynesville UMC decided to look inward to examine who they are and what they want to represent to the community. Turman said the church members began having conversations back in January before the GC convened. About 400 church members were randomly assigned to tables to discuss the issue with other members they might have never met before.
"For many of our traditional members, it was probably the first time they'd sat at a table with a gay person and came to terms with the fact that this is a human being and a child of God," Turman said. "It might not have necessarily changed them, but it was an important conversation to have. It accomplished just what we wanted. We had very diverse tables of people having conversations and building relationships."
Blackburn said the "Listening with Love" conversations were not meant to steer the congregation one way or another, but to identify who they are and who they want to be despite the many differences between individual members.
"We are not a church that is of one theology — we're all in different places but we're all trying to do the same thing and love others," he said. "This was not to change hearts or minds — we had people on all sides of the issue. Then the conference happened and it was a catalyst to say who are we going to be."
Turman said he was pleased to see that not even the traditionalists at UMC Methodist Waynesville seemed to be celebrating the General Conference's decision to keep the status quo.
"They didn't agree with the spirit of the conference — it just seemed to lean on the mean side of things," Turman said.
"We had traditionalists saying, 'I don't believe in it (same-sex marriage), but from a civil rights stance, I don't want my belief keeping people from coming to church,'" Blackburn said. "It's just like a family. We don't all agree but we all love each other and we want to keep this family together."
Better together
The General Conference also passed a Disaffiliation Plan — also called an "exit plan" — to provide guidelines for congregations who wish to leave The United Methodist Church "for reasons of conscience" regarding issues of human sexuality.
A divided church is the last thing Turman said he wants to see locally or on a global scale, which is why it was important for him to help reassure his congregation that they would continue to be united following the reaffirmation of the Traditional Plan. After the GC decision, the leadership team at UMC Waynesville spent some time reflecting on what direction to go and crafted a survey to send out to members of the congregation in an effort to shape its identity statement together. Based on the listening sessions and feedback from the survey, Turman said it was pretty clear the congregation wanted to continue its mission of being inclusive and loving everyone despite the statement from the GC.
"We welcome all and we want to mean all. This church isn't going anywhere — everyone loves this church," Turman said. "That's the trouble I had with the General Conference — the idea that if you don't think like us, you can leave. That's a dangerous place to be. Who pushes back if we all agree? A value this congregation holds dearly is being able to think freely. We're very proud of that."
Blackburn said so far no one has left the church because of the new identity statement. That doesn't mean that everyone who voted yes on the statement agrees with every part of it, but it does mean they're willing to come together for the greater good of the church and the community.
During a time when more people are leaving the church and it's getting harder for churches to recruit the younger generation, UMC should try to be as inclusive as possible. Luckily, Turman said bringing people into Waynesville UMC hasn't been a problem because the church has always been a welcoming place with countless programs that support the community as a whole — preschool classes, offering showers for the homeless, a food pantry, a free after-school program and more.
Blackburn said he can't remember a certain turning point in the church when people started being more accepting of same-sex marriage or having LGBTQ members ordained. Attitudes do tend to change over time along with society, but more than anything, he said church members have always kept a bigger picture mentality of caring for all people in the community without judgment. He said UMC Waynesville will not be closing its doors to anyone in need — they want a bigger tent and wider windows.
"To grow in faith we need to engage the world," he said. "Our mission statement hasn't changed — we're still trying to take care of this community — but the identity statement gave us a chance to define what it all means."
Penny Wallace has been a member at Waynesville FUMC for about 14 years. After visiting a few other area churches, she and her husband found it was a good fit. She is proud of the open and inclusive route her church has decided to take.
"Our former Maryland congregation had gone through years of self examination becoming a successful reconciling and open church. So, I was more than open to approving the position taken by FUMC," she said. "I have seen how it opened my former congregation to expanded fellowship within and among its community. It has grown substantially, including a significant growth in whole families joining. FUMC knows itself as a congregation, took a long look at itself before making this declaration and chose this path fully aware of the potential for discord with the larger denomination."
Naber and Brown said they are also proud of the position their church has taken. Though the GC's decision was a disappointment for them, they said it hasn't changed the way they feel about their religion or their church family.
"Everyone at FUMC has welcomed us with open arms, with love and acceptance. Many of our family members attend there which made it very easy to become members ourselves," Naber said. "Not once have we felt unaccepted because of who we are."
United Methodist Church of Waynesville Identity Statement
1. The members of FUMC Waynesville reaffirm our Mission Statement to be the living body of Christ, welcoming all, growing in faith, and engaging in the world.
2. Guided by the Holy Spirit, the members of FUMC Waynesville long to be passionate followers of Jesus Christ, committed to a Wesleyan vision of Christianity, anchored in scripture and informed by tradition, experience and reason as we live a life of personal piety and social holiness.
3. The members of FUMC Waynesville commit to resist evil, injustice and oppression in all forms and toward all people and build a church that affirms the full participation, on an equal basis and according to their gifts and callings, of people of all ages, nations, races, classes, cultures, gender identities, sexual orientations, and abilities.
4. The members of FUMC Waynesville stand against any discriminatory treatment, restrictions and penalties in the Discipline regarding all persons of all ages, nations, races, classes, cultures, gender identities, sexual orientations, and abilities.
The members of FUMC Waynesville welcome all and love all. We are better together.