Archived Arts & Entertainment
This must be the place: Ten years later and all I got was this crappy T-shirt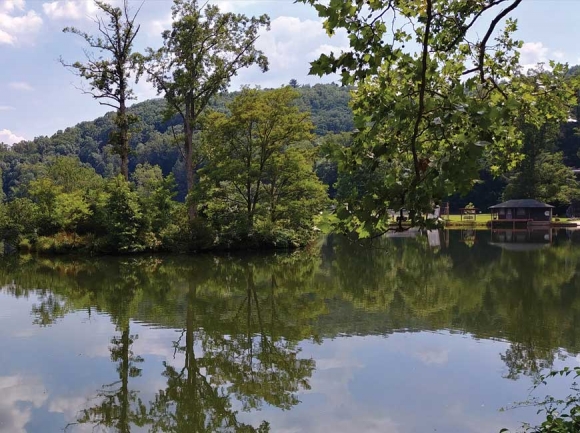 This past Saturday morning, I awoke in the top bunk of an RV in downtown Sylva. I got up and looked around the space. My friends were still asleep in the other beds. Time to head back to my humble abode in Waynesville.
I stepped out of the RV still dressed in my novelty Daisy Dukes and sleeveless T-shirt with an image of Abraham Lincoln above the caption "'Merica." My attire was the remaining evidence of another wild 4th of July weekend celebration in the depths of Southern Appalachia.
Before I put the old rusty musty pickup into drive, I scrolled through my Instagram story feed for a hot minute. And it was in that moment I came across a post on the stream from the pre-wedding festivities for my ex-girlfriend back home in Upstate New York. I paused for a second and gazed out the front window as a sea of memories danced across the dashboard.
Maybe it's the old soul in me or the mere fact I've always been a sentimental person. But, I couldn't help was think about how crazy it all is, how two lovers from completely opposite directions can cross paths and become one, only to shoot off in two completely different trajectories following a breakup.
I will preface the rest of this column by saying I wish the newlyweds a lifetime of happiness. She was — and remains — a pretty incredible person. No ill will ever on my part. It was just a matter of time and place, and two people wanting two separate things in the grand scheme of things, you know?
We started dating over a decade ago this fall. Way back in 2009, I was a 24-year-old aspiring writer doing mostly local freelance work on the Canadian border for peanuts following a short-lived newspaper gig in Idaho that was subsequently followed by the economic collapse of 2008. I was also substitute teaching in my old school.
I was 24 and felt (after six years away from home) that after all four years of college and all those western adventures I'd only circled back to the starting line I stood at during my high school graduation.
So, I decided to wander the West again during the summer of 2009, this time alongside a talented photographer with similar journalistic goals as mine — to cover music festivals and all those unique characters along the way.
When we left New York in early August 2009, I had randomly started talking and texting with this old friend from my teenage years, this beautiful girl who was friends with my high school sweetheart (who went to a different high school). This old friend and I went on a couple dates and nothing seemed to come of it as hard as I tried.
But, on the third meet up the day I left town, which was for a casual breakfast, something clicked. We kept in contact nonstop for the entire two months I was rolling around the country. By the time I returned home in late September, we were dating.
She was 22 and in her senior year of college an hour away from me. We spent every free moment either seeing each other or driving to see each other. Running around the Adirondack Mountains. Late-night shenanigans. Concerts. Road trips. Swimming. Campfires. Good times were constantly found.
And for the better part of the next year we were together. Even to this day, I can honestly say she's the only one where the idea of marriage, kids and a life alongside each other seemed a real and tangible possibility. I loved everything about her, her family and friends, and what the vision our relationship could be moving forward.
But, as the Grateful Dead song goes, "the heart has its seasons, its evenings and songs of its own." Once graduation neared, she wanted to finally leave her hometown and see the world, and on her own. I was devastated, completely. But, I couldn't fault her for wanting that. Even at that age, I had been lucky to wander near and far. So, she left. We were done. And that was that.
I remember that final time cranking up the truck engine and pulling away from her apartment just around the corner from her college. I knew nothing would ever the same. What I didn't realize was that would be the last time we saw or talked to each other, even a decade later. Again, no ill will. It is what it is.
Back in Sylva, in my truck, and in the good ole Daisy Dukes last Saturday, I put the phone down, cranked the truck engine and started to make my way back to Haywood County, North Carolina.
On the trek down the highway, I kept picturing what our lives would have been like if we'd gone the distance. Marriage? Kids? Maybe I'd have pursued a different career path? Maybe we'd just break up anyhow, but later down the line? Who knows, right? But, one can't help but wonder, eh?
Throwing the truck into park, I jumped out and glanced up at the mountains surrounding my Waynesville apartment. The sun was shining and a cool breeze swirled around me. I thought of the last 10 years, all those miles driven and stories told. I thought of loved ones far away and loved ones just over the ridge. And it felt good to be home.
Life is beautiful, grasp for it, y'all.
Hot picks
1 The "An Appalachian Evening" summer concert series will continue with Zoe & Cloyd at 7:30 p.m. Saturday, July 13, at the Stecoah Valley Center in Robbinsville.
2 The Concerts on the Creek summer music series continues with Unspoken Tradition (bluegrass) at 7 p.m. Thursday, July 12, at Bridge Park in Sylva.
3 Boojum Brewing Company (Waynesville) will host Ben Sparaco & The New Effect (funk/blues) at 9 p.m. Saturday, July 13.
4 The Broadway classic "Oliver!" by Lionel Bart will hit the stage at 7:30 p.m. July 11-13, 18-20, 25-27 and at 2 p.m. July 14, 21 and 28 at Haywood Arts Regional Theatre in Waynesville.
5 The annual Heritage Arts Summer Festival will be held from 10 a.m. to 4 p.m. Saturday, July 13, at Southwestern Community College on U.S. 74 just west of Bryson City.