Archived News
Why Medicaid expansion is not the answer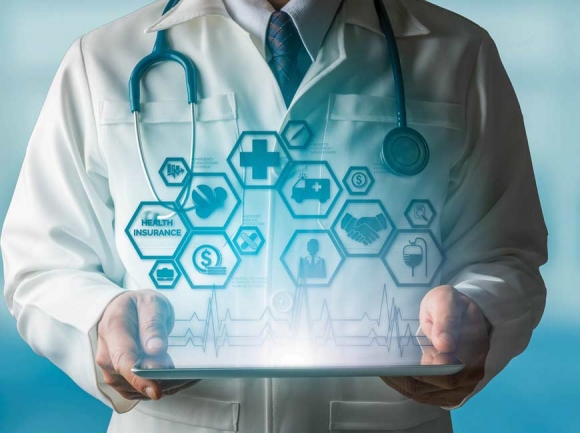 There's perhaps been no greater ideological clash in American government over the past century than the extent to which the individual, as opposed to the collective, should be prioritized.
That conflict has played out over the years in a number of legislative proxy wars, none so prominent in recent times as the one currently being waged on socialized medicine.
"One of the traditional methods of imposing statism or socialism on a people has been by way of medicine," said conservative icon Ronald Reagan on a 10-minute spoken word record issued in 1961. "It's very easy to disguise a medical program as a humanitarian project — most people are a little reluctant to oppose anything that suggests medical care for people that possibly can't afford it."
This was long before Reagan entered politics, unless you count his two short stints as president of the Screen Actors Guild, but even then, Reagan highlighted an unsuccessful 1945 health care proposal by Harry S. Truman as a sure path to collectivization.
"From here, it's a short step to all the rest of socialism," Reagan said. "Pretty soon, your son won't decide when he's in school, where he will go, or what he will do for a living. He will wait for the government to tell him where he will go to work and what he will do."
Four years after Reagan's record was released, President Lyndon Johnson signed legislation creating Medicaid.
Today, the fight over socialized medicine, especially Medicaid, has evolved; while the ideological opposition to socialized medicine ebbed somewhat around the time Americans endorsed the Affordable Care Act — Obamacare — those against Medicaid expansion now cite more practical, pragmatic reasons for their opposition.
"Considering Medicaid expansion has been a topic of continuous interest I have compiled the following," wrote Sen. Jim Davis, R-Franklin, when asked about the reasons he opposes Medicaid expansion in North Carolina.
Davis, who has served five terms totaling 10 years as a senator in the N.C. General Assembly, is a dentist by trade, and could stand to benefit immensely from the expansion of Medicaid's basic and optional services, but he remains opposed for a litany of reasons.
"Expanded coverage doesn't necessarily mean expanded care," Davis said. "Expanding Medicaid's caseload by 25 percent puts traditional program enrollees at risk. Low-income parents, children, pregnant women, the elderly, the blind, and the disabled would have to compete for access to health care with able-bodied, childless adults."
With almost one in five of North Carolina's 10.1 million residents already on Medicaid, including almost half of all children, expansion would further strain the system without even providing coverage to a substantial number of people — it's estimated that Medicaid expansion would only cover about 500,000 additional North Carolinians, and only about 250,000 of those are affected by the so-called "coverage gap" between Medicaid eligibility and subsidized marketplace coverage.
Medicaid's below-market provider reimbursements also make expansion unattractive for physicians and medical practices, who would then compensate for the lower-paying patients by pressing private insurance carriers for higher rates.
Davis cites a study on Medicaid expansion conducted by the conservative Goldwater Institute that says this "cost shifting" phenomenon caused Arizona hospitals to increase prices to patients by 27 percent. Another study cited by Davis says that average American families paid $1,800 more in premiums each year because of cost shifting.
Then there's the purported benefit to addressing the opioid epidemic, something on which Davis has expended a lot of time and energy.
"Some claim that expanding Medicaid will help to fight the opioid epidemic, but the numbers show otherwise," Davis said.
Statistics from the Centers for Disease Control and Prevention show that the five states with the highest drug overdose mortality rates in 2017 — New Hampshire, Kentucky, Pennsylvania, Ohio and West Virginia — have all seen marked increases despite being early adopters of Medicaid expansion.
In West Virginia, prior to expansion in 2014, the mortality rate was 35.5 percent but climbed to 57.8 percent by 2017. The Kaiser Family Foundation, a respected nonprofit nonpartisan health care think tank, says that of the 26 states with above-average opioid overdose mortality rates, 20 of them are states that expanded Medicaid.
Expanding Medicaid in North Carolina has budget implications as well; were it to expand before 2021, the federal government would cover 90 percent of the cost for the new enrollees. From 2014 to 2016, the feds covered 100 percent, with states incrementally picking up more and more of the tab each year.
"There is no guarantee this will continue in perpetuity," said Davis. "Even before Medicaid expansion, both Democrat and Republican administrations have considered lowering federal Medicaid funding. If the state were to expand Medicaid and the federal government then reduced the funding level, the consequences would be far worse. It would cost the state billions of dollars and crowd out other important spending priorities."
That was the same argument Bryson City Republican Mike Clampitt used in 2016, when he ran against and defeated incumbent Waynesville Democratic Rep. Joe Sam Queen — there's no such thing as free money.
"Since 2011, the General Assembly has gone to tremendous lengths to reform North Carolina's Medicaid program to deliver better value to its patients," said Davis. "The state alone has spent almost $32 billion on Medicaid over that period."
In 2017, federal funding of Medicaid in North Carolina totaled $9.1 billion, with the state contributing $4.5 billion, but even with all that money invested in the program, several studies, including one cited by Forbes in 2013 said that health outcomes for Medicaid patients were little different from those with no insurance at all.
One major argument made by proponents of expansion is that N.C. citizens are paying for Medicaid expansion anyway, with billions of dollars going to Washington and being redistributed to other states. While that's mostly accurate, Davis takes more of a big-picture view of the cash flows.
"In reality, last year, North Carolina residents paid more than $82.5 billion in federal taxes and in 2017, the state received more than $113 billion in funding from the federal government, the ninth most in the nation," Davis said. "It is inaccurate to say North Carolinians are not seeing a return on what they contribute in federal taxes."
In 2017, the Foundation for Government Accountability cited cost overruns and higher-than-projected enrollment as fueling state budget crises, prompting some states to contemplate freezing enrollment.
"Since Medicaid is an entitlement program, which means that anyone meeting the coverage qualifications is entitled to the full benefits of the program, it is of questionable legality whether enrollment can even be frozen," said Davis.
Other states, like Alaska, have proposed lowering the already-low Medicaid reimbursement rates, which would have a disastrous effect on the number of providers willing to accept Medicaid patients while contributing to further cost shifting.
Medicaid expansion is also theorized to have a positive effect on local job markets, which is also mostly accurate. However, a 2017 article in the N.C. Medical Journal opines that the federal tax increases that would be needed to sustain long-term Medicaid expansion would actually shrink the economy.
"The thinking that Medicaid is now turning into a jobs program strays away from its original purpose as a health insurance program for our most vulnerable citizens," Davis said.
According to some, the expansion of Medicaid will also provide a big boost to struggling rural hospitals, but Davis disagrees.
"Medicaid expansion is not going to solve the core problem these hospitals face: outdated, inefficient facilities that are oversized for the populations they currently serve," he said.
As rural populations in the United States continue to decline, rural hospitals have had a hard time filling beds, which can result in an increase in the number of patients covered by socialized plans like Medicaid and Medicare.
"Adding more patients with low reimbursement rates will not solve the critical financial issues these hospitals are dealing with, and it's likely they will also lose some current private insurance patients who will be shunted onto Medicaid under expansion," said Davis.
North Carolina Gov. Roy Cooper, D-Rocky Mount, said he would veto the state's fiscal year 2019-2020 budget presented by the Republican-led General Assembly unless it included provisions for Medicaid expansion. Last week, he did just that, setting up a stalemate that could drag on for the foreseeable future.
Cost of expansion
• In Gov. Roy Cooper's budget proposal, the FY 2019-20 costs of care for expansion are projected to be $2.13 billion, of which $1.91 billion will be covered by federal matching funds and $216 million will be covered by non-federal funds (primarily hospital assessments).
• The budget proposes to fund the remaining need of $3.3 million with a tax on managed care capitation payments made on behalf of the expansion population.
• In addition, the state will need $63 million to meet the additional costs of existing eligible people and will gain $46 million in federal matching funds and $2 million in non-federal funds (hospital assessments).
• In 2020-21, the costs of the expansion group will increase to $4.17 billion, of which federal matching revenue will cover $3.74 billion and non-federal revenue will cover $356 million.
• The tax on managed care capitation payments will generate the remaining balance of $75 million. The projected costs of serving additional people who are already eligible is estimated at $126 million and North Carolina will receive $92 million from federal and non-federal sources.
Source: The Economic and Employment Benefits of Expanding Medicaid in North Carolina — June 2019. To read the full report, visit www.conehealthfoundation.com.