Archived Arts & Entertainment
This must be the place: Ode to Jeff Austin, ode to the power of music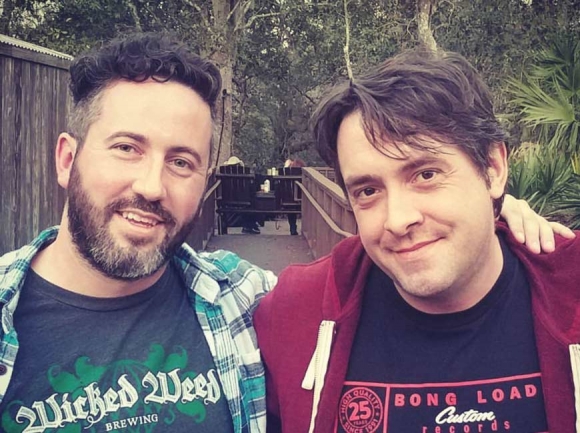 Garret and Jeff.
The hardest part of being a journalist, and especially one whose core focus is music, is seeing those you were lucky enough to meet, interview and write about, pass away.
With his unexpected and tragic death last week, 45-year-old singer/mandolinist Jeff Austin was, and forever will be, a musical legend. As a teenager of the late 1990s and early 2000s, it was his group — Yonder Mountain String Band — that was my initial portal into the world of jam-grass, a scene I've proudly immersed myself in, personally and professionally, for the majority of my life.
Austin's influence on my generation of music freaks is massive, and our hearts are hurting deeply. I had the privilege of not only interviewing Jeff, but also calling him a friend, too. When you interview musicians and artists, you're usually one-on-one, alone in a room somewhere, asking them questions maybe even their own family and friends have never brought up.
And it's in those moments you're trying to get to the heart of their art and soul, and to report back to the world the beauty of what lies beneath these incredible people. I, for one, have never taken that privilege for granted. I never will.
The loss of Jeff is the loss of a giant in our scene. The bluegrass and jam band genres are shocked by his sudden exit. And yet, it's the images of that trademark smile of his and all of that wild and wondrous music that will live on for generations to come.
And as I was thinking about Jeff recently, I decided to track down an audio recording of his performance with Yonder Mountain String Band on July 25, 2008, at the Teton County Fairgrounds in Jackson, Wyoming.
I was living out there at that time, and I vividly remember being at that gig. I also remember how many of my western friends were there with me. We all piled into a couple cars and headed over the Teton Pass. Tailgate beers and a blazing sunset. Laughter and high-fives.
I was a 23-year-old journalist and felt so at peace with the West in that moment, thinking about the unknown future and so forth. Even then, I felt like I would live out there forever, though I moved back east to my native Upstate New York in early September 2008.
A piece of my heart and soul still resides in the Grand Teton mountains. It always will. And I was lucky enough to hold that piece when I revisited that area last summer, only to once again leave it there when I returned back to Western North Carolina.
So, as I listened to that audio recording, a flood of images came across my field of vision. Images of all those dearly missed western faces, of those stunning mountains that live up to the word "grand," of my old truck I drove around out there now long gone, of all those stories I wrote about an adventurous life in the Wild West, and of Jeff himself.
Austin's laughter, sense of humor and lightning-fast pickin' was all there, forever captured on tape. And what was really surreal was being reminded of how the band opened that show with a rendition of The Rolling Stones classic "No Expectations," with Austin singing, "Our love is like our music/It's here, and then it's gone."
The power of music. The power of friendship. The power of time and place. It's all one crazy moment and thing in this whirlwind that is the cosmos. Though we're all sad about Jeff's passing, it was his music and persona that brought us all together, and will always bring us together. He lives on, and through all of us.
The last time I crossed paths with Austin was last year at the annual French Broad River Festival in Hot Springs. I was excited to hand him a copy of my recently released bluegrass book, of which he's quoted in, and telling him, "I've already made room for our entire interview in book #2." He smiled and said thanks.
I'll always hold that interview and our backstage conversations close to my heart. And I'll never forget the goofiness, happiness, genuine love and melodic greatness the late Jeff Austin radiated into our world.
"Sometimes you have 'this house' and things start to really get out of control, you can feel so lost, you can lose a lot of yourself, or confined to a room," Austin told me about his rebirth in life in the years following his departure from Yonder Mountain String Band. "When that house finally caves in and you rebuild it, there's this difference sense of order. You find again this happy space, and you let that grow."
Editor's Note: If you would like to listen to the full audio of Garret's interview with Austin, go to YouTube and search: "Jeff Austin Garret K. Woodward."
Hot picks
1 The "An Appalachian Evening" summer concert series will continue with Buncombe Turnpike at 7:30 p.m. Saturday, July 6, at the Stecoah Valley Center in Robbinsville.
2 The annual "Week of Rock" will continue through July 6 at Nantahala Brewing in downtown Bryson City.
3 Boojum Brewing Company (Waynesville) will host The Get Right Band (rock/soul) at 9:30 p.m. Friday, July 5.
4 The 22nd annual Sweet Corn Festival will be held from 11 a.m.to 3 p.m. Saturday, July 6, at St. Cyprian's Church on 216 Roller Mill Road in Franklin.
5 The Water'n Hole Bar & Grill (Waynesville) will host Humps & The Blackouts (psychobilly) at 10 p.m. Friday, July 5.