Archived Opinion
The dog's eating our daughter's college fund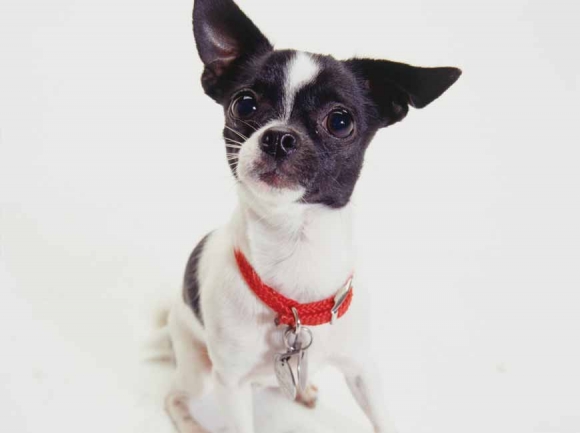 I think our chihuahua has an eating disorder. He's a rescue, and since we rescued him, he's twice the dog he used to be — that is, he is twice his original size, maybe more.
We're afraid to weigh him. We're concerned about his self-esteem. We tell him he's "filling out." We notice that he hurries by mirrors now, instead of pausing — like he used to — to stare down his reflection, as if to say, "Wow, looking good," or, on his angrier days, "What are you looking at, butt-licker?"
When we brought him home, he astounded us with incredible feats of athleticism. Even though he weighed about as much as a decent wristwatch and had legs about as long as your thumb, if he heard a car pull in the driveway, his ears would shoot up as if spring-loaded and then, using the length of our bed as a runway, he would launch himself toward the door, literally flying the first five or six feet before touching the ground, just barely and only temporarily, before racing to the front of the house to confront the intruder, his tiny legs blurry as a hummingbird's wings.
From a sitting position, he could jump from the floor to our bed, a good 30 inches off the ground. If I could do that, I'd be playing in the NBA.
But that was then, and since then, he has developed an appetite that can only be described as "startling." Well, that's not entirely true. It could also be described as "alarming," "shocking," or "extremely expensive."
At first we said, "Ah, look how good he's eating, poor thing. He probably hasn't been fed on a regular basis in a long time!"
A little later we said, "Sure he eats a lot. Wouldn't you if you were afraid someone was going to return you to the shelter? Maybe he eats to cope with anxiety and depression."
After that, we said, "OK, so he's getting a little pudgy. When's the last time WE felt good in a swimsuit at the beach? He's just settling in with us now. He's just fitting in."
Finally, we said, "He's eating the other dogs' food when they're not looking. He eats the garbage at night. He eats anything that can be digested and some things that cannot. He is eating our daughter's college fund."
His name is Oliver, which suits him, since it begins with an "O" and that is now his approximate shape. Last weekend, we had family in town for our daughter's high school graduation ceremony, and one of my nephews, a budding wit, said upon seeing him for the first time, "Is that a dog, or a loaf of bread with paws?"
My first reaction was to be defensive, to say something mean about his dog, a big, gangly mutt who's all slobber and sharp angles, writhing and wallowing all over anyone who happens by, so very clingy and codependent. Seriously, that dog needs to be in a 12-step group. His neediness is pathetic. But I don't say that, tucking it away instead for this column. So there, nephew!
At least Oliver has his dignity and self-respect, hidden away though they may be under several layers of blubber. On the other hand, I am not entirely sure that is true. As one of his enablers, I may be rationalizing so that I do not have to confront my own role in his problems.
After all, we could monitor his food intake more assiduously. We could make sure he is not pilfering from the other dogs' bowls. We could secure the trash at night so that if he sneaks out of bed while we're asleep, all he will find is that the cupboard is locked up. We could be taking him out to the lake every evening for more cardiovascular exercise. We could stop falling for his tricks, such as going outside to potty 12 times per day because he knows he will get a treat every time he does.
I guess we are going to have to make some of these adjustments. Yesterday, while I was out on the deck sitting in my easy chair reading a book, Oliver was whining at my feet, stomping around like a little bull in a thunderstorm.
"What is it?" I said, patting the chair next to mine. "Come on, boy. You got this."
You got this? The jump from the deck onto the chair was no more than 14 inches off the ground, less than half the height he used to clear with ease. He sat up and stretched out, putting his front paws on the cushion, whining louder. When I put down my book and reached over to help, he scampered away, apparently embarrassed that I thought he needed my help to make such a pitiful little jump. He looked at me and tilted his head, the dog equivalent of a shrug. I shrugged back. We shared a moment.
Just as I was about to pick back up my book and resume reading, I saw him out of the corner of my eye, crouching, then jumping … and then failing, falling short of the mark, then splatting back on the deck like a bowl of wet pizza dough, one confused eye turned back in my direction to see if I had noticed him hitting bottom. I pretended not to. Then I reached down and petted him nonchalantly, as if this were all perfectly normal, just a part of our day-to-day world, which it may well be unless ...
"Hello, my name is Oliver."
"Step One: We admitted we were powerless over food — that our lives had become unmanageable."
(Chris Cox is a writer and teacher who lives in Haywood County. This email address is being protected from spambots. You need JavaScript enabled to view it.)