Archived Outdoors
Lumberjack 'family' to get a home: Construction underway on new HCC timbersports building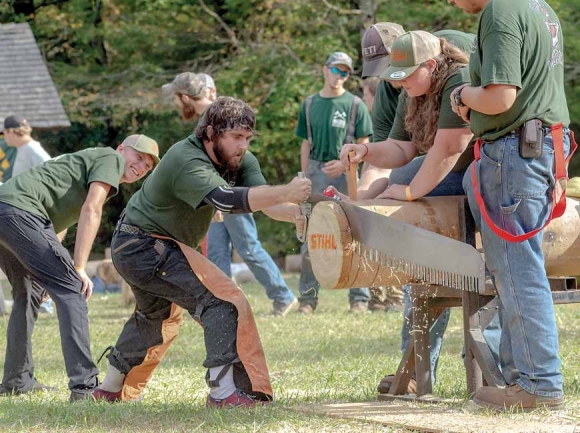 HCC students saw through a log during a timbersports competition. Phillip Turner photo
After more than 20 years of wood chopping and log sawing and award winning, the Haywood Community College Lumberjacks — the school's timbersports team — will soon gain a permanent home.
"The current practice facility is back where the old mill used to be, and it's probably just as old as that was, late '60s," said Matt Heimburg, dean of arts, sciences and natural resources at HCC. "It has a tin roof and a few logs somehow holding it up. So it's long overdue for them to get a new practice space, for sure."
By November, work is expected to be complete on a 2,800-square-foot timbersports practice facility located at the front of campus. HCC leaders believe that the project will likely make them the only college in the country to have a dedicated facility for its timbersports team.
"Timbersports" is a term trademarked by STIHL Inc. — a company known primarily for its chainsaws — and involves various events that hinge on the use of axes and saws. With its focus on forestry and natural resources, HCC is a natural home for such a team, though the school is not otherwise known for its sports. In fact, the HCC Lumberjacks are the school's only athletic team.
As planned, the new timbersports building will have three storage closets to house all the team's equipment, as well as men's and women's restrooms and an open center section that can be used for practice or as an event space.
"The center section of it has a wood floor in it," explained campus architect Brek Lanning. "That way when they do their chopping practice, if they miss they're not hitting a concrete slab and damaging themselves or the equipment. That way we can replace the flooring as needed."
Building the facility has been a goal for years, but last year the project finally got some momentum when the HCC Foundation launched a capital campaign to raise funds, an effort that formally began in April 2018 and concluded with a gala in September of that year. The $225,000 facility is 100 percent donor-funded thanks to those efforts.
"We're certainly grateful for the community and their generosity to be behind the team," said Pam Hardin, director of institutional advancement at HCC. "It's definitely a wonderful example of the power of philanthropy."
Ground broke on the project in April, and it's expected to wrap up by November at the latest, and hopefully earlier.
Nash Dawkins, a 2019 HCC graduate who now works as an instructional assistant and timbersports safety technician at the school after two years on the team, believes the new building will be transformational for the Lumberjacks.
"I think it will help tremendously," he said. "Right now underneath that old pole barn we only have room for one person to chop at a time, and also where we saw at, it's not flat at all. Just being on a flat surface that's covered from the weather will be a tremendous improvement and help us a lot."
Despite the less-than-stellar space the team has had at its disposal since its creation in 1995, it's managed to become a powerhouse in the world of timbersports, taking first in more than 20 competitions in the past 24 years — even while competing against teams from well-known four-year universities.
In 2014, team member Logan Hawks came in third at the STIHL TIMBERSPORTS Series Collegiate Lumberjack Competition, becoming the third HCC student since 2007 to rank as a top place finisher. This July, another HCC timbersports athlete has a shot at the national title. In March, student Darby Hand qualified to go to the STIHL championships in Milwaukee this July, and according to Heimburg, he has potential to win.
Dawkins said the team's sustained success is largely the result of sustained dedication.
"Everyone who comes down is very dedicated to it, and they come down and practice every single day we have practice, Monday through Thursday, and go at it till dark," he said.
Dawkins estimates it's about a 50-50 split between competition events that develop skills that are quite useful in real life, such as chainsawing and chopping, and those that are useful mainly just in the context of competition, such as saw racing. But regardless, careful training is required.
The 2,800-square-foot-building will feature practice/event space, storage rooms and bathrooms. Donated image
"Every event we do is highly skilled," he said. "You can't just hop up there and do it. It takes months of practice before you can even think about going into a competition and doing it."
Historically, the team has been largely self-taught, said Heimburg, with older students teaching younger students — most of whom are completely unfamiliar with the skills involved upon joining the team — how it's done. Along with the new facility, though, the team will get another boost this fall, this time in the form of a new timbersports coach named Alex Storm.
Storm will come to HCC from West Virginia University. He's coached timbersports teams at both two- and four-year schools before, and participated on the professional timbersports circuit. In addition to coaching HCC's team, he'll be an instructor in the school's forestry management technology program.
"We're very excited to have him coming to join our team here at HCC," said Heimburg.
The hope is that Storm won't be the only new face on a team that relies on a steady supply of new faces — with HCC being a two-year school, the roster tends to change rapidly, with 30 to 40 students on it during any given year. While the team's current practice location is in a tucked-away corner at the back of campus, the new facility will be located at the front, between the millpond and the horticulture building. That's by design.
"It's going to generate more interest from the community, because there are people who come here and walk their dogs, that sort of thing, so they're going to come here and see the activities going on," said Lanning.
The same will apply to students.
"Instead of being at the very back, we'll have new students coming in and they'll see the building and wonder, 'What is that?'" said Dawkins. "It will also hopefully lead to more people joining the team."
That would be a win all around.
"We're almost like one big family. Everyone gets motivated and we help each other out, help the community out," said Dawkins. "Everyone always seems to enjoy us being out there."