Archived News
Waynesville chief calls it a career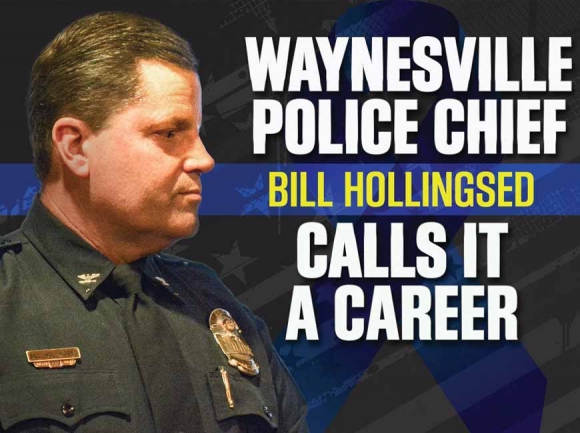 As a 28-year veteran of the Waynesville Police Department, Captain Brian Beck — soon to be interim chief of police — remembers what it was like back in the not-so-good old days.
"I came to this department in 1990. At that point in time, this department was in disarray," Beck said. "About 1994, we got Frank Ross to come in and help straighten things out a little bit, and we were right on the cusp of really coming up to where we needed to be in law enforcement in this state. Then Bill Hollingsed came in."
For the past 20 years, Hollingsed has helmed the police department, building it into a department of distinction modeled after his own pursuit of professional and ethical excellence.
When he officially retires on June 30, he'll be remembered for more than just his leadership on a small-town police force that grapples with the same issues larger cities face across the nation — he'll be remembered as a tireless community advocate who then moved up in the ranks to a new role helping police officers across the state serve, and protect.
Waynesville Police Chief Bill Hollingsed (bottom) stands before a younger version of himself at a retirement reception held in his honor on June 24. Cory Vaillancourt photo
Bill Hollingsed was born in Miami, and born into law enforcement.
"When we were in Miami, my father was a Miami police officer. He then went to work for a metals corporation and he took a management role in that company and that's what took us to Orlando," said Hollingsed. "He ended up buying the business and running it up until just a few years ago."
Hollingsed also had an uncle who was a Miami police officer and said that even though he was very young when his father changed careers, his father's service influenced him.
"I think it did," he said. "I look at old pictures of me with him in his uniform, and even though I was very young, I still remember that."
After graduating from high school in the Orlando area, Hollingsed entered Florida State University as a biochemistry major with an eye on med school or dental school, until another (future) family member prompted him to finally don the badge.
"My girlfriend, who happens to be my wife now, her brother was a law enforcement officer in Orlando," he said. "I started riding with him. I'd come home on Christmas break, spring break — anytime I was home, I would get in the car with him and ride and I found a true passion for law enforcement. So if anybody is to blame for it, that probably would be my brother-in-law."
In the state of Florida at the time, one could become a sworn law enforcement officer at the age of 19. At that age, Hollingsed left FSU with an associate's degree and joined the Orange County Sheriff's Office and began working in west Orlando.
The year was 1984, and crack cocaine was king, especially in central and south Florida.
"You've seen Miami Vice, and that was pretty much what was going on in the '80s when it came to cocaine," he said. "When I started in law enforcement it was a very violent time in Florida. You learned law enforcement very quickly back in those days, in a place like Orlando, Florida during the cocaine era."
Hollingsed retired early from that department in 1997, as a lieutenant. He served a significant amount of time on the SWAT team, worked as a detective, and was part of the first gang crimes unit in central Florida.
Haywood County had always been a respite for Hollingsed, whose parents had owned a home in the area for years.
"We had camped here since we were kids," he said. "Then my wife and I would come up for weekends, and we loved the area. Waynesville was a town that my wife and I fell in love with a long time ago."
One day, Hollingsed found himself on the campus of Western Carolina University, gathering information for a coworker whose son was looking to play football. It was there he saw a job posting for the chief of police job at WCU. He was there for a year and a half, until Waynesville Police Chief Frank Ross left to take the chief job in Titusville, Florida.
"There's no better job than the chief of the Waynesville Police Department," said Hollingsed. "The day I was hired, a reporter came and talked to me and I said, 'This is an absolute dream job,' and now 20 years later, I'm still living the dream."
Hollingsed (right) was greeted by dozens of fellow law enforcement officers, including (from left) Haywood County Sheriff Greg Christopher and his wife Sherri, at the Wells Events Center in Waynesville. Cory Vaillancourt photo
When Hollingsed arrived in Western North Carolina, things were far different than in central Florida.
"The biggest thing that we dealt with 20 years ago here, we had a lot of alcohol-related crimes," he said. "Domestic violence, disturbances, that type of thing, but really it was focused on alcohol-related issues more than any other. That's changed over the past 20 years and obviously alcohol is still an issue in any community. But it wasn't until about 11 years ago that we saw the huge influx, the opioids, that really started creating a crisis here in Western North Carolina."
Hollingsed's been active in addressing the social costs of alcohol and drug abuse, but has also been around long enough to trace the evolution of the problem.
"Looking at the changes in drugs in my almost 36-year career, the violence that surrounded cocaine and crack cocaine is what was really killing people in our communities at the time," he said of his days in Florida. "In relation to what's going on now with the drug issue, the drugs themselves are killing people. With the opioids today, it's not the violence that surrounds those drugs, it's the drugs themselves."
It's not that cocaine has become nonexistent; Hollingsed said there's not much here, but it is indeed here, and in many communities across the United States. Federal efforts, he said, to crack down on Central and South American drug kingpins like Pablo Escobar have paid off, as have more diligent efforts to block the importation of cocaine.
"We don't grow coca here in United States. See, you have to stop the importation of that drug into our country and I think that's what kind of perpetuated some of our opioid issues — the less those illicit street drugs are available, the more that people go elsewhere for drugs," he said. "Obviously opioids are available in every pharmacy in the country. We started making methamphetamines to a larger extent. You could make that here."
Trends suggest the opioid issue isn't going away any time soon.
"We're doing an awful lot," said Hollingsed. "We're getting some great legislation coming through, but I've also heard the statistic that if all the opioids that we deal with suddenly go away, this is still a crisis and an epidemic that we're going to be dealing with for the next 20 years."
Waynesville Assistant Town Manager Amie Owens said the town is in the preliminary stages of accepting bids from outside firms that will conduct the search for and screening of candidates who wish to become Waynesville's next police chief. Perhaps by July the firm will be selected and set about its work, with a hire expected in the weeks or months thereafter.
Hollingsed has a pretty good idea of what that next chief can expect.
"Obviously, whoever comes to sit in this chair in this office, they're still going to have to deal with the opioid crisis," he said. "I don't care what community you go into across the country, the opioid crisis is the number one issue, because again, this drug can be a one-time-use killer. Everything is mental health and substance abuse issues — that is going to be a continuing crisis that law enforcement leaders across our state and across our country are going to have to deal with, and Waynesville is no exception to that."
Hollingsed's replacement won't be walking into a "department in disarray," as Beck did almost 30 years ago; the department's budget hovers around $4.5 million, and has long had the support of elected officials.
Even during the worst of times, according to Hollingsed, when officers had to "double up" in patrol cars to conserve gasoline, the mayors and aldermen never cut the department's training budget.
"To me that is very, very important here, that we still keep the resources to adequately train our people," he said. "I applaud the people across the street at town hall. They have always recognized that, always given us the training budget that we needed to make sure that our officers are successful, not only with their personal goals but that they make this agency successful and in turn, we're able to give good law enforcement services to the community. I applaud their foresight."
That's part of what makes this a dream job. The other part, he said, is somewhat more tangible than lines on a budgeting spreadsheet.
"The people here are what has made this agency successful," he said. "Our canine unit is very well-known. Our SWAT unit is very well-known. Our honor guard is very well-known. We do a great job in patrol and investigations. And that goes back to training and education. With the leadership team, the management team here at the police department, I have full confidence that the Waynesville Police Department will only get better."
Leading such an accomplished collection of units isn't especially easy, but there is one thing Hollingsed says the next chief should definitely do.
"The chief, whoever it may be, has got to be willing to not only be a leader but to lead by example," he said. "The chief has got to be willing to step out and not ask his people to do something that they're not willing to do themselves. I hope that the new chief has that philosophy."
Although Hollingsed is leaving the Waynesville Police Department, he's not leaving Waynesville, and he's not leaving law enforcement. In fact, he's moving into a role that will help him have an even bigger impact than the one he's already had in this small town. Over the next few weeks, Hollingsed will assume the role of the executive director of the North Carolina Association of Chiefs of Police.
"The goal of that organization is to facilitate and advance the training and the technical expertise of managers and police chiefs across North Carolina," he said. "Obviously we do a lot in the area of advanced training, we look at these different crime trends, we look at the issues that affect law enforcement and then not only work on the training aspect, but also work with our legislators to try to bring effective legislation to help in those areas that are in crisis or our areas of need."
Hollingsed, who's been active in the organization for some time now, promised his parents that he'd return to complete his bachelor's degree, although he swapped biochemistry for criminal justice. He also later earned a master's of public administration, leaving him well-suited for his new job.
"I'm very fortunate to have been offered that position, and even more fortunate that they will allow me to, for the majority of the time, work out here in Waynesville. So I don't need to move to Raleigh," he said. "I'll be in Raleigh quite a bit as far as working with the legislature and working with the different chiefs and agencies across the state, but a lot of that I can do right here in Waynesville on my computer and phone."
Hollingsed was feted by the town at a ceremony June 24 that drew hundreds to Wells Events Center in downtown Waynesville. Dozens of law enforcement agencies were represented, along with town staff, elected officials, old friends and family.
"People are here because what we had for a police chief was a great man," said Beck. "Not just a great police chief, a great man. Chief Hollingsed always led from the front. He never sat in the rear and told you what to do. He never expected you to do anything that he would not do. He respected his employees, he respected the people of the community, he was a leader in many different areas, such as the opioid crisis. He didn't just look at our department and our town, he also stretched up to do things all across the state."
Beck, who will lead the department until a replacement is selected, gave credit to Hollingsed for making the transition smooth.
"We've had more training per officer than probably any other agency. The quality of applicants that we require to be able to work for us is by far the best," Beck said. "Managing this agency at this point time is a pretty simple job. We have worked together to build it, so now it's a job of maintaining and trying to take it even further."
At the reception, Waynesville Mayor Gavin Brown captured Hollingsed's character in a nutshell.
"The thing that impresses me most," he said, "is that Bill loved his job, and still does. What is it he always says? 'Living the dream?' That must be a wonderful feeling."
After 36 years in law enforcement — with still more to come — Hollingsed concurred.
"I just want to emphasize I've been very, very fortunate to be the chief of what I think is the best police department in North Carolina," he said. "The people I work for and work with here, it has without a doubt been living the dream. I said that over 20 years ago when I accepted the job, and I still feel that way today."