Archived News
Distillery reform bill could soon advance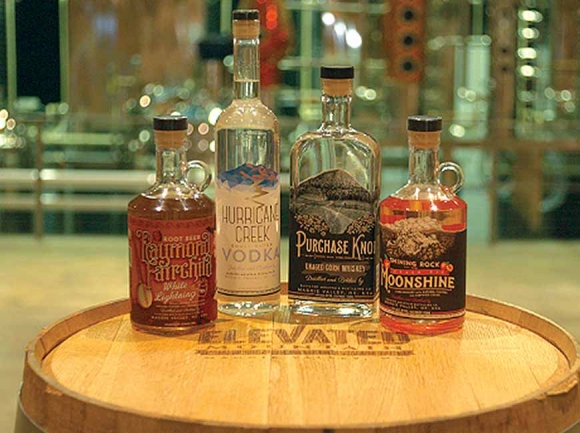 As with other distillers, Elevated Mountain Distilling's products are severely restricted in how they can be sold. File photo
A regulatory reform bill intended to bring parity for North Carolina's distillers with its craft brewers continues to make its way through the legislature.
"It's a small thing, really, but I think we can move it," said Rep. Joe Sam Queen, D-Waynesville. "I think people feel pretty OK with it."
Back in April, Dave Angel — owner of Haywood County's only distillery, Elevated Mountain Distilling Company, in Maggie Valley — told The Smoky Mountain News he was optimistic about the bill, S290/H378, soon becoming law.
"We're missing out on an opportunity to sell much more volume to guests who want to leave with a case of product," Angel told SMN, recounting the story of a woman whose daughter was getting married and wanted three cases of Angel's vodka for the reception. Current law only allows Angel to sell five bottles of his spirits to any one person, per year.
Current law also prohibits Angel and distillers like him from serving anything more than quarter-ounce tasting samples, inhibiting his ability to attract patrons who would like to attend the events Angel holds at his Soco Road distillery, but are reluctant to linger without being able to purchase a cocktail or a beer.
Angel's facility has a capacity of several hundred, and he's eager to do more with the space, even going so far as saying he'd like to become "The Orange Peel of Western North Carolina outside of Asheville," something that's probably not feasible without the increased revenue beer, spirits and wine can bring.
Another aspect of the current setup is that all alcohol has to go through the N.C. Alcoholic Beverage Control system, meaning Angel can't just roll up to a bar or restaurant on a sales call with a box full of whisky, and put a bottle of it on their shelves that day.
Right now, that bottle would have to go Raleigh, then back to the county's ABC store, from whence the bar or restaurant could order it.
Identical bills were filed in both the House and the Senate on March 18. The bipartisan House bill, H378, saw strong local support and was primarily sponsored by Rep. Chuck McGrady, R-Hendersonville and Rep. John Hardister, R-Guilford, along with Buncombe County Democratic representatives Susan C. Fischer and Brian Turner.
The bipartisan Senate bill, S290, was sponsored by Sen. Rick Gunn, R-Alamance, Sen. Dan Blue, D-Wake and Sen. Kathy Harrington, R-Gaston.
It was there, in the Senate, where a number of changes were made to the original bill, which emerged from the Senate's Rules and operations Committee on June 18.
The first change further amends statutes to allow a mixed beverages permit to be issued to a distillery permit holder authorized under G.S. 18B-1105.
The second explicitly requires that a distillery selling mixed beverages containing spirituous liquor other than that produced at the distillery must obtain a mixed beverages permit.
It's the third alteration, though, that may have the most impact; it would have allowed a distillery permit holder to sell, deliver or ship spirituous liquor in closed containers at wholesale to holders of a mixed beverages permit and at wholesale or retail to consumers in other states or nations — Angel's example of being able to make sales calls to bars and restaurants.
Instead, the Senate's final version requires ABC stores to allow the purchase of individual liquor bottles not on the ABC Commission's approved special item list by special order through a process established by the ABC Commission.
It further allows ABC stores to sell in store any bottles it receives in excess of what was purchased by the customer requesting the special order.
It also requires a local ABC board to fulfill an order by a mixed beverage permit holder for individual bottles or cases of spirits listed as a regular item for sale in the state, and allows for direct shipment from an eligible distillery to the local board to fulfill the order, if the local board cannot fulfill the order due to lack of inventory or time.
Perhaps most importantly, the Senate bill still abolishes the five-bottle limit that prevented Angel from selling three cases of vodka to one person.
As of press time, the Senate bill had been placed on the calendar for June 25; if successful in floor votes, the bill would likely move to a reconciliation committee where differences between the House and Senate versions would be worked out, although since the bills are identical, that process won't likely take long.
Angel said the bill's passage would be "huge" for Elevated Mountain, as well as for North Carolina taxpayers. Most of Angel's customers come from out of state, and almost 40 percent of every bottle's cost comes in the form of sales and excise taxes.
According to the 2018 North Carolina visitors guide, there are more than 50 distilleries across the state.