Archived News
Recovery community looks for new meeting space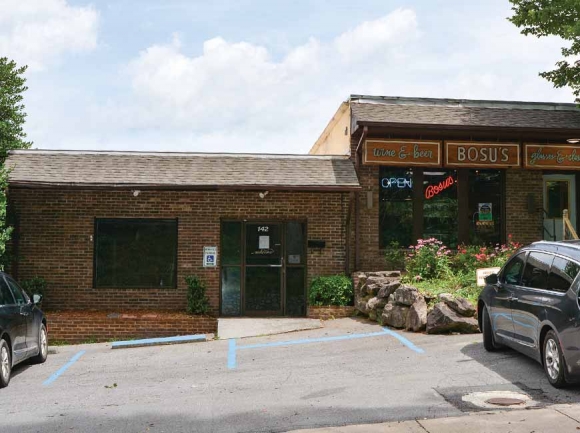 The former location of the Triangle Club (left).
Many have probably passed by the Triangle Club on Miller Street in Waynesville without realizing what it was, but those within the recovery community are familiar with the space and know what an impact the clubhouse has in the county.
The Triangle Club is a nonprofit corporation that provides affordable meeting space for any 12-step recovery groups that need it, including Alcoholics Anonymous, Narcotics Anonymous, Overeaters Anonymous, Al-Anon, CoDA and more.
While the clubhouse — next to Bosu's Wine Shop — has been a valuable resource since it opened in 2013, the organization has been displaced and is looking for a new forever home. There's plenty of public places these groups could find to meet, but the clubhouse is safe, anonymous and a place they can call their own.
"The clubhouse environment creates a community and a more comfortable place for newcomers," said Ron Clifford, current president of the Triangle Club board of directors. "Many recovery groups tend to meet at churches but sometimes that might be the last place those new to recovery want to go."
The clubhouse on Miller Street had about 1,500 square feet of space with a kitchen area and plenty of comfortable seating. It's a place to hold meetings, but it's also a place for those in recovery to congregate, get to know each other and build a supportive community of people. The club hosts about 10 meetings a week with anywhere from 10 to 50 people.
When C.J. Deering moved to Waynesville from California in 2011, she said the recovery groups didn't have much of a presence in Haywood County.
"When I moved here, there was only one meeting a day in Waynesville and nothing on the weekend. I wondered how many people were having to go to Asheville to make a meeting," she said.
She held the first recovery meeting on a Sunday in a coffee shop with six other people. She had the idea of forming the clubhouse and landed a great deal on the Miller Street spot. Today, that same Sunday meeting attracts 50 people or more.
"Now the clubhouse provides 100 percent more meetings than there used to be and on Sunday the entire recovery community comes together for one meeting at the clubhouse," Deering said.
People come from all over Haywood County and from Jackson County as well. With the area being a popular tourism destination, Clifford said many tourists will visit the clubhouse for a meeting while they're on vacation. With the use of a Smartphone app, people are able to do a search for recovery group meetings nearby no matter where they are.
The Triangle Club had to move out of its space by June 1 and needs the community's help to find the ideal place for the organization to continue its mission of helping people. Ideally, Clifford said the group would find a "forever home" where it doesn't have to worry about moving if and when they're lease isn't renewed.
Clifford said the space would need to be at least 1,200 to 1,500 square feet with bathroom facilities and plenty of parking. At the Miller Street location, the Triangle Club was able to operate on about $1,000 a month, which covered the rent, utility costs and supplies. It's a lean budget, but they were able to make it work.
"Our only source of income is from our members and from the groups that meet there. We charge a minimal rental fee and our members pay a membership fee — that's the only way we've raised money," Clifford said.
Now the Triangle Club has started a Go Fund Me page with the goal of raising $50,000 to either build or purchase a new clubhouse. If anyone knows of a piece of potential property or building that might work for their needs, contact Clifford at This email address is being protected from spambots. You need JavaScript enabled to view it.. Those interested in starting a 12-step recovery meeting of any kind can also reach out to Clifford for assistance.
To make a donation to the Triangle Club's search for a new home, visit https://tinyurl.com/y5hfkevj.