Archived Reading Room
Books helps us understand our own history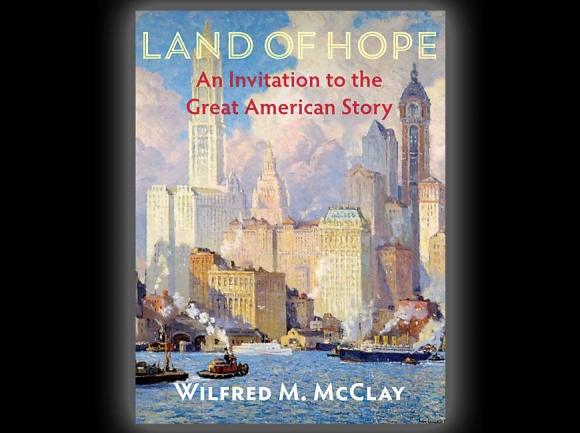 "We need to know what kind of firm ground other men, belonging to generations before us, have found to stand on. In spite of changing conditions of life they were not very different from ourselves, their thoughts were the grandfathers of our thoughts, they managed to meet situations as difficult as those we have to face, to meet them sometimes lightheartedly, and in some measure to make their hopes prevail. We need to know how they did it."
— John Dos Passos, cited in the epigraph for Wilfred M. McClay's Land Of Hope
Every day gives us the opportunity to reflect on some great deed or disaster from the American past. The internet provides us with an abundance of calendars relating the events of our country's history.
From June 4 to June 7, 1942, for example, the American Navy by force of will and by luck tore apart a Japanese fleet of carriers and turned the tide in the Pacific war.
On June 6, 1944, D-Day, Allied forces invaded France, gained a toehold against the Germans, and launched an offensive that would help topple Hitler and his Nazi regime.
On July 1-3, 1863, Southern forces lost the Battle of Gettysburg. A second turning point in the War occurred the following day, the Fourth of July, when the Confederate forces at Vicksburg, Mississippi, surrendered to Union forces commanded by General Grant, giving the North control of the Father of Waters and splitting the Confederacy in two.
On July 4, 1776, of course, colonial delegates in Philadelphia signed the Declaration of Independence and set afire the American Revolution.
To appreciate the blessings of the present, and to apprehend its troubles, demands an understanding of the past. To be ignorant of that history is, to steal a phrase Cicero, to remain forever a child.
And yet, by any measure, Americans in the twenty-first century are woefully and indeed dangerously uninformed about their past. Tests of our students in secondary schools and colleges, ignorant remarks made by some of our politicians, random conversations with acquaintances, the advocacy of some for certain remedies to problems that have in the past failed again and again: these are just some of the indicators revealing our lack of historical knowledge.
Our educational system, from elementary school to university, must bear some of the responsibility for this deficiency. The study of history in many classrooms is either dumbed-down or ignored. Yet we ourselves must also accept responsibility for our unfamiliarity with such concepts as Manifest Destiny and "Root, Hog, or Die," such events as the burning of the White House in the War of 1812 or the consequences of the Mexican War.
But help is here. In Land Of Hope: An Invitation to the Great American Story (Encounter Books, 2019, 458 pages) Wilfred M. McClay gives us a wonderful vehicle for traveling the roads of the American past.
In this compact volume, McClay covers the history of the United States from its earliest Native American settlements and the European Age of Exploration all the way up to the present. In his "Introduction: One Long Story," McClay writes that "A culture without memory will necessarily be barbarous and easily tyrannized, even if it is technologically advanced." In Land Of Hope, McClay, a professor at the University of Oklahoma, recipient of many academic honors and author of various books and articles, seeks to revive our knowledge of our country.
Several qualities set Land Of Hope apart from other American histories.
First up is its sheer readability. Land Of Hope could easily serve as a high school textbook, yet it also offers an excellent narrative history of America, easily accessible to the general reader. Here McClay tell his readers a story, the story of the American past, including explanations as needed, but becomes a pleasure craft carrying the reader along through this stream of time.
Next on reasons to raise a glass to Land Of Hope is its balance. While it is clear that McClay finds much to admire about America — the title itself gives that away — he examines events from different sides. McClay's presentation of Prohibition in the 1920s provides just one of several hundred examples of his even-handed approach to a subject. He writes that "Prohibition may have had noble intentions," but that it was a disaster in practice and doubtless gave an enormous boost to organized crime. He then points out an even greater damage done by the attempt to ban alcohol, "that a significant minority of Americans would be disinclined to obey, laws which moreover could never be seriously enforced. In doing so, the architects of Prohibition had seriously undermined respect for the law itself."
Finally, and best of all, McClay warns readers again and again against judging past morality by the standards of the present. In his Introduction, McClay writes that "One of the worst sins of the present — not just ours but any present — is its tendency to condescend toward the past, which is much easier to do when one doesn't trouble to know the full context of that past or try to grasp the nature of its challenges …." In his discussion of immigration and urban politics in the latter part of the nineteenth century, McClay writes of some of those calling for a curtailment of immigrants, in part because of their distrust of Catholics, in part because many of the immigrants were coming not from Northern Europe but from Central and Southern Europe, McClay again reminds us to "draw back and look at the matter as broadly and historically as we can and to reserve our moral judgments. As the historian Herbert Butterfield once put it, "the historian is of greater service when he is a recording angel rather than a hanging judge."
In Land Of Hope, Wilfred McClay is a recording angel.
(Jeff Minick is a writer and teacher. This email address is being protected from spambots. You need JavaScript enabled to view it.)