Archived News
Major expansion set to open at Pathways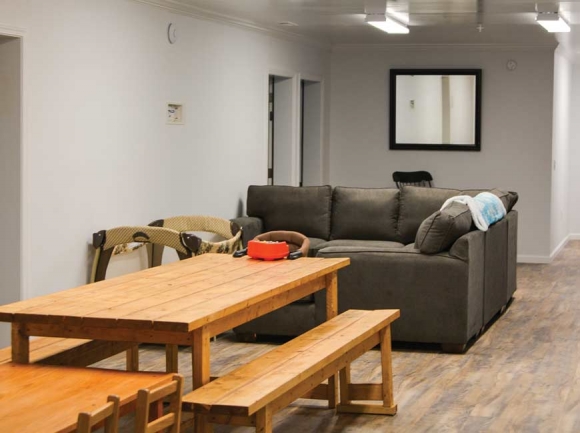 Each floor features a cozy community room and a shared kitchen. Cory Vaillancourt photo
As homelessness continues to rise in Western North Carolina, Haywood County's innovative and effective adult shelter is about to cut the ribbon on a brand new dorm designed to be a place of refuge for a critically underserved population.
"Due to the fact Pathways could not house mothers and their children until now, this opens a whole new world to being able to help a family," said Haywood County Sheriff Greg Christopher. "If you are on your way to a life transformation, you need to have, at the very least, the most basic needs met — especially when it comes to children. The completion of this project is a sign of this organization's tireless dedication toward making Haywood County better."
Christopher spearheaded a community coalition that turned a disused former state prison into a shelter back in 2014, with the aim of reducing recidivism. The numbers bear that out, but harder to measure is the impact Pathways has in keeping those who become homeless from first sliding down the oft-inevitable slope to eventual incarceration at taxpayer expense.
At that time, the two dorms at Pathways were segregated by gender and could only accommodate about 60 individuals, but no children.
As of June 17, Pathways' overall capacity has increased to 96 with the opening of the new family shelter, exclusively for the use of women with children.
"I really like the way it turned out," said Pathways Executive Director Mandy Haithcox of the two-story, 5,300 square-foot modular building located on the Hemlock Street grounds. "The support of all the people who came in here made it look so homey."
Each room in the 10-bedroom facility was "adopted" and decorated by a different community organization, including area churches, Beverly Hanks realtors, and local Rotarians with the Rotary Club at Western Carolina University, who outfitted the two computer labs with a quote from late former Chancellor David O. Belcher.
"Experience, knowledge and values are useless without DOING something," it reads. "If this is the time to make the world better — and it is the time — what will I DO? Am I going to be a noun or a verb?"
Both of the 2,700 square-foot floors are nearly identical, but for the secure reception area up front and space for a caseworker just past the entrance. There's a large community area with couches and a small kitchen, including refrigerator and locking cabinet space for each family. In addition to the computer labs, there are also two sets of washer/dryers for each floor.
As in the adult shelter, guests can stay in the family shelter for up to six months if they are a resident of Haywood County, aren't a registered sex offender, can pass a drug screening and can follow program rules designed to give them the skills they need to live independently.
Unlike the shelter, walk-ups are not admitted, and some additional rules regarding child custody and visitors apply.
No taxpayer money was involved in procuring or erecting the $650,000 facility, and little to no taxpayer money goes into Pathways' annual budget, the majority of which comes from private donations and churches. A recent fundraising drive in Waynesville's Mountaineer newspaper set out with modest goals but ended up contributing more than $150,000 to the effort.
"There's no debt on the building whatsoever, and we're not making mortgage payments," said Haithcox. "But our costs are going to go from about $35,000 a month to $40,000 a month for the whole operation, to add in these extra 36 beds and to staff it and run it."
Haithcox said Pathways was already planning another project to ensure sustainable funding.
"A social enterprise," she said. "But not another thrift store. There's plenty, and they are helpful for those places, but that's not us."