Archived Arts & Entertainment
This must be the place: In a minute I'll be free and we'll be splashing in the sea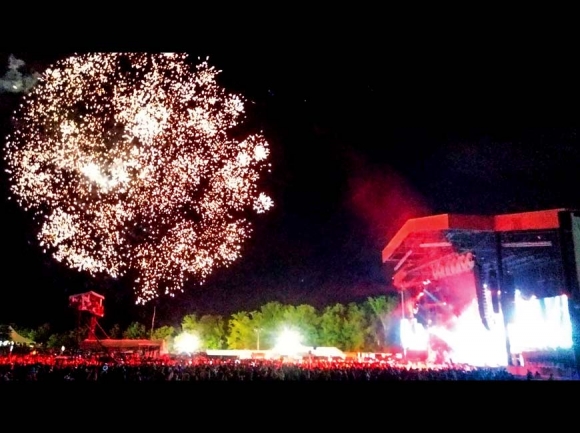 Fireworks during Phish at Bonnaroo 2019.
On Monday morning, as I woke up, packed and said goodbye to Bonnaroo for this year, I can say — in all honesty — that I've never had more gratitude in my life than at that moment in time.
I've also never been more exhausted. 'Roo was my 10th music festival since mid-March. Ten weekend gatherings in the last 12 weeks. And it's not even summer yet.
I've officially hit my threshold of what my 34-year-old body, mind and soul can handle at 'Roo in Eastern Tennessee. Especially the last four weekends, which have completely drained me: DelFest (Maryland) > Cold Mountain Music Festival (North Carolina) > Los Angeles > 'Roo.
What was truly full circle was standing there amid tens of thousands on Sunday night as Phish closed out 'Roo. A native of the North Country, the iconic Vermont jam band initially set me on this trajectory of attending and covering music festivals. That band set the tone by which I've chosen to live and work. They remain at the core of who I am as a human being in the greater universe.
I remember being 18 years old and taking off for Phish's "IT" festival in northern Maine in 2003. I had just graduated high school and was soon to head to Connecticut for college, an institution which was some six hours from my Upstate New York hometown, six hours away from all that was familiar and loved up to that point.
Back then, my best friend from high school and I jumped into my 1991 Plymouth Acclaim and disappeared from our town in the middle of the night and drove 12 hours through New England to "IT." We didn't even have tickets. But, we'd find a way in. Nothing was going to stop our quest to see our favorite band.
Eventually, we parked outside the abandoned Loring Air Force Base (where the festival was held) in Limestone, Maine, only to then trade a joint with the bread truck guy going into the venue so we could hide underneath hot dog buns and sneak in. It worked.
And it was during "IT" where I found myself standing there in the mud, amid all the melodic chaos of people, places and things, and realizing that from that point forward nothing would ever, ever be the same again in my life. And I was at peace with that notion as I transitioned fully into adulthood.
Skip ahead to 'Roo 2005. Now a junior in college, I left for the festival on a solo road trip. First trek of that sort. Just me, my old pickup truck, a sleeping bag and a case of cheap beer. Halfway through the event, I had an epiphany (while reading Kerouac's On the Road) — more so a lightning bolt of inspiration — that I wanted to be a writer. That was what I wanted to do with my life, come hell or high water.
And during that festival, I stood towards the back of the main stage crowd during Widespread Panic, just observing the madness and pondering how in the hell I would make a career out of writing. I wasn't a writer. But, I would figure it out. I just felt something so deep and powerful within me for the first time in my life: my true calling.
After 'Roo 2005 ended, I headed straight to my girlfriend's house in the Pocono Mountains of Pennsylvania. She noticed a change in me, in my demeanor and energy. I told her I was going to be a writer. She replied, "A writer? What? But, you don't know how to write?" That sentiment would follow me (from other ex-girlfriends and friends in general) for several years, even after I started getting things published in small periodicals for peanuts.
And, 14 years later (this past Sunday night) at 'Roo during Phish, I walked over to the same exact spot as during Panic in 2005. Way in the back of the main stage crowd. I stood there and felt such a vibration within me, as if time itself doesn't exist, where it's all one moment we're trying our best to navigate.
I stood there and thought of how long this road has been over those last 14 years. All the rejections, setbacks, breakups, lack of employment, lack of income, lack of creative fulfillment, all those endless miles crisscrossing America in search of the sound through written word. I also thought of my looming deadline of festival coverage to Rolling Stone once Phish ended 'round midnight.
And all I could do in that moment — and in this moment, too — is smile. It has all been worth it. Every single second, for good or ill. I've never wanted (or wanted to do) anything else but this.
And none of this would come to fruition without the eternal love and support from all of my friends, family members and readers (yes, you) all across this wild, wondrous planet.
Life is beautiful, grasp for it, y'all.
Hot picks
1 The "An Appalachian Evening" summer concert series will kick off with legendary bluegrass fiddler Michael Cleveland & Flame Keeper at 7:30 p.m. Saturday, June 29, at the Stecoah Valley Center in Robbinsville.
2 Boojum Brewing Company (Waynesville) will host the Porch 40 (rock/jam) album release party 9:30 p.m. Saturday, June 22.
3 Innovation Station (Dillsboro) will host the final show of The Buchanan Boys & Friends (country/rock) at 7 p.m. Friday, June 21.
4 Marianna Black Library (Bryson City) will host Heidi Holton (blues/folk) at 7 p.m. Thursday, June 27.
5 Andrews Brewing Company (Andrews) will host the "Lounge Series" with Joey Fortner & The Universal Sound (Americana/folk) at 6 p.m. Thursday, June 20.