Archived Mountain Voices
A rare look into Swain County's past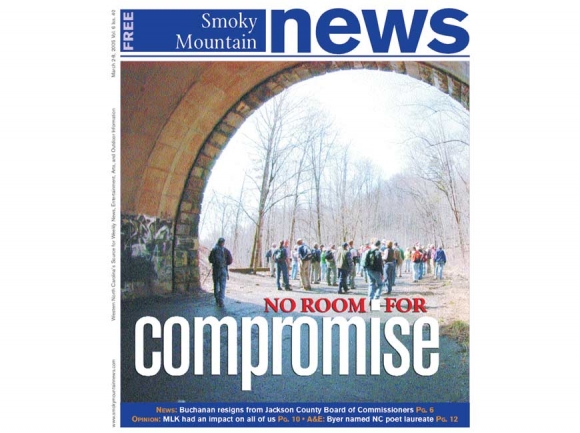 Editor's note: This column first appeared in a June 2005 edition of The Smoky Mountain News.
Several weeks ago I read the cultural background portion of the "North Shore Road: Environmental Impact Statement" (National Park Service: U.S. Department of the Interior), which is presently online at www.northshoreroad.info/crculturalbackground2_2.pdf. The section devoted to Hazel Creek traces the early settlement of this watershed, the largest on the North Carolina side of the Great Smoky Mountains National Park, and even discusses writers associated with the area.
There was, of course, information about Horace Kephart, author of Our Southern Highlanders (1913), who lived alone in a cabin on the Little Fork of the Sugar Fork of Hazel Creek from 1904 until 1907. This cabin was situated about two miles west of where the settlement of Medlin was located alongside Hazel Creek.
Then, to my surprise, there was a paragraph about another writer I'd not previously associated with Hazel Creek: "The Sugar Fork area also played a role in another literary work, Grace Lumpkin's 1932 novel To Make My Bread, which was the basis for a popular Depression-era play titled "Let Freedom Ring" (1936). The book revolves around a family of Appalachian mountaineers — small farmers, hunters, and moonshiners — driven by economic conditions to the mill town and transformed into mill hands, strikers, and rebels against the established order. While this novel is known for its account of the Gastonia, North Carolina, textile strike of 1929, the early part of the book is set on the Sugar Fork and in other areas along Hazel Creek, and features such place names as Possum Hollow and Thunderhead."
This online source cited Duane Oliver's Hazel Creek From Then Till Now (1989), where I found additional information: "Probably attracted by Kephart's writings, the Socialist writer Grace Lumpkin arrived on the creek about 1923. In this period and for long afterwards, the mountain people were seen by many as examples of the poor, ignorant and downtrodden. Attempts were made to "uplift" their condition by the establishment of craft and trade schools in the mountains, and by people who wished, through their writings, to draw attention to the mountaineer's situation. Miss Lumpkin stayed three months or so, living at the Club House which, at that time, was run by the Calhouns, and traveling about the area. She heard about the Sanders family who lived in a log cabin across the Pinnacle near Soapstone Gap. She certainly did not know the way there nor did the Calhoun girls, so they got Zina Farley to take them. Miss Lumpkin met the Sanders family, and their son Johnny was persuaded to play his fiddle, which was made from cornstalks. Fascinated by this unusual instrument and touched by his inability to buy a real violin, Miss Lumpkin promised to send him a real fiddle, which she did as soon as she returned to New York.
It's more probable that the socialist writer Olive Tilford Dargan, who lived in Swain County at the time (but not on Hazel Creek) and wrote From My Highest Hill (1925) about her experiences, was the person who influenced Lumpkin, not Kephart, who was living in Bryson City at that time.
In 1942, Lumpkin wrote a brief sketch for "Twentieth Century Authors," the biographical dictionary edited by Stanley Kunitz. Therein, she noted that after graduating from school in Georgia in the early 1920s, "I had a position with the government as Home Demonstration Agent and learned more about the economic and other problems of farmers and their wives. During most of the summers I lived out in the mountains of North Carolina and at different times stayed with people who worked in cotton mills."
About a week ago, the softcover reprint I ordered of To Make My Bread (University of Illinois Press, 1995), with an introduction by Suzanne Sowinska, arrived. Lumpkin, in my opinion, was a competent, if not great writer. But she wrote from her heart, and the story she tells about the lives and adventures of her characters is moving.
If you are familiar with Hazel Creek, it's doubly interesting to try and figure out just which places she has in mind. "Laurel Creek" is obviously Hazel Creek. Her "North Range" was apparently the main crest of the Smokies between North Carolina and Tennessee. Her "South Range" was apparently Jenkins Ridge, which arises to the west of Hazel Creek between that watershed and Eagle Creek. But many other places are mentioned.
Lumpkin worked several well-known events into the fabric of her novel. One such was set in Bone Valley, which she calls "Swain's Meadow." Bone Valley is located several miles above Medlin. The site was given this name because, in 1888 a farmer drove his cattle there to graze too early in spring. A freak blizzard trapped them. Without shelter, they all froze to death. For many years afterward, their bleached bones remained for all, including Miss Lumpkin, to see.
(George Ellison is a naturalist and writer. He can be reached at This email address is being protected from spambots. You need JavaScript enabled to view it..)