Archived Outdoors
A vision for the Tuck: New WATR director looks to make strides in water quality improvement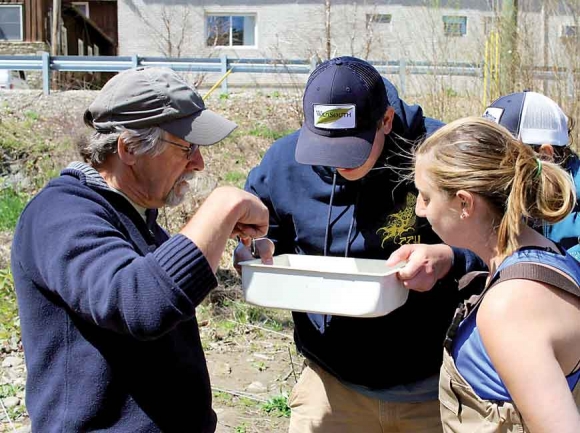 The Watershed Association of the Tuckasegee River has a new leader.
Two years after former executive director Roger Clapp retired from the position, Ken Brown is taking over.
"It's picking up steam, and I'm very excited about the potential," said Brown. "The encouragement has been tremendous from very important organizations and groups. I think we're on the road to recovering our place in this whole environmental scheme in Jackson County."
Brown, a Jackson County native and builder by trade, has a long history with environmental engagement along the Tuckasegee River, and particularly with WATR. He met Clapp more than 10 years ago, at a meeting in 2008, and quickly became impressed with the organization and Clapp's drive to clean up the watershed. He got involved, helping with monitoring projects and leading cleanups. He was able to see the challenges the watershed faced, and the impact a growing group of dedicated volunteers could make.
When Clapp stepped down, Brown was to many people the obvious choice to carry the torch. He said he was asked by people ranging from WATR board members to elected officials to think about it.
"I considered it for about two years before I decided to take it on, because I was so incredibly wrapped up in my career as a builder," he said.
In 2017, Brown, a contractor, had started a huge project and couldn't quite carve out the time to accept the responsibilities required of a nonprofit executive director, and while he's still working on the transition, Brown said that the organization is "really taking the bull by the horn here in the last couple months."
"We are picking up the monitoring team again. We are expanding our monitoring program. We are going to be doing training. We are going to be doing education programs for children," he said.
The Tuckasegee is a beautiful river, but it has its troubles. Two of its tributaries, Scotts Creek and Savannah Creek, are on the state's 303d list of impaired waterways, as is a portion of the Tuck itself, and have been for some time. Contamination from fecal coliform and erosion is to blame.
Brown wants to see those measures plummet, and he has a plan of attack to make it happen.
To fix a problem, first you have to find its source. That's why WATR is purchasing new monitoring equipment for turbidity — a measure of how cloudy water is, something that happens when eroded soil is suspended in it — with the goal of putting volunteers in every subwatershed so that during rain events samples can be captured and sources traced.
"We're going to establish pathways to mitigate those sources of erosion," he said. "There's monies out there from the state and organizations across the board to help do that, so we're working with those organizations."
On the fecal coliform side, Brown hopes to soon have better information as to what bacteria species, exactly, are driving up the sampling counts. As stated in a report on Scotts Creek that the Sylva Board of Commissioners commissioned last year, the fecal coliform group continues a wide variety of species. Some are harmful to humans, which is why it's a measure environmental agencies pay attention too. But many are not — the group includes species associated with decaying plant matter like leaves and grass clippings, as well as textile, pulp and paper mill wastes.
"We are applying for other grants to do a more specific type of monitoring for coliform that will actually give us the source, whether it's cattle, feline, dog, whatever it happens to be," Brown told the Jackson County Commissioners during a budget presentation last month.
These tests are expensive — they cost about $350 a pop — but Brown believes having those results will do Scotts Creek a lot of good.
Brown has a lot of other plans, too. He wants to write a watershed plan for Savannah Creek, a document that would make it easier to apply for funding to complete various projects on that waterway. He wants to purchase a trash boom to collect litter and debris flowing through Scotts Creek. And he wants to vastly expand WATR's membership rolls.
"We would like to see our membership grow to over 1,000, or thousands," he said.
Currently, the organization has around 300 active members, with between 700 and 900 people on the mailing list.
Other priorities for WATR include developing multifaceted education plans, revamping the website, offering various educational programs ranging from macroinvertebrate identification to watershed management and performing outreach to the community and other organizations.
Building up the organization is important for economics as well as for environment, said Brown. Despite Jackson County's self-proclaimed title as North Carolina's trout capital, the Tuck's turbidity problems mean that it's out as a location for trout fishing tournaments, events that could bring significant tourism and tax dollars to the area.
"We're losing tens of thousands, if not hundreds of thousands a year, because we're not getting fishing tournaments, because you can't count on the Tuckasegee River to be clear," said Brown.
After a heavy rain it takes three to four days for the turbidity to dissipate, and you can't have a trout tournament in a muddy river.
For Brown, the goals of clean water and a healthy watershed are somewhat personal.
"The water, the watershed, the entire thing is just one big ecological niche," he said. "In my mind, the watershed in its entirety is the heart and sort of the heartbeat of a healthy life in any area, any place. I think it's particularly important to me because this is the place I live, and I think we have to take it upon ourselves to try to enhance the quality of life through our contribution to keeping the land, the watershed, the streams healthy and productive."
Those contributions extend from land use planning in the halls of county government to splash-around education in the streams with children.
"Without a healthy watershed, I don't think any of us are going to be satisfied that we are living as healthy and kindly as we might," said Brown. "I think that it's just taking care of your place, the place you live in."