Archived News
NAACP mulls lynching monument in Haywood County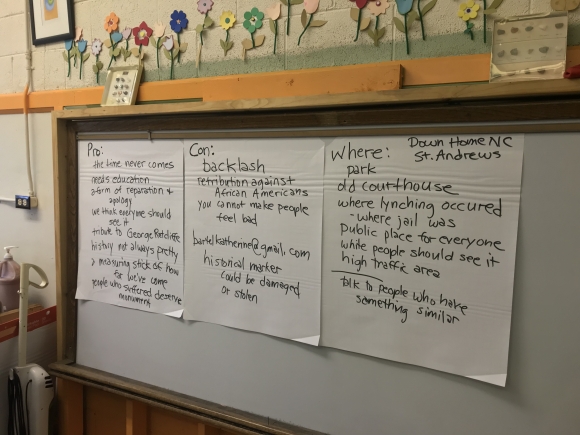 Haywood NAACP members began submitting their opinions of the lynching monument at a meeting June 1.
Cory Vaillancourt photo
Last month, members of the Haywood Branch of the NAACP took a trip to Montgomery, Alabama to visit a museum honoring more than 800 Americans who were lynched between 1877 and 1950.
There's a monument there for each one of them — a long, steel box resembling a coffin, engraved with their names and places of death. One bears the inscription, "George Ratcliff, Haywood County."
Actually, two do; one of them will hang in perpetuity at the National Museum for Peace and Justice, while the other is meant to be returned to and displayed in the community in which the lynching occurred.
Whether that should happen, and where, have been subjects of discussion amongst NAACP members, both on the Birmingham trip and afterward. There are African-Americans and whites concerned about blowback, just as there are African-Americans and whites unconcerned about blowback.
Charged with assembling a committee to weigh all those opinions is Haywood NAACP member Katherine Bartel.
"I think for the most part people are in favor of bringing the monument back," Bartel said after a June 1 meeting that saw more than 40 people show up to debate the issue. "The disagreement seems to be about where it should go."
One obvious location mentioned is right in the heart of Waynesville's traditional African-American community along Pigeon Street.
"I think that they feel like they want to bring George Ratcliff home to the community that would embrace him, but I also think they see it as expedient," Bartel said. "They've been working on the park for some time, and it looks like it's going to happen."
In March 2017, Haywood County acquired three parcels at the intersection off Craven Road and Calvary Street through foreclosure. The county then turned around and sold those parcels to the Town of Waynesville for $1, stipulating that the disused former church, which had become a hot spot for crime and criminals, be torn down and the land converted to a park.
In March of this year, Waynesville Parks and Recreation Director Rhett Langston presented a preliminary drawing of the proposed park, which will eventually consist of a shelter, basketball court, grills and a small parking area.
Some in the NAACP think this park might be an appropriate location for the monument, as it's within a short distance of two historic African-American churches.
Others say the park isn't likely to be visited by people who don't live in the immediate vicinity and certainly isn't likely to draw the eye of Waynesville's tourists, who don't often wander far off Main Street.
"Some of us feel like if we're going to do it, we should put it in a place of good visibility, a place where we remember other people from our past," said Bartel. "I think the Historic Courthouse is where we do that."
The Historic Haywood County Courthouse, in downtown Waynesville, is already home to several monuments, including a globe-topped obelisk erected on Veteran's Day, 1991, "in honor of all veterans who served in the armed forces of the United States of America," a tombstone-shaped memorial dedicated in 2003 to the 26 Haywood County men who gave their lives during the Korean conflict, another tombstone-shaped memorial commemorating 21 Haywood County men who made the ultimate sacrifice during the Vietnam conflict, a 1922 plaque installed by the Dorcas Bell Love Chapter of the Daughters of the American Revolution honoring 10 Revolutionary War soldiers buried in Haywood County and a plaque "to honor and commemorate" the Confederate veterans of Haywood County, erected by the Haywood Chapter of the United Daughters of the Confederacy in 1940.
"The reason that people want to bring the monument here is because it would involve a whole coalition of organizations in the community who come together to plan a series of educational events," Bartel said.
Beyond educational events, Bartel said that the presence of the monument in such a high-visibility location would prompt discussion, perhaps between a parent and a child.
"I would hope they would tell them the story of George Ratcliff, tell them about how this was a black man who was working on a farm for a family in Clyde and one day he was accused of assaulting an 8-year-old girl," Bartel said. "That's a really bad thing for someone to do, but we will never know whether he really did it, because before he had a trial, any kind of due process, he was killed."
Haywood Commissioners recently accepted the donation of a Revolutionary War monument that will soon be placed on the courthouse lawn. Chairman Kevin Ensley stresses that the possible location of a lynching monument must be a community and board decision.
"My thoughts are the courthouse lawn monuments are devoted to war memorials so I do not think that would be the best place," Ensley said. "However, while Ratcliff was accused of a terrible crime, he did not deserve to be killed without due process and the mob that committed the vigilante justice was guilty of murder. It seems nothing was done. Two wrongs (in this case there were three) does not make a right."
That doesn't mean that there's no place in the county for the monument, should the NAACP pursue its delivery.
"I would think a more appropriate place would be the lobby of the Justice Center, as a reminder, when we walk through on our way to court that we all deserve due process under the law," Ensley said. "This is what our Constitution guarantees in the Fifth and Fourteenth Amendments, and [what] separates us from dictatorships as well as mob rule countries overseas. The Founders wanted everyone's rights protected. This case shows that did not happen."
Commissioners Kirk Kirkpatrick, Tommy Long, Mark Pless and Brandon Rogers did not respond to a request for comment on this issue.