Archived News
Haywood County to welcome Revolutionary War monument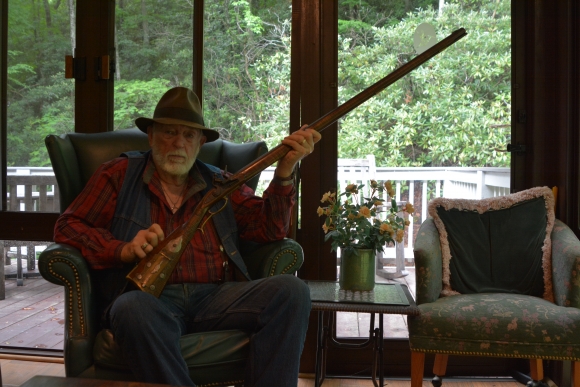 Earl Lanning, known as a maker of historic rifles, is also an accomplished sculptor.
Cory Vaillancourt photo
Earl Lanning was just a little boy in Haywood County during the 1930s, he developed three ambitions.
"I used to go see all these World War I airplane movies — war movies," he said. "I wanted to be a flyer, I wanted to be an American cowboy, and I wanted to be in the field of art in some way. I didn't know at the time what was going to be."
Now, more than 80 years later, Lanning's passions for art, history and artisanal workmanship have come together in a Revolutionary War monument he's created for the people of the county where he was born and raised.
"I've got a little dough laid back, and I love this thing enough to pay for it myself," he said. "Maybe it will incite some patriotism, which we damn sure need right now."
Earl Lanning's journey from Depression-era country boy to acclaimed craftsman and sculptor started when he left Haywood County in the 1940s for far more cosmopolitan environs.
"Long about that same time, dad took a job in Washington working for the alien registration part of the FBI," Lanning said. "I was about 10 or 11, and only a few blocks from the Mellon gallery [now the National Gallery of Art] and the Smithsonian. I spent a lot of time up there. Back then, kids walked around wherever they wanted to, and nobody worried much about them. The one spot I spent more time was in the room where all the Rembrandts were. The guards even got to where they knew me."
He quit school in the eighth grade, seeking a less formal, more comprehensive education.
"I got so damned fed up with it I said, 'Hell, I ain't learned nothing.' So I got out on my own, and learned a damn lot more than I would've in school," he laughed.
Lanning began to study art history, and as a lover of American history also started to collect artifacts from the French and Indian War, which were subsequently displayed at the Smithsonian, where he used to spend so much time as a boy.
That led him to collecting what is known as perhaps the signature firearm of the American Revolution, the Kentucky flintlock rifle.
Slimmer than a baseball bat and twice as long, these rifles — also known as the Pennsylvania rifle or the American longrifle — heralded a new degree of ballistic accuracy previously unmatched by smooth-bore firearms.
From the early 1700s through the late 1800s, more than 70,000 of these uniquely American firearms were manufactured, in calibers ranging from .25 to .62, with .40 or .48 being the most common.
The industry was centered mostly around York and Lancaster, in Pennsylvania, where craftsmen like J.P Beck and John Ball built some of the finest known examples.
"Gunsmiths in 18th-century America were probably one of the most important artisans there were," said Lanning. "You had to be a wonderful engraver, a great woodworker, a metalsmith, a blacksmith — like five different trades you had to master to be able to do this."
Not content to merely collect them, Lanning soon took to making them; since the mid-1950's, he estimates he's built more than 80 fully-functioning Kentucky flintlocks, which can fetch upwards of $7,000 each on the collector's market.
It's not hard to see why — Lanning's rifles feature graceful curves, ornate metal scrollwork and exquisite finishes that make them look less like weapons and more like museum-quality works of art.
"I rebuilt and flew antique airplanes, so I got to do that. I cowboyed in Wyoming for about 17 years, so I got to do that, and now I'm in the field of art, so I pretty well done what I set out to do," he said. "I don't have any diplomas on anything, and I don't want any."
It was while Lanning worked at that Wyoming Ranch that he met a Shoshone man named Lewis "Bud" Boller.
"Bud I think at that time was probably the finest bronze artist in United States," Lanning said. "So I got interested in it with Bud, and worked with him about four years."
Perhaps due to his independent, autodidactic nature, Lanning says he "worked with Boller" instead of "learned from Boller."
"You can't teach people art," Lanning said. "You can teach them technique, but you can't teach the art. It comes from right inside you."
As he tells it, late last year that same internal motivation resulted in his decision to sculpt a piece he now calls Militia Rifleman.
"There's several things that inspired me about this monument," Lanning said, "but all my life I would drive by the courthouse and say, 'Why don't they have a Revolutionary War Memorial?' So about eight months ago, there was a little voice inside me that said, 'You damn fool! You're the one that's going to have to do it, because you're the only one knows how and wants to.'"
Lanning says he rejected offers by local politicians for help in raising money to fund the monument because if they got involved, the 86-year-old didn't think he'd live long enough to see it completed.
"If somebody had come to me and commissioned that sculpture, I would've charged them probably $70,000," he said. "The cost is tremendous at the foundry. It's at least 50 to 60 percent of the cost."
In clay, the piece is 83 inches tall, 10 percent larger than life-sized. It depicts a frontiersman in traditional dress, complete with a small clutch slung across his shoulder and big buck knife at his waist, looking off toward the horizon with an expression simultaneously evocative of both defiance and satisfaction.
The statue is currently being cast in Chester, Pennsylvania, a suburb of Philadelphia. Once bronzed, it will weigh more than 800 pounds. When it arrives in Haywood County, it will be a deep rich dark brown, but after a period of time will turn a kind of soft green, like the Statue of Liberty.
The figure is also clutching a Kentucky flintlock rifle — appropriately, one made by Lanning, whose roots in Haywood County go back to a time when the United States of America was but an infant nation.
"I sent a rifle [to the foundry] with the statue," he said. "It's going to be terrifically accurate, that part is. And it's going to be half-cocked."
Prior to its appropriation as a phrase meaning "rash," "slipshod" or "poorly planned," the term "half-cocked" refers to the position of the rifle's striking mechanism — a safe state still plenty ready for action.
"Freedom is not free," Lanning said. "You've got to earn it from time to time. It's always in danger. There's always somebody else that wants your garden spot. Patriotism has kind of went down the drain, they don't teach anything about history in school anymore. I mean, the kids don't even know anything about World War II. I think that stinks. If you don't know history, history repeats itself, and boy don't you think it won't."
Last December, Haywood County Commissioners voted unanimously to accept the statue from Lanning and place it atop a stone platform outside the Historic Haywood Courthouse.
The choice of the courthouse, where other memorials to veterans have long stood, was an easy one for Lanning.
"It's in good company," he said. "You've got the Korean War memorial, the World War II memorial, Vietnam and all those other monuments."
One of them is a memorial to the 10 Revolutionary War veterans — including Waynesville founder Col. Robert Love — buried in Haywood County.
Lanning is pushing for an Independence Day dedication, if the statue makes it down from Chester in time.
"We're going to have to get it down here pretty quick," he said. "They're running behind on it and it's got me scared to death. I need to go up there and see it before they bring it down here because there might be something I don't like, but I'm really pleased with the way it turned out. I think it turned out far and above the way I thought it would."
The county will pick up the cost for the installation, but Lanning's paid for everything else.
"If just one kid," Lanning said, "just one kid walks up with his daddy and says, 'What's this all about?' and he tells him — to me, I'm paid."