Archived News
Oconaluftee Job Corps center to close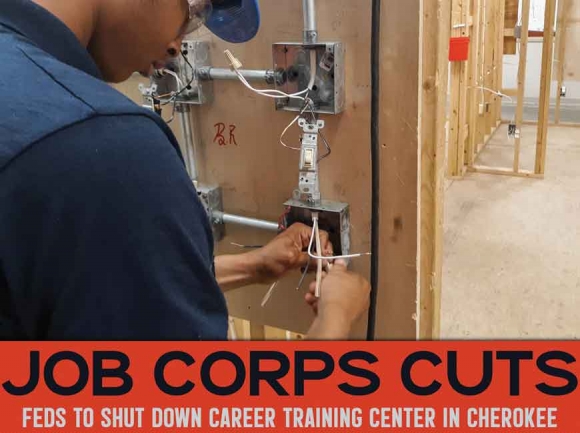 For more than 50 years, disadvantaged youth struggling to find their way in the world have had the chance to turn their lives around and become productive members of society because of the federal Job Corps program.

The program — modeled after the Civilian Conservation Corps established during the Great Depression — was part of President Lyndon B. Johnson's War on Poverty and Great Society initiatives back in 1964. To date, it has trained and educated more than 2 million students at more than 100 Job Corps centers across the country, including three centers located in Western North Carolina.
Many Job Corps students say the program changed their lives by providing them with structure, education, instructors with high expectations and on-the-job training. Now those same students feel like the opportunities they received in the Job Corps program are at risk of being taken away from future generations as the current administration moves toward privatizing the program.
The U.S. Department of Labor issued a press release May 24 stating the U.S. Forest Service would be withdrawing from operating Job Corps Civilian Conservation Centers. The transition means nine of the centers will be shut down, including the Oconaluftee CCC in Cherokee and 16 other Job Corps centers — including the Lyndon B. Johnson CCC in Franklin and the Schenck CCC in Pisgah Forest in Brevard — will continue under a private contract operator or partnership.
"It's devastating," said Adam Gresham, who graduated from the Oconaluftee program about five years ago. "When I went to Job Corps there were so many individuals like myself who needed relief from their home situation and needed a different option. Either you give them a way out or they become a product of society. No one wants that — we all want to be productive members of society."
According to the press release, the USDA's decision to get the Forest Service out of operating the centers was made after a close review of all CCC operations and performances. Of the 125 centers in the U.S., over 75 percent are already under private management while the remaining centers — located on federal lands — are operated by USDA or Forest Service staff.
"This action creates an opportunity to serve a greater number of students at higher performing centers at a lower cost to taxpayers by modernizing and reforming part of the Job Corps program," the press release stated. "The U.S. Department of Labor reviewed the CCCs performance and outcome measurements, internal controls, capacity and proximity, costs, and ongoing needs of each CCC against the overall Job Corps program to determine the best path forward."
What the press release doesn't say is that the change could displace more than 1,000 federal employees who currently work for Job Corps centers in rural America. It also means losing a vital pipeline for training new wildland firefighters and other Forest Service positions.
While the press release implies that the centers operating under federal agencies aren't performing as well and cost more than other centers being managed privately, those who have been on the ground floor at the Oconaluftee center disagree.
Gresham said it only makes sense the Forest Service would manage Oconaluftee since it's within the national park. He said the program gives students a deeper understanding and appreciation for the park system and the environment.
"It's ludicrous," he said about the CCC centers being turned over to private management. "I'm a big advocate for the Forest Service continuing to manage Oconaluftee because of the wildland firefighting training they provide to students. The training there and the staff makes a huge impression on the students."
Personal impact
Dalton Cain, 22, was on a hike with other Job Corps students within the Great Smoky Mountains National Park when The Smoky Mountain News reached out to him last Thursday afternoon. He's been at the Oconaluftee center since January as a forestry student training in wildland firefighting, timber cruising, marking and downing trees, trail maintenance and other skills needed to enter a number of Forest Service positions.
He said he's not ready to leave the program, but now he doesn't have a choice. Staff recently informed him that he has until Aug. 9 to transition out of the dorm at Oconaluftee. That gives him less than two months to get a job, save some money and find a place to live in the area so he can continue his forestry education.
Cain did have the option of transferring to another center in the country that will remain open, but he wasn't crazy about the idea of starting over at a new place with all new people.
"With the way things are going and the amount of time we have left here, I won't be able to complete my program. We can transfer and move to a new center, but I'd have to meet all new people again and I'm transferring from a very successful center and could end up going to a bad one," he said.
He's applied for a security job at Harrah's Cherokee Casino knowing casino employees receive good pay, benefits and tuition assistance so he can finish his degree in timber cruising. He never felt like traditional college was the right fit for him, but under the current circumstances, it could be his best option.
"Not everyone is meant for college whether it's because they don't have the money or whatever and I don't feel like I'm cut out for college but it's what I'll have to do — I can't back out of it now," he said.
Cain found it difficult to talk about the center closing in light of everything he's been through and knowing the impact the program has had on so many of his peers.
"I've learned a lot about responsibilities. I was a bit of a kid still and fell on hard times. I was at a bad point in my life so I came here knowing this place could help me better my life and help me re-establish some responsibility and make me a better person," he said. "I've been to three different centers, but my time here has helped me become a better human being — everything from day-to-day tasks to my work ethic."
His story is fairly typical among Job Corps students — teenagers without direction, living in a bad home situation looking for a way out. And then there are those who have deeper struggles that could have easily destroyed their lives if not for intervention. Cain said he met a friend in Job Corps from Atlanta who decided to join the program after getting mixed up with a gang at the age of 13. When he was allowed a home visit back to Atlanta for Christmas one year, Cain said the gang came after him — shooting up his home and killing his pregnant girlfriend in the process — all because he had found a way out.
"With everything he had been through, he decided to come back to Job Corps and the difference this program has made in his life is unbelievable," Cain said. "He went from being on the streets — a real gang member that many would think needs to be in jail — and now he's a good citizen living in San Francisco. He just got a job making $45 an hour painting the Golden Gate Bridge. And that's all because of this program."
Gresham is a little farther removed from the program at this point in his life, but he'll never forget the valuable lessons he learned or the lasting friendships he created at Oconaluftee about six year ago. Now 29, he recalled seeing a corny, late-night commercial for the Job Corps and decided it might be exactly what he needed.
"For some reason it spoke to me — I couldn't afford to go to college. I had a falling out with my dad and my home situation was bad at the time," he said.
Gresham also remembers how he almost didn't get accepted to the program when he was a wayward 23-year-old living in Gaston County because of the mistakes he had made.
"I had two DUIs — I was just being a dumb teenager — but I was sentenced to 15 months in a state correctional facility," he said. "The Job Corps didn't want to take me because of the charges. I had to jump through a lot of hoops to get accepted, but I'm super grateful for the program. It made me a better person."
He was in the CCC program for eight months training in electrical work, a skill he had started to learn in a high school elective class. He graduated as president of his class and went on to earn a computer science degree from the University of North Carolina. He credited the great teachers, mentors and peers he had at Oconaluftee for getting him back on the right track.
"I was able to interact with so many different people and it taught me to be accepting and just more tolerant of other people. In my dorm we had Jim (Dees) — our dorm dad — and probably 40 other people from all walks of life and from all over the country and we had to mesh together and get along," Gresham said.
He decided to move out to Boulder, Colorado, about eight months ago to start a new life. He continues to look for an opportunity to use his computer science degree in a highly competitive environment, but for now he is happy being a chef in a nice restaurant in Boulder. Living out West has also been a joy for someone who loves long-distance running — a passion he picked up from his "dorm dad" Jim Dees while at Oconaluftee.
It's not hard for Gresham to imagine where he might be today if he had continued on the path he was on at 23. Instead, he made the call to Job Corps. Living in a poor neighborhood overrun with drug and alcohol addiction, that too could have been his fate.
"Going off of the other kids I went to (high) school with and the predicaments I see that they're in now, I'd probably be some kind of addict — maybe in and out of the prison system — because drugs and alcoholism is common where I lived," he said. "I really hope Oconaluftee stays open. It's a really good program, but I think it will be up to our senators, representatives and other appointed officials to fight for it."
Tight-lipped process
With the announcement of Oconaluftee's closure, Cain said the situation is tense at the center — students are receiving their final dates of departure, being transferred to other centers or trying to figure out how to survive on their own after they have to leave. He said the center had about 100 students before the announcement was made and is now down to about 70.
"The staff here is trying to help students through it the best they can — we've had about 12 students resign, some have completed their program but didn't get a job yet," he said. "Recently they came through and said students would be given dates to leave next week — I have until Aug. 9 but everyone has to leave by Aug. 31. Many have lost hope. This was an opportunity to get away from the lifestyle they had and now they're being told that opportunity is over. For some this is their last chance."
Current and past students have been happy to share their experiences with the Job Corps program, but those running the program haven't been able to speak out on the issue. The Smoky Mountain News reached out to Oconaluftee Job Corps Center after the closure announcement was made and had arranged to visit the center and interview one of the instructors and perhaps more students.
Arriving at the gated entrance, a sign read, "Authorized Federal Employees Only." I called the instructor to see if she could buzz me in. About 10 minutes later Rebecca Woodard appeared and said to follow her back out to the main road. Once off the property, we parked on the side of the road and got out to chat. She said Forest Service employees at the center were instructed not to talk to the press and that reporters weren't allowed on the property.
However, Woodard is not a federal employee, she is an instructor with Southwestern Community College teaching at the Job Corps Center. Speaking in her personal capacity, Woodard shared why she continues to work part-time at the center on top of her full-time job with Duke University. In the year she's been at Oconaluftee, she's seen so many students turn their lives around that it's hard to accept it's all coming to an end soon. She's taught students important life skills like how to create a resume, how to apply for jobs and how to prepare for a big interview and has watched many of them go on to have productive careers.
"I love this place. I love the students and the faculty, and I know we're giving back," she said. "It's such a valuable program."
When students leave the Job Corps center, they should have everything they need to succeed, including some saved up funds from working part-time during the program and the skills necessary to work for any number of large employers in the region, including ConMet, Harrah's Cherokee Casino and Resort, Coca-Cola, retirement homes, landscaping businesses and the U.S. Forest Service.
"These companies always seem happy with their work and that's what is important to us — we want them to leave not only with an education but with a trade," she said. "Having worked while they were here, they leave here with money saved up and that can help them find a vehicle and help with rent."
Woodard has seen students come to the center at the worst point in their lives and find a way to turn it all around. She said they aren't mandated to join the program — they come because they want to have a better life.
"Many that come here are homeless. We had a man who lived a month in the woods before coming to us. Most of the time their families are not supportive or aren't pushing them toward getting an education or having work ethic," she said. "These students aren't the thugs or kids of privilege — these are the in-between teens here for a reason. We're here to help them reach their goals."
SCC has partnered with both Oconaluftee and LBJ job corps centers for almost 40 years, according to Public Relations Director Tyler Goode. SCC currently has five full-time and two part-time instructors at LBJ and one position at Oconaluftee. Programs being offered at LBJ in Franklin include facilities maintenance, culinary arts, welding, office administration and cement masonry. At Oconaluftee, SCC offers the forestry conservation program.
"The Job Corps allows us to offer some trade programs we would not normally be able to offer through our Workforce Continuing Education division. These programs prepare economically disadvantaged individuals from ages 16-22 to enter the workforce or go on to pursue further education," Goode said. "We offer everything from High School Equivalency and life skills training to employability skills and the opportunity to learn a trade. Our students in the forestry program get advanced training through the U.S. Forest Service then become firefighters or fill jobs with a variety of area employers."
A message left with Oconaluftee center director Jim Copeland was not returned as of press time Tuesday.
Center performances
Though the press release alludes to poor performance among the list of centers being closed, Oconaluftee is actually one of the highest ranked centers in the nation as far as operations and performance, according to a March 2018 special report from the National Federation of Federal Employees, the union representing Forest Service employees.
The report was issued in response to President Donald Trump's 2019-20 budget, which proposed ending the USDA's role in running the CCC centers and allowing the DOL to select private contractors. NFFE President Randy Erwin called the administration's justification for the change "scientifically and legally flawed," and issued the CCC financial and performance report to correct "inaccuracies and deliberate mischaracterizations" of the job corps program.
Specifically, the report disputed the Trump Administration's claims that the centers being operated by the Forest Service are overrepresented in the lowest performing cohort of centers and that the USDA's role does not include workforce development. In fact, CCC centers are underrepresented in the lowest performing quartile and include the highest performing centers in the country. In addition, a recent DOL analysis shows that USDA and CCC centers are substantially more cost effective than comparable centers run by private contractors.
As for the USDA's role in operating the centers, Erwin claims it's clearly outlined in the Workforce Innovation and Opportunity Act that the USDA centers must be located primarily in rural areas and shall provide academics, career and technical education and training, workforce preparation skills training, programs of work experience to conserve, develop, or manage public natural resources or public recreational areas or to develop community projects in the public interest.
"This important and unique role is consistent with the core responsibility and expertise of the USDA Forest Service," the report stated. "The program saves lives and saves taxpayer dollars; wasted lives are a drain on society."
The report found the administration's claims "astonishing" given that the DOL has comprehensive criteria in place for assessing performance of the job corps centers. Based on data from the Outcome Measurement System (OMS), 58 percent of the CCC centers are above average, including Schenck Job CCC Center in Brevard, which is the No. 1 ranked center in the nation.
The report admits that CCC centers were substantially underperforming compared to private contracted centers in 2014, but claims the USDA's National CCC program office took strong steps to hold center leadership accountable for the performance of their centers. Now CCC center performance has been trending upward over the last four years.
For example, the Blackwell CCC center was ranked 124th out of 125 centers in 2014. With new leadership, it now ranks 19th out of 124. Similarly, the Oconaluftee CCC center improved from a rank of 119 in 2014 to a rank of 21 in 2017.
"Such successes should be embraced and rewarded. Instead, DOL proposes to throw them on the trash heap," the report stated. "The logic put forward in the President's budget is that ALL publicly operated centers should be converted to privately run centers because of the alleged underperformance of publicly run centers as a group. If one were to use this logic with accurate data, then ALL privately-run centers should be converted to publicly run centers."
However, that's not the approach being advocated by the NFFE. The report states that all centers should continue to be held accountable for their performance and if budget constraints or shifting priorities should force the closure of any centers, the decision should be based on those performances.
Center costs
A center's cost of operations is not included in the OMS ranking, but obviously it's an important factor to consider when proposing to shut down or change a center's operations. From 2010 to 2017, the cost per student enrolled in a CCC center was $6,181 to $13,705 less than the cost per student of the non-CCC portion of the Job Corps program.
"This resulted in a savings of over $410 million over that period as compared to the cost of serving the same number of students in a traditional Job Corps setting. These efficiencies would be put at risk by privatizing the CCC centers," the report read.
In researching the costs associated with the job corps centers, the NFFE reported a number of funding inconsistencies in the DOL budget. For example, an average of $41,175 per student was allocated from 2010 through 2017 for DOL centers but during the same period, only $31,323 per student was allocated for the USDA CCC centers. The report also claims the Job Corps budget has been decreased every year since 2010. Since centers have fixed costs, reducing the budget year after year will adversely affect performance outcomes.
Given the alleged misstatements to Congress and budget cuts to the USDA-operated CCC centers, the NFFE claims the Trump administration is advocating for the privatization of all CCC centers.
"Taken together, these allegations imply a willful undermining of the publicly operated CCC program. Under this scenario, the driving force would be the undeniable fact that there is money to be made in privatization," the report concludes. "These are serious allegations. Some are confirmed and unexplained; others are unconfirmed. We are not able to explore them further at this time. We suggest that a thorough independent investigation of these and other relevant issues pertaining to the relationship between the DOL and USDA in the administration of the CCC program may be warranted."
U.S. Rep. Mark Meadows, R-Asheville, and U.S. Sen. Thom Tillis, R-NC, did not respond to requests for comment on the CCC center closures.