Archived News
Interstate 40 closed indefinitely after another rockslide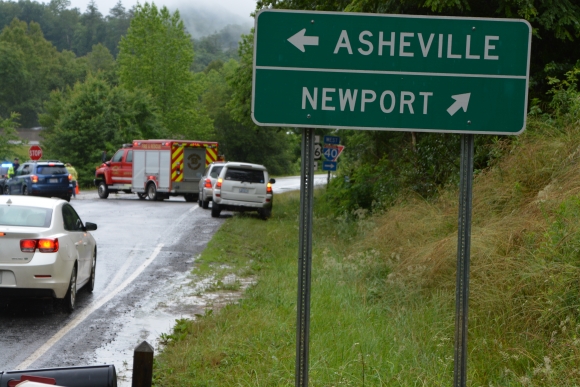 Interstate 40's westbound lanes in Haywood County are now closed indefinitely.
Cory Vaillancourt photo
Less than four months after a rockslide in Haywood County closed a 20-mile stretch of Interstate 40, it's happened again.
Shortly after 2 p.m. today, an announcement from the North Carolina Department of Transportation announced the closure.
"Due to a rock slide, all lanes of I-40 West are closed in Haywood County near the Tennessee State Line at Exit 7 (Cold Springs Creek Road)," reads the statement. "At this time, the road is expected to be closed indefinitely. Motorists are encouraged to seek an alternate route and avoid the area if possible."
By 3 p.m., officers from the N.C. State Patrol and the Haywood County Sheriff's office, along with volunteers from Jonathan Creek Fire and Rescue had already blocked entrances to the westbound lanes of Interstate 40 at U.S. 276.
Today's slide appears to have occurred close to where the February incident took place. Although limited travel was possible just a few days after the February slide, all lanes of Interstate 40 did not reopen until about a month ago.
This latest slide comes as Haywood County's tourist season begins in earnest; each year, thousands of in-state and out-of-state visitors arrive in Haywood County via Interstate 40.
Check in with The Smoky Mountain News for updates on this developing story.