Archived Travel Guide
Coming down the mountain: Whiteside Brewing impacts Cashiers culture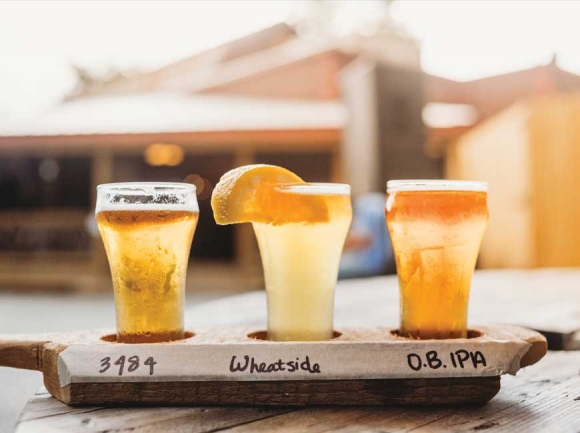 A selection of craft beer from Whiteside Brewing in Cashiers.
It's just after 5 p.m. at the intersection of U.S. 64 and N.C. 107 in the village of Cashiers. Otherwise known as the "Crossroads," the junction — atop a mountainous plateau at the southern end of Jackson County — is usually buzzing with tourists and second-homeowners spring through fall. And, normally, it's relatively silent when winter rears its head.
But, over the last year, that shuttered up seasonal attitude has slowly changed with the addition of Whiteside Brewing, just a stone's throw from the Crossroads.
"We saw two things: the tourism market and the local market," said Whiteside co-owner Bob Dews. "When we came to develop this, we really saw an opportunity for a social element. What we want to create here, whether interior or exterior, is a relaxed conversation after work, a place to go and unwind at the Crossroads."
Dews and his wife, Lise, have been the proud owners of the Laurelwood Inn in Cashiers since 1995. Originally from Atlanta, Georgia, the couple left the corporate world and headed for the plateau when their twin daughters were born — a place of natural beauty and wonder that was ideal for raising a family.
Also located at the Crossroads, the inn is a quick walk down a wooded path from Whiteside. Formerly a dinner theatre, the 20-year-old building was transformed into a fully operational brewery in May 2018.
"What's helped us is having been in business here for 24 years. We're not getting caught off-guard in the seasonality and things that go along with being part of a resort community," Lise said. "This became a natural extension of what we love about this place and what it has to offer. We have a very unique opportunity to tie a lot of things together."
Lise and Bob Dews (left) and Dieter Kuhn (right).
"There was a need for a brewery, and it does tie into the Laurelwood. But, more importantly, for Lise and I, that inn is our home. So, I know Cashiers is going to be our business community for the rest of our lives," Bob added. "And if I'm going to participate and contribute to Cashiers, and be a good steward of my business environment, I'm going to create something not only enjoyable to myself, but also everyone else."
On any given night, folks wander out from their homes tucked behind vast tree lines on the plateau and head for the brewery. Friendships are made, perhaps rekindled, amid a wide selection of American and German styles of craft beer and live music on the weekends, all of which is complemented with a full menu of hearty dishes streaming out of the commercial kitchen.
And at the heart of the brewing operation is Dieter Kuhn. A well-known Western North Carolina brewer, Kuhn formerly owned and operated Heinzelmannchen Brewery in Sylva. Opened in 2004, it was the oldest brewery west of Asheville until it closed in July 2017. At that time, Kuhn figured he was somewhat retired, though his lifelong love for brewing never wandered too far from his thoughts.
"By September 2017, I was up here at Whiteside helping with construction and painting, doing all kinds of odd jobs. Bob then approached me and said, 'You ought to be my brewer,'" Kuhn smiled. "I wanted to continue to brew. I was really tired of working hard and not being as consistent as I would like with the system we had a Heinzelmannchen. I was glad to get away from that ancient system and now use this state-of-the-art system at Whiteside."
The seven-barrel brewing system also includes two 15-barrel and three 10-barrel fermenters. For the upcoming calendar year, Kuhn estimated Whiteside could produce over 500 barrels. And coming from a German background of brewing, Kuhn's techniques and recipes flow seamlessly with the food component of Whiteside — a key trait of traditional German styles.
"Dieter is an incredibly intuitive brewer. He stays true to a lot of the origins of beer, and I think in this day and age, it's almost the abnormal to say true to the origins," Bob noted. "When you're staying true to original, ancient beers, you're adhering to the history of beer and all of those who came before you who brewed with passion and brought communities together — the classics are never going to go out-of-style."
"What I see here at Whiteside are our teammates. Everybody who works here really gets along, and we try to gear this place more towards the idea of family and community," Kuhn added. "You get that warm fuzzy feeling in your heart — people come in here and leave satisfied, and leave with a happy thought."
Want to go?
For more information on Whiteside Brewing in Cashiers, call 828.743.6000 or visit www.whitesidebrewing.com.
To learn more about the Laurelwood Inn, go to www.laurelwoodinncashiers.com.