Archived Travel Guide
Can't keep a good man down: Banjo legend Raymond Fairchild on turning 80, a life in music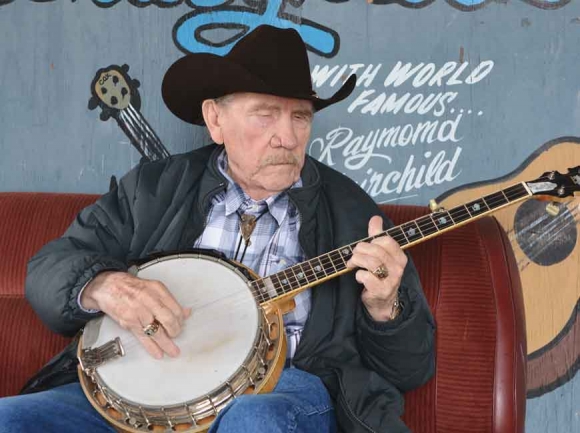 Though his fingers seemingly wrap around a walking cane more than his trusty banjo these days, Raymond Fairchild remains one of the finest musicians who ever picked up the five-string acoustic instrument — alive or six feet under.
"I just count myself another mountain picker. I don't think I'm no better than anybody else, but I think I'm as good as any of'em — that's the legacy," Fairchild said with his trademark grin. "When they ask me when I'm going to retire, I say when somebody comes along and beats me at picking the banjo — and they said, 'you'll never retire.'"
Fairchild is sitting in a chair in front of the Maggie Valley Opry House, which he and his wife Shirley have owned and operated for 33 years. Fairchild himself recently turned 80, but shows no signs of slowing down, even with a performance schedule at the Opry House that hovers around seven nights a week in the summer months.
"The Opry House is a like a second home. I've about quit the road and that gives people a chance to come see me here, you know? Travel will kill you, man," Fairchild said. "I play Friday and Saturday up to Memorial Day. Then, I'm going to play seven nights a week when I can. See, I'm going to run the Opry House — it ain't going to run me."
The "Father of Bluegrass" Bill Monroe (from left), Josh Crowe, Raymond Fairchild, Ralph Stanley and Wayne Crowe.
Fairchild and Earl Scruggs.
Although he may come across as rough around the edges, Fairchild is a not only a man of his word, but someone fiercely loyal to those he calls friends and family. The only thing hard about Raymond Fairchild is his work ethic, one of tireless performing night after night, mile after mile — it's his passion, and also his paycheck.
"I made a pretty good living. Raised three [kids]. I've got a pretty good little dwelling and I ain't going hungry," Fairchild said. "It's just another way of making a living, but it's more enjoyable than getting out and cutting wood or digging a hole in the ground."
Just last month, North Carolina State Sen. Jim Davis presented Fairchild with two awards onstage at the Opry House. One was a recognition from Davis and the other from the floor of the state Senate. But, even with the honors, it still doesn't do much to put folks in the seats at the Opry House.
"For people to think that much of you, it means something, you know? But, a lot of the people [that used to come see me play] are fading away because they're dying out," Fairchild noted. "I'm losing a lot of my fans through death, and the youngsters just ain't going to pick this type of music up — time changes everything, and you have to live with the times."
If you're unaware of who Raymond Fairchild is, you might be unaware that he's regarded as one of the three all-time great banjoists in the history of bluegrass and mountain music, the other two being the late Earl Scruggs and the late Don Reno — a statement of merit made to Fairchild by the "Father of Bluegrass" himself, the late Bill Monroe.
"Bill Monroe told me that. Earl Scruggs told me that, too," Fairchild smiled. "And when you say bluegrass, it's Bill Monroe — the rest after Bill Monroe are just copycats. Bill Monroe was the true bluegrass man, and he'll never be equaled — you don't beat a man at his own game."
Raymond Fairchild playing banjo recently in front of the Maggie Valley Opry House. Garret K. Woodward photo
Born to a white father and Cherokee mother, Fairchild learned how to play the banjo by ear, which led to the creation of his distinctive style — never duplicated, always imitated.
"I didn't have no radio or nothing," Fairchild recalled. "And when I got a chance to hear a tune, I'd hold it in my head. So, I'd go from that and do the rest from imagination."
Aside from the unique dexterity in Fairchild's fingertips, what's just as awe-inspiring is the lightning-fast speed by which he plays such intricate and complicated melodies.
"It just comes from the way I learned, I guess — I always liked to play fast. Of course, I can't play that fast now," Fairchild modestly stated. "And another thing, it all depends on who's behind you. If the backup men can't get it, you can't either — they'll drag you down."
Gazing along the walls of the aging Opry House, there are numerous awards, including plaques signifying over two million records sold of Fairchild's instrumental "Whoa Mule," now a standard of traditional music. Right next to the stage, there's also his award for induction into Bill Monroe's Bluegrass Hall of Fame (Bean Blossom, Indiana), an honor he received in 2015.
Fairchild picking for a black bear.
Many of the photographs and concert posters on the walls are yellowed and dusty. The faces and names are of bluegrass and country music legends — all friends of Fairchild, with most of which long gone from this earth.
"There are ones I really miss — The Lewis Family, Ralph Stanley, Bill Monroe," Fairchild solemnly said. "It just brings back old memories. Sometimes it's good, sometimes it's bad, according to the mood you're in. Sometimes you want to see them memories, sometimes you don't. And a lot [of those faces] have done went on."
Within the 65 years he's played professionally, one moment sticks out more than the rest — the first time Fairchild took the stage at the Grand Ole Opry, held at the Ryman Auditorium in Nashville, Tennessee. Fairchild reckons that initial appearance was somewhere around 1977 or 1978. No matter though, because it led to several other pickin'-n-grinnin' sessions onstage at "The Mother Church of Country Music."
"It was me and The Crowe Brothers — the greatest [three-piece] band that's ever been together," Fairchild reminisced. "A lot of people say their knees are shaking and they were nervous [being onstage at the Grand Ole Opry]. It didn't bother me more than stepping out here [at the Maggie Valley Opry House]. But, I knew it was the highest you were going to go in this type of music — when you stand in front of them WSM microphones."
Fairchild and The Crowe Brothers.
Sitting back down in his chair in front of the Maggie Valley Opry House, Fairchild places his cane beside him and reaches for his banjo case. He unbuckles the latches and pulls out his old friend, those five strings that provided him with a life well-lived, one of musical glory and lore.
"Every time I pick up the banjo, I learn something. I still love a banjo guitar. I just love what I call mountain music," Fairchild said. "What kind of future do you think I've got? Probably a short one. But, you just look back on it all, the music and the memories — if I had to do it over, I'd do it again."
Want to go?
Acclaimed banjo picker Raymond Fairchild performs at the Maggie Valley Opry House at 8 p.m. on Friday and Saturday through Memorial Day Weekend. After Memorial Day, he and his band play upwards of seven nights a week.
Tickets are $12 per person. The Opry House is located at 3605 Soco Road in Maggie Valley. To purchase tickets, click on www.raymondfairchild.com or call 828.926.9336.
A longtime and storied moonshiner, Fairchild has also lent his name and recipe to Elevated Mountain Distilling Company in Maggie Valley. Labeled "Raymond Fairchild Root Beer White Lightning," the popular moonshine is available for purchase at Elevated Mountain and also at your nearest ABC Store.
Fairchild also hosts a monthly bluegrass jam at the distillery. For more information on the moonshine and the jam, click on www.elevatedmountain.com or call 828.944.0766.
A look back: Raymond Fairchild
Editor's Note: The following is an excerpt from a 2015 cover story published by The Smoky Mountain News about Fairchild being inducted into Bill Monroe's Bluegrass Hall of Fame. In 2017, Steve Sutton passed away unexpectedly.
So, just who is Raymond Fairchild?
"Raymond Fairchild is an icon to me, of mountain music and of bluegrass banjo," said Marc Pruett, banjoist of Balsam Range. "He was, and is, very gifted. He has the fastest, quickest right hand thumb I think I've ever seen. He and Don Reno were the only two guys I can think of who were that fast and that talented. The way Raymond plays the banjo pulls such a sensitive, accurate melody out of it that most players just can't do it."
A Grammy-winning musician and bluegrass legend in his own right, Pruett remembers being a kid and seeing Fairchild playing alongside the road, performing at the Hillbilly Funhouse (now a campground) in Maggie Valley. It was the mid-1960s, a time when the town was bustling with tourists along a two-lane road, a far cry from the five-lane easy access to Harrah's Cherokee Casino Resort these days.
"Back then, the musicians would play and place speakers near the road. There was no air conditioning in most cars, so folks had their windows rolled down and could hear the music when they passed," Pruett said. "And my goodness, was that music powerful. You could hear it a quarter-mile or more away."
To this day, Pruett never forgot the influence Fairchild had on his musical aspirations. Alongside Flatt & Scruggs on the radio and television, Pruett places Fairchild up there as one of the first who helped pave the way to his ultimate passion in life.
"For me personally, Raymond has been a friend and an inspiration musically," he said. "He is a person who is determined to work hard, with a strong ethic to make a living from his talents, and I just have the utmost respect for that."
Those sentiments are something echoed from another acclaimed Haywood County banjoist, Steve Sutton. A Grammy-nominated, multiple IBMA award-winner, Sutton has toured with the likes of Jimmy Martin, Alecia Nugent, and Rhonda Vincent, to name a few. And through his lifelong pursuit of bluegrass and mountain music, Sutton also remembers where it all began.
"Raymond was the first banjo player I ever saw in person," Sutton reminisced. "It was 1965, I was about 7 years old, watching Flatt and Scruggs on TV. I loved watching Earl Scruggs play that banjo, and my daddy said he knew of a guy who played up on the side of the road in Maggie Valley."
Fairchild at the Hillbilly Funhouse.
Sutton was in awe of Fairchild's intricate playing. He'd never seen something like that, and immediately wanted to be up there, onstage, doing the same thing.
"I wanted to play," Sutton said. "I asked my daddy right then and there if I could get a banjo, and I did that Christmas. I learned how to play through the winter, and come spring, I was over there at the Hillbilly Funhouse playing alongside Raymond, learning everything I could from him, watching everything he did."
In an effort to maybe get a few extra tips from passerby tourists, Fairchild would pass off Sutton as his son onstage, saying the folks in the crowd (Sutton's parents) were kind enough to watch him for Fairchild when he was up there trying make money "to pay the electric bill."
"And if we drew a crowd, we'd pass the hat around and it'd fill up with tips," Sutton chuckled. "And Raymond would always give me all the money in the hat, which is what I saved up and used to buy my first real nice banjo a couple years later."
Sutton never forgot Fairchild's generosity, nor the influence he had on the starry-eyed youngster ready and eager to take on the world, which for bluegrass musicians is the Grand Ole Opry and Bean Blossom (something Sutton has done numerous times since then).
"He was just so unique in his style, and still is. Nobody can play like Raymond. He was such a stylist, just like Don Reno and Earl Scruggs — he could play anything," Sutton said. "With Raymond, it wasn't tricks or gimmicks. He'd take that banjo and make it do things nobody had ever seen before. Hell, I've seen Raymond play Earl Scruggs own banjo and it still sounded like Raymond."
It's early Saturday morning at Bill Monroe's Bluegrass Hall of Fame in Bean Blossom, Indiana. The sun has only been up a short while. An old tour bus rolls up. A moment later, Raymond Fairchild appears. The man of the hour has arrived. He walks with a slight limp through the morning dew of the grass, the dust of the roads surrounding the performance field.
A few hours later, Fairchild is sitting up onstage, in front of the entire Bean Blossom faithful. There's a slight grin creeping up from each side of his mouth. For a man who usually plays it straight ahead and is a little rough around the edges, Fairchild is truly humbled by the induction ceremony.
Raymond Fairchild and Larry Sparks backstage in 2015 at Bill Monroe's Bluegrass Hall of Fame in Bean Blossom, Indiana. Garret K. Woodward photo
Stepping up to the microphone, bluegrass legend Larry Sparks gives a speech to present Fairchild with the honor. Fairchild's grin turns into a full-fledged smile when a letter is read to him by Sparks. It's a letter from another legend of the genre, another dear friend from along Fairchild's long and sometimes arduous journey — Alison Krauss. A Hall of Famer himself (at Bean Blossom and the IBMAs), Sparks knows just how important this award is.
"This honor is your work and your life," Sparks said afterwards. "It's for all those friends and family, those people and those fans who stayed with you all these years. When you're walking on the grounds of Bean Blossom, you're walking on the grounds of history."
Like many, Sparks also feels Fairchild's induction is long overdue.
"Raymond has been with us a long time and he deserves to be in here as much as anybody who is already there," he said. "He's an original. When you heard him play, you knew exactly who it was."
— By Garret K. Woodward