Archived Reading Room
Loving every word of it, all 630,000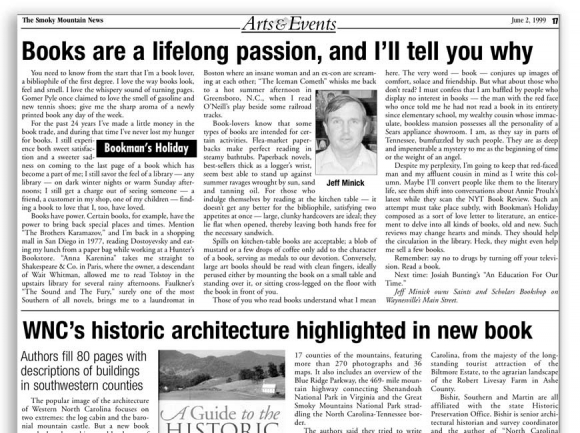 Let's start with some basic mathematics.
For 20 years, I have reviewed books for The Smoky Mountain News. For some of those years, I shared the position of reviewer with that fine storyteller and playwright, Gary Carden. Occasionally, too, others like writer and poet Thomas Rain Crowe have published reviews in this space.
So let's say I've put out 35 reviews per year for 20 years. That adds up to 700 reviews. Each review averaged about 900 words — I am supposed to aim at 850 words, but I tend toward logorrhea when discussing authors and books — which means that approximately 630,000 of my words about books have traveled from my computer to The Smoky Mountain News.
That's a boatload of words.
And now I'll let you in on a secret.
I have enjoyed every single word.
Here are three reasons for that pleasure.
I get to select the books I review.
I get to select the books I review.
I get to select the books I review.
That's why a negative book review appears in The Smoky Mountain News about as frequently as a sunbather at a beach in Antarctica. Why kind of a nut would want to read books he disliked? Instead, from day one editor Scott McLeod has given me the freedom to choose the books I want to read. When I stumble across a biography of Hemingway — Hemingway's Boat — or a novel by Nina George — The Little Paris Bookshop — I read and then sit at this keyboard and tell others why these particular books attracted me. With these and all the hundreds of other books that caught my attention, my greatest wish is to convey to readers my enthusiasm for the authors and what they have written.
In addition to the joy I take in composing these reviews, I am also grateful to The Smoky Mountain News for continuing to publish book reviews. On a personal front, these columns have allowed me to sharpen my skills over the years, enabling me to grow and to find other outlets for my work. Writing these columns taught me the hard virtues of professionalism. I may be ill, I may be down in the dumps, I may be having the worst month of my life, but once a week I sit down and talk through my fingers about a book I've read. Often this obligation proved healthy for me. Having to compose a weekly column grounded me, gave me a lifeline when life became a tornado. I am grateful as well for the checks I have received over the last two decades. The money came in handy during times of financial duress and reminded me that someone had enough faith in my work to pay me for it.
More broadly, we should all feel an enormous sense of gratitude — and awe — that The Smoky Mountain News has not only survived in an age when so many print newspapers have stumbled into the grave, but also that the paper has kept its book review section. As far back as 2007, The Guardian's John Freeman wrote a piece titled "Book reviews pushed to the margins," noting how many papers around the United States had either eliminated or cut back on reviews, a trend that has continued. Freeman laments this decline, observing that "Book reviews are one of the few places in a U.S. newspaper one can stop to appreciate the beauty of language, the pleasures of knowledge. They are also footbridges to artistic tradition, however rickety."
Not so in The Smoky Mountain News. The paper has done itself proud by continuing to offer this feature to its readers and so promoting reading and literature. In an age in which so many people have moved from the printed word to the visual, from reading a novel or a history to a quick look at an online column or two, The Smoky Mountain News has fought the good fight on behalf of literature.
Along with joy and gratitude, I also take great pride in writing for The Smoky Mountain News. Here is a paper that prints real news, information that can benefit both individuals and the towns and communities of these mountains. In last week's edition, for example, Holly Kays reported on the upcoming tribal elections in Cherokee. She wrote a brief introduction explaining the elections, then asked each of the candidates running for office the exact same questions. In other words, Holly Kays kept herself out of the story and reported the news. In The Smoky Mountain News, opinion is mostly reserved to its proper home, the editorial page.
Finally, here is a paper that celebrates the region and the people it serves. If you've come this far with me, take a few minutes and look through the Arts section. Here you'll find feature articles on such assorted folks as bluegrass musicians, actors, weavers, and painters.
Time now to return that favor and celebrate 20 years of The Smoky Mountain News.
Time, too, to celebrate all you readers. So I'll end by lifting my cup — black coffee, as it's morning when I tap out these words — in a salute to all of you who have read me and this paper over the years!
Thank you.
(Jeff Minick is a writer and teacher. This email address is being protected from spambots. You need JavaScript enabled to view it.)