Archived Arts & Entertainment
This must be the place: No fear or shame in the dignity of your experience, language and knowledge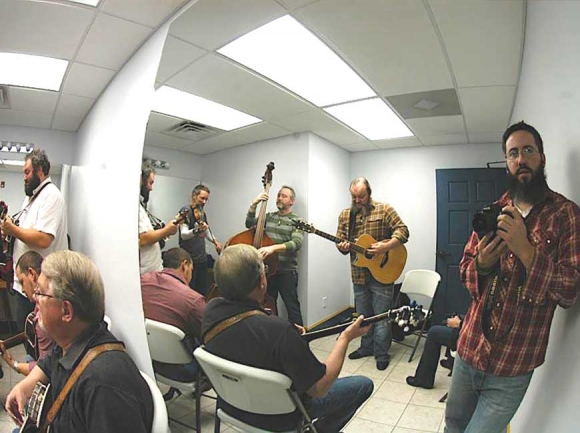 Backstage in Canton with Balsam Range, January 2013. (photo: Garret K. Woodward)
The first week I lived and worked in Western North Carolina, I slept underneath my desk in the old newsroom of The Smoky Mountain News on Church Street in downtown Waynesville.
I still marvel over that. And yet I continue to sleep on the ground at music festivals or if I'm at a backwoods bonfire too far from home, too far from my truck. It's just a part of who I am, which is a very minimalist and low maintenance human being.
But, what I truly marvel at was how desperate I was for work back then in 2012. Though I've been fully and happily employed at this newspaper for the last seven years, it strikes me funny sometimes how on the verge of walking away from writing and journalism I was in those tremendously underemployed days.
Seven years ago this month, I applied for the arts and entertainment editor position at The Smoky Mountain News. Temporarily living in my parent's farmhouse in Upstate New York, my back was against the wall (financially speaking) when my freelance contracts with a few North Country publications were not going to be renewed that summer due to budget cuts.
I applied for over a hundred journalism jobs in June 2012. Cops and courts reporter in Omaha, Nebraska. Education reporter in the panhandle of Florida. Local government reporter in rural Maine. Gigs I wasn't really psyched about. I wanted to write about passion, about artists and history, people and places, things and ideas that reside at the core of a region, wherever that may be.
And in the 11th hour of my desperation, I received a message from The Smoky Mountain News' publisher, Scott McLeod. He liked the writing clips I sent along, and also my enthusiasm in my cover letter about a sincere desire to write about humanity and the arts.
With the last couple hundred dollars in my bank account, I drove the 18 or so hours from Plattsburgh, New York, to Waynesville for the final job interview. Solo trek. Nonstop except for gas stops and one hour of sleep around 2 a.m. in some rest area in West Virginia. Three days later, I was hired at The Smoky Mountain News.
Leaving the hiring, I immediately drove from Waynesville to Portland, Maine, to say goodbye to my folks and little sister, who were on summer vacation up there. Then, a couple days later, I headed from Maine to Plattsburgh to say goodbye to my friends, pack up my rusty pickup truck with my belongings and make my way back to Haywood County to start work the following week.
In my time with this publication, I've been lucky and grateful to be able to write about so many incredible subjects, to be part of experiences I only thought accessible in dreams. My loyalty to the newspaper is a direct relationship between the freedom in my work and the sincere notion that this is a quality product, one that every single employee here proudly stands behind.
And to that point, my loyalty and love of living and working in Western North Carolina comes from you (yes, you) the reader, those currently holding this paper week in and week out. Your support not only puts gas in my truck to track down and write about the next adventure, it's also proof positive that what we're doing (and what we're about) is something of importance to our mountain communities and local residents.
Writing can be a lonely thing. And being a writer roaming the high peaks and low valleys can be an isolated life, too. But, this is my true calling. I spend many-a-night burning the midnight oil putting together a cover story on deadline. Transcribing hour-long interviews. Constructing an outline of how I want an article to look and feel like. Anyone in this profession can attest to the following: this is, truly, a labor of love.
I deeply believe in the power of the written word. I believe in sharing the stories of your neighbors (perhaps even you, too) for all to immerse themselves in. The world is a better, more informed and compassionate place when your community newspaper is there to observe and report on the matters of the day.
And yet, without readers and community support, there is no Smoky Mountain News. We wouldn't exist without each and every one of you out there. If you didn't believe in our cause and why we should be part of your daily life, then we wouldn't have made it past year one.
But, here we are. Twenty years later. Seems like probably 20 days to some of us with how time flies. Maybe more like 200 years to others. At The Smoky Mountain News, we care about what we do, and how we do it. Each week you're holding something of intrinsic value from our hearts and minds to yours, and back again.
Life is beautiful, grasp for it, y'all.
Hot picks
1 The Cherokee Bluegrass Festival will return June 6-8 at the Holiday RV Village and Campground in Cherokee.
2 Nashville songwriting star Larry Cordle & Lonesome Standard Time will perform during the "June Jam" beginning at 4 p.m. Saturday, June 8, at the Fines Creek Volunteer Department.
3 The 23nd annual Cherokee Voices Festival will be held from 10 a.m. to 5 p.m. Saturday, June 8, at The Museum of the Cherokee Indian.
4 "Art After Dark" will continue from 6 to 9 p.m. Friday, June 7, in downtown Waynesville.
5 The Grace Church in the Mountains will be hosting an internationally acclaimed art exhibition titled "Icons in Transformation" through June 16 at the church in Waynesville.