Archived Arts & Entertainment
Crafting together community: How craft beer impacted WNC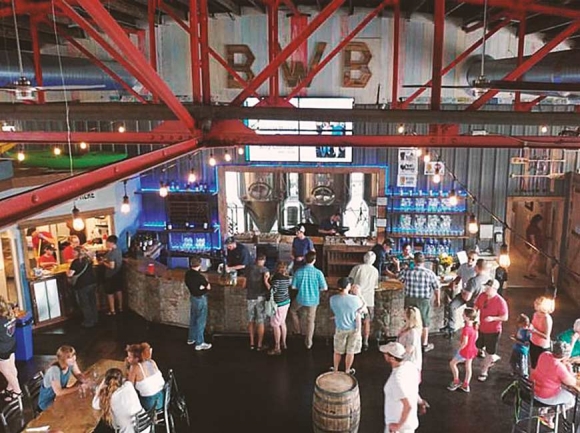 BearWaters Brewing.
According to recent numbers, there are around 75 breweries within Asheville and greater Western North Carolina. And 19 of those breweries are located west of Asheville.
But, back in 1999, when The Smoky Mountain News launched, this was the number of breweries in our jurisdiction — zero. None. Not a single one. The idea of craft beer, let alone something concocted in your backyard, was not only somewhat unheard of, it never was thought to be something of an economic driver.
"Asheville, and craft breweries in general, have had such a big tourism boom in the [recent] years. And having multiple local breweries here has brought a lot of new people to Waynesville," said Kelsie Baker, co-owner of Boojum Brewing in downtown Waynesville. "They stop in because of the breweries and end up coming back because of all the amazing things the town and the area have to offer."
Aside from the enormous increase in craft beer enthusiasts worldwide, each of these breweries has also impacted seemingly every aspect of the culinary, nightlife, workforce, economic climate and social circles in these small Southern Appalachian mountain towns.
"Honestly, it's hard to recall what downtown Franklin was like a few years ago when folks joked about the sidewalks being rolled up at 5 o'clock," said Ken Murphy, co-owner of Lazy Hiker Brewing in downtown Franklin. "We're often told that we've significantly changed the dynamic of downtown Franklin by bringing life to the west end of downtown, and by stimulating other investment in the downtown area."
"When we moved to Sylva there was not much of a nightlife and there were no bars. Since we've opened, we've seen tremendous growth in the downtown business sector and we now have wonderful options for nightlife," added Nicole Dexter, co-owner of Innovation Brewing in downtown Sylva. "We have several thriving bars, restaurants, and cafes that offer our town live music, entertainment and art — it's been amazing to watch this town grow in the six years we've been here."
And with each small town benefiting from these new and beloved anchor businesses in downtowns, one town in particular has completely shifted from a somewhat abandoned downtown corridor to a place where it's hard to find a parking spot on the weekends — Canton.
"One thing became evident [back then], local beer was going to be well-received and supported by the community. Fast forward to now and you can clearly see the evolution of craft beer in Haywood County," said Kevin Sandefur, co-owner of BearWaters Brewing in downtown Canton. "I believe in my heart of hearts that all the breweries in the area have had a very positive impact on the local economy. They're destinations in their own right, and have clearly diversified the attraction to this area. There have been a significant amount of jobs and tax revenue created, as well."
Though nowadays opening brewery in our region is viewed as a stable investment and source of pride for a community with the right kind of folks behind an operation, it has been only in recent years where mindsets of local residents and tourists alike have warmed to idea of having a brewery down the street or around the corner.
"When I think back to Bryson City — and the other small towns west of Asheville — pre-craft brewing, there were drastically different places from my point of view," said Joe Rowland, co-owner of Nantahala Brewing in Bryson City. "There was less night life, few if any family-friendly places to enjoy a craft beer and there was a joke that most of these towns rolled up the streets because there wasn't much, if anything, going on in the evenings."
Soon, communities began rallying around the breweries, many of which were breathing life into old and often forgotten properties in the heart of downtowns.
"Both of our main brewing facilities are located in buildings that predate World War II and would have likely been torn down if we hadn't come along to bring new life to them," Rowland said. "As craft brewers have infiltrated each of these small towns, many of us have looked to expand by delving into ancillary businesses — farm-to-table restaurants and additional taprooms — in other towns where our wholesale sales have been strong. That's led to more redevelopment and additional economic development in areas that were previously abandoned."
And that hyper-local impact by the craft beer industry has positively affected some of the smallest communities situated in our mountainous landscape, including the town of Andrews — home to three breweries amid a population of 1,780.
"Andrews is a sleepy town, at best. We recognize we're not Sylva, Bryson City or even Murphy. But, little by little, we're making improvements on the quality of beer and wine offerings by all the breweries and both wineries in town," said Eric Carlson, co-owner of Andrews Brewing in downtown. "And we'll continue to support the arts by having local talent play here year-round. [At Andrews Brewing], we like to call ourselves the prettiest little music venue in the mountains."
With new breweries still popping up in Western North Carolina, many owners see the future of this industry holding a steady course. Each brewery has its own identity and client base, each working with other brewers around the region to ensure the growth and survival of one of the current community business pillars and foreseeable economic drivers in Western North Carolina.
"The next couple of years ahead will continue to change how local breweries develop and hold on to a customer base," Sandefur said. "I suspect you'll see some interesting diversity in products, venue and entertainment options to keep people enthusiastic and engaged."
"Since we opened in 2015, the number of breweries in our region has more than doubled," Murphy added. "Each brewery has its own vibe and niche. But, taken together, I think we complement quite well the outdoor activity and scenic tourism that is integral to the western-most counties of North Carolina."
But, regardless of what the future holds, the craft beer industry — breweries, taprooms, restaurants, music venues and enthusiasts — is here to stay. These locations have become a source of local pride, an economic force and a tourism destination all in one. So, cheers.
"Recently, it seems that many breweries have been looking more locally. They've been focusing on becoming more a part of their local communities through their taprooms and involvement with local groups and businesses," Baker said. "People often see breweries as businesses that represent the spirit of their town. For tourists, you get a sense of the place you are visiting. For locals, you often see your own ideals represented in your local brewery."
WNC Breweries
Andrews
• Andrews Brewing
• Hoppy Trout Brewing
• Snowbird Mountains Brewery
Bryson City
• Mountain Layers Brewing
• Nantahala Brewing
Canton
• 7 Clans Brewing
• BearWaters Brewing
Cashiers
• Whiteside Brewing
Franklin
• Currahee Brewing
• Lazy Hiker Brewing
Hayesville
• Haynesville Brewing
• Nocturnal Brewing
• Valley River Brewery
Highlands
• Satulah Mountain Brewing
Murphy
• Valley River Brewery
Sapphire
• Sapphire Valley Brewing
Sylva
• Balsam Falls Brewing
• Innovation Brewing
• Nantahala Brewing (Outpost)
Waynesville
• Boojum Brewing
• Frog Level Brewing