Archived News
Twenty years later, another edition done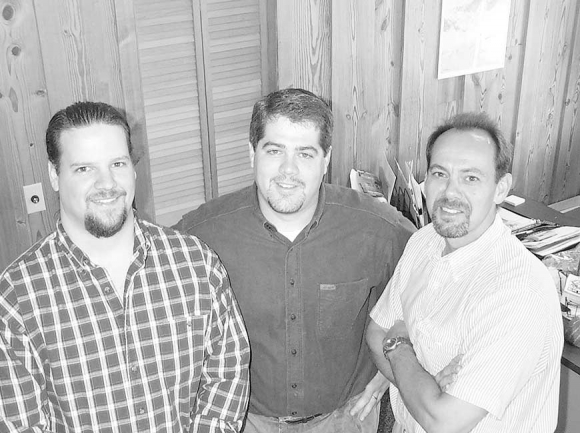 This 1999 photo is of (from left) Neil Torda, Greg Boothroyd and me, the three founders of The Smoky Mountain News. Torda was a jack-of-all trades who did all the IT work and was a graphic designer. He now works in IT at Western Carolina University.
In the beginning, one doesn't even think about the long run. When you're fighting every day to survive, there's no time to look over your shoulder. Slow down long enough to take in what's in the rearview mirror, and you're all too likely to get eaten alive by those who would love nothing better than to chew up and spit out the upstart.
Now, though, 20 years after the very first edition of The Smoky Mountain News rolled off the presses, we made time to try and put things in perspective. It's been entertaining looking back at some of the big stories. Perhaps more entertaining is processing how the media landscape has evolved. Looking forward, I'm left somewhat dumbstruck to even try and imagine what this business — our company and the media industry as a whole — will look like 20 years from now.
So let's start at the beginning.
Mapping the start
Starting a business is tough, that's a given. Lori and I had three small children — ages 11 months, 3 years and 6 years — when I stopped just talking about it and told her I was quitting my stable job as editor at The Mountaineer to start a newspaper. For some reason, she didn't toss me out the door, tell me to sleep on the porch and say I'd better get back to work in the morning.
Instead, she totally bought in. She says now that she figured it was my mid-life crisis — I was 39 at the time — and that starting a newspaper was better than some of the other mid-life crisis choices men make. Indeed.
Without that support I wouldn't be writing this now. She was a stay-at-home mom taking time off from teaching, but I enlisted her as our bookkeeper. More truthful is to say she served a period of indentured servitude. For about four thankless years she worked for no salary behind a computer, which is a version of hell for someone who thrives on personal interactions. Our kids would ride the bus to downtown Waynesville after spending days at Central Elementary, come in the office and play games or do homework.
Greg Boothroyd, Neil and Rachel Torda, Don Hendershot, Lori and I spent those early days slaving away in a tiny two-bedroom apartment on Main Street that we turned into an office. It worked well for a while. I was, like most start-up business owners, working crazy hours. One day our son, Liam, was in his car seat as Lori was driving to the office. "Are we going to daddy's house?" he asked mom. He was learning to talk, and in his mind my office was my house. I was there more than I was at home.
That was, as they say, the straw that broke the camel's back. Lori said I needed to find a bookkeeper. She vowed to get back to spending more time with the kids since I wasn't able to. Her resignation likely saved our family and the business, allowing me to keep going full steam ahead at the newspaper.
As luck would have it, when Lori resigned we found Amanda Singletary, still the star bookkeeper, office manager, human resources director and one of the people who helps keep this ship afloat. She's been here since June 2003.
I remember the day we hired Micah McClure, now our art director. As he left the office and was walking down the hall, we heard him whoop with joy at landing a job so soon after graduating from Southwestern Community College. We burst out laughing, the very thought that anyone would be excited to work with us.
That was 19 years and 9 months ago, and Micah is still doing great things with design and keeping all the products we publish running through the system as smoothly as possible. With the wise and dry Travis Bumgardner as a cohort for 19 years and the recent addition of Jessica Murray, we've got the best design and graphics teams in the region, hands down. They have adapted as the technology has changed, and their smarts are part and parcel to our survival.
We live in a region of mom-and-pop businesses, so a lot of people around here know that the small companies that survive are like families. Co-workers and employees are much more than just colleagues. You have your real family at home and your work family, and you celebrate triumphs and tragedies together, you disagree one day and then you go to battle for that same person the next. That's what families do. We take great pride in working hard and playing hard.
When that first edition published in June 1999, we were like proud parents. We borrowed a flat-bed trailer and started putting out our blue boxes around the region. We had worked almost two months to get that first 28-page edition on the streets. By Friday, we were in a sweat. We had less than five days to do what originally had taken almost 60 days. We made it, but not without some worrisome late nights and not without hassling some advertisers who somehow remained loyal.
In the first edition of The Smoky Mountain News, we shamelessly used my 11-month-old son as a marketing gimmick, putting him in the blue boxes we still use to distribute our papers. The updated photo is of him last week at 20 years, 11 months, from a surf camp in Costa Rica where he's doing a photography internship. That's how I count the years.
Readers, advertisers and retention
Newspapers and media companies are strange beasts. You have the back end, the business side of trying sell enough advertising to turn a profit; and then you have the public side, the newspaper that readers pick up and peruse each week. That's our product, what we are selling.
And that side of it is so personal, the storytelling, the design. Every writer and designer knows that.
Report a relatively simple story about a county board meeting, and the next day while you're thoughtfully squeezing avocados at Ingles to test their ripeness, a reader who takes issue with what you wrote interrupts. By the time the conversation ends, my phone is buzzing and Lori wants to know what's taking so long. Go deep into a story about a victim of child abuse, a story you think will change the world, and no one mentions it. Not a comment, after pouring your heart and soul into it.
So while it has to be a for-profit business, it's also an ongoing give-and-take with readers. Perhaps some weeks you put the paper down disappointed in the content. That happens too often, we go out of business and 16 people who depend on us for a living don't have a job. In the early days I recruited writers many were already familiar with — George Ellison, Don Hendershot, Gary Carden. Jeff Minick has been writing book reviews for 20 years. I think that convinced some people to give us a try. Award-winning columnist Chris Cox came on eventually.
We've been fortunate enough to have recruited reporters from all over the country. We've had those with Harvard degrees and Western Carolina University degrees, people from Wisconsin and writers from Nepal. Even now, our news staff of Jessi Stone, Garret K. Woodward, Holly Kays and Cory Vaillancourt represent North Georgia, upstate New York, Maryland and Chicago. I've always had the philosophy of hiring really smart people and letting them own their beat or their job. We never wanted the old-school top-down, inverted pyramid style of writing throughout the paper. Sometimes it's necessary, but we've always embraced creativity and long-form work.
Make no mistake. This is a cut-throat business. We may be collegial with news folks from the other papers and other media organizations and respect their products and abilities, but we are all chasing the same dollar. The amount of money spent on advertising in any given market is limited and finite. If we don't get our share, our people don't eat.
We've been fortunate to have had co-owner Greg Boothroyd all these years running the advertising side. He's a born salesman and has developed long-standing relationships with dozens of business owners and managers. He's community-minded and volunteers his time with many community organizations. From the beginning, he preached to our sales staff that their job was to help small business owners succeed. You don't sell one ad and run out the door clutching a check. You help owners market their products. If we can help them do that, we will be doing business together for many, many years. Thankfully, that has worked out in too many cases to name.
Disruption in the media
The naysayers predict Facebook and Google and their ilk will eventually drive us and everyone else — newspapers large and small, along with digital-only media sources — out of business. We've been hearing that since that first issue hit the streets in June 1999.
Consider this: in 1997, just two years before we started, online advertising's share of total advertising spending was less than 1 percent. By 2010, that percentage had jumped to 16.7 percent of the total. In 2018, Vox reported that the tables had finally turned, and probably for good. For the first time, digital ad spending accounted for more than 50 percent of total ad spending, with Facebook and Google gobbling up most of that.
As digital advertising exploded, newspapers around the country have closed. According to an October 2018 report by University of North Carolina journalism professor Penelope Muse Abernathy, the U.S. has "lost almost 1,800 papers since 2004, including more than 60 dailies and 1,700 weeklies. Roughly half of the remaining 7,112 in the country — 1,283 dailies and 5,829 weeklies — are located in small and rural communities. The vast majority — around 5,500 — have a circulation of less than 15,000."
And from the same report: "Print readers are disappearing even faster than print newspapers, and the pace appears to be accelerating. Over the past 15 years, total weekday circulation — which includes both dailies and weeklies — declined from 122 million to 73 million."
So what's a newspaper/media outlet to do?
For one, more of the same — just make sure you're doing it well. I'm not sure whether it is the region we live in or the people who live here, but our distribution numbers have continued to rise since we started. Our staff of writers, designers, ad sales people and others work their tails off to produce a quality product that provides useful and interesting information about a wide region, and distribution manager Scott Collier is out there in snow, rain and summer heat to make sure readers get their papers. We've found it still goes off the racks and into people's homes and businesses. We started 20 years ago with a 10,000 weekly press run, and now we go as high as 16,500 some weeks. Most of them disappear off our racks, and we have an audit to prove it.
Diversification is key. We purchased Smoky Mountain Living magazine in 2008. Under the leadership of General Manager Hylah Birenbaum, Editor Jonathan Austin and Associate Editor Susanna Shetley, our nationally distributed magazine is gaining print and digital subscribers, along with ad revenue.
Ever heard the saying "necessity is the mother of invention?" When the recession hit us hard, we were left looking for money. We were forced to take on more niche publishing. Now the magazines we produce for a few dozen entities around the region account for almost half our annual revenues. Sales people like Amanda Bradley in Sylva have to be smart enough to know which products work for which clients, and when she succeeds it's a win for us and a win for the advertiser.
And, like all media outlets still playing the game, we've embraced the digital world. All facets of our online presence are growing rapidly. We get up to 80,000 unique visitors a month to the SMN website. Smoky Mountain Living and Smoky Mountain News have a combined following of 120,000 on Facebook. Mountain South Media, our digital marketing agency, is growing at a breakneck pace.
The future
It's been a wild 20-year ride, to say the least. We had a pretty clear idea of what we wanted this newspaper to be before the first edition ever hit the street: something of interest to locals and visitors, a well-designed paper that relished long-form journalism and one that didn't shy away from controversy, not a traditional community paper but more of a news magazine, more focused on quality than quantity.
As mentioned earlier, though, where the media will be in 10 or 20 years is just too difficult to predict. But as I talk to people in health care, banking, music, insurance, the car business or even the grocery business, they have the same uncertainty about the future. I tell co-workers and others that we have to maintain an uneasy edge, able to pivot immediately as the industry morphs, act as if we had just opened our doors yesterday, always embrace change instead of fighting it.
In the end, our business is similar to hundreds of others in Western North Carolina. We value our workers, our entire staff has a deep connection to this community, and we know that working hard is a virtue. We try to do right by our friends and family.
As for me, I'm lucky. You do something you love, it really doesn't feel like work at all.
(Reach Scott McLeod at This email address is being protected from spambots. You need JavaScript enabled to view it.)