Archived News
1999: Smokies works to overcome hurdles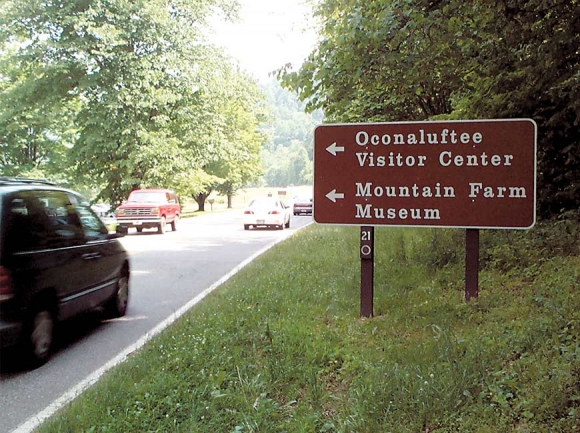 Since the mid-1990s several groups have been working to return the GSMNP to solid footing in WNC's outdoor recreation and tourism-driven economy.
It's no coincidence that the Great Smoky Mountains National Park was the subject of The Smoky Mountain News' first-ever front-page story in the paper's inaugural issue June 2, 1999.
In many ways, the park and the mountains surrounding it are the lifeblood of the region. Their beauty inspires pride, appreciation and adventure among residents, and their allure draws the tourists around whom much of the regional economy is built.
SMN's original front-page headline "Park strong despite concerns" points to a time when many feared the park wouldn't be able to retain its place as the region's crown jewel.
In the mid-1990s, park leaders saw visitation rise steadily even as federal budget increases stalled — at one point in early 1997, the paper reported, the park feared its budget could be cut by as much as 30 percent. Meanwhile, visitation was increasing, with an additional 1.7 million people coming to the Smokies in 1999 versus 1994. That influx represented a significant strain for a national park that is not legally allowed to collect entrance fees. An increase in visitation did not necessarily translate to an increase in revenue.
Clear views like this abound in the Smokies, where 20 years ago they were filled with haze. GSMNP photo
Environmental threats
At the same time, the Smokies was facing environmental threats such as air pollution that restricted its famous views and damaged its plants and animals with ozone and acid rain. In 1998, on the 20 percent haziest days in the park a visitor could expect to see only 9 miles into the distance. In 2002, the park made the National Parks Conservation Association's list of the 10 most endangered national parks — for the fourth year in a row.
"Air pollution continues to be the biggest threat that the park and its visitors face," Greg Kidd, who at the time was southeast associate director for the NPCA, told SMN in 2002. "But a series of development issues along with inadequate funding are also putting park resources at risk."
A lot has changed since then, especially when it comes to air pollution, and the difference is not hard to detect. That 20 percent haziest days measure has more than quadrupled, with the visual range up to 39 miles in 2017 compared to the 9 reported in 1999.
State and federal regulations, as well as a 2011 settlement with the Tennessee Valley Authority, have had a lot to do with that.
In 2002, North Carolina passed the Clean Smokestacks Act, which required coal-fired power plants in the state to significantly reduce their emissions. By 2009, the act said, the plants had to reduce nitrogen oxide emissions by 77 percent and sulfur dioxide by 49 percent from 1998 levels, with the sulfur dioxide reduction ramped up to 73 percent by 2013. State residents would foot the bill for these upgrades by paying higher electricity bills.
The act made an impact. Where power plants had comprised 33 percent of North Carolina's nitrogen oxide emissions in 1990, in 2014 that share was only 13 percent. Meanwhile, total emissions were nearly halved.
But air currents don't mind state boundaries, and North Carolina was still struggling with air pollution caused by Tennessee Valley Authority plants in neighboring Tennessee. In 2006, North Carolina filed a lawsuit claiming that TVA's pollution was a public nuisance that threatened the health of North Carolina residents.
The question wasn't settled until 2011, when TVA agreed to invest $3 to $5 billion on new pollution controls, as well as $350 million in clean energy projects to reduce pollution, save energy and protect public health and the environment. The settlement affected power plants in Alabama, Kentucky and Tennessee, with settlement funds paid to all three of those states in addition to North Carolina, which received $11.2 million for programs to reduce electricity demand and promote energy efficiency.
Generous partners
The park has also seen hopeful developments on another front that was troubling in 1999 — funding.
Federal funding for the park has increased from $12.28 million in 1998 to $18.81 million in 2015. While the increase is quite modest in real terms — that $12.28 million would be worth $17.9 million in 2015 dollars — the park has also seen an increase in engagement from nonprofit partners.
The Smokies has two major nonprofit partners that work to raise money for all manner of projects not covered with federal funds. The Great Smoky Mountains Association, which has been around since 1953, has raised more than $44 million over the course of its life.
But the much newer Friends of the Great Smoky Mountains National Park, formed in 1993, is also making an impact. In its 26 years of existence, Friends has raised $65 million, with $2.7 million pledged toward park projects in 2019 alone. Meanwhile, GSMA gave $2.4 million in 2017.
Volunteers smile for a photo during the 2013 Friends Across the Mountains Telethon, an annual fundraiser for Friends of the Smokies. Over the past 24 years, the event has raised nearly $4 million to support the park. Donated photo
Together, the groups have worked to fill the gap between what the federal government will fund and what the park needs to thrive. Friends has funded rehabilitation of four major trails in the park through its Trails Forever Program, and the groups together paid for roughly half of the $4.3 million National Park Service Collections Preservation Center that opened in 2016, with GSMA funding the $3 million Oconaluftee Visitor Center, completed in 2011 — Friends chipped in $550,000 toward exhibits and visitor orientation for the building. Other programs the groups fund range from bear bag cables at campsites to staff salaries to prescribed burns.
That's not to say that the funding issue has been solved. The park still has $235.9 million in deferred maintenance as of a report published Sept. 30, 2018. That number seems to be growing. In 2017 the figure was $215.5 million and in 2016 it was $211.2 million.
And, just as was the case back in 1999, visitation is rising. After first topping the 10 million mark in 1999, it was back down in the 9 million range in 2001 and stayed there until 2014, when it crossed the 10 million threshold once more. In 2016, the park reached a new milestone when it logged 11.3 million visitors — and visitation has increased every year since, reaching 11.4 million in 2018.
Free forever
Because of an agreement that goes back to the park's creation in 1934, the Smokies can't charge entrance fees like most other national parks, so it gets no additional revenue from this extra visitation outside of fees like campground reservations and backcountry camping permits.
"The park bases its visitor counts on the assumption — tested out regularly for accuracy — that from June to September vehicles contain an average of 2.8 people and from October to May the average is 2.5," SMN reported in a December 2015 story on park visitation. "Even bumping that average a bit to say that each car has three people in it, if the Smokies charged $30 for each vehicle like Grand Canyon National Park — the next most-visited national park — it would have been allowed to keep $80.8 million for its budget in 2014, the last complete data year. Of course, that supposes that annual passes don't make the per trip cost cheaper for repeat visitors and that the price doesn't prevent some people from coming, but it's a high number compared to the 2014 federal allocation of $18.5 million."
The park is certainly still in need of the volunteer hours and donated dollars that have helped sustain it in the past 20 years, but despite those challenges it's seen plenty of positive headlines where biodiversity and economic impact are concerned.
Following a seven-year brook trout restoration project, the park opened Lynn Camp Prong to fishing in 2015, the first time since the park's creation that fishing had been allowed in all streams. The All Taxa Biodiversity Index, started in 1998, has since documented an astounding 19,972 species in park boundaries, 1,006 of them new to science. Elk have been reintroduced successfully, the herd growing significantly since the first animals were released in 2001.
And, while increased visitation might not have a direct impact on the park's revenue, it certainly does on the nearby communities that serve those visitors. According to a recently published National Park Service report, in 2018 the park had an estimated economic impact of $953 million on the communities surrounding it. That's up from $923 million in 2017, and the figure has grown every year since 2013.
Environmental concerns do remain, including human visitation impacts and invasive species such as the hemlock wooly adelgid, though overall, it's good news compared to the situation 20 years ago. But it pays to remember that any situation can change in the blink of an eye, Supervisory Park Ranger Lynda Doucette told SMN in 2015.
"Unless we educate the younger kids about the fact that you can't take this for granted, they're not going to realize until it's too late that you can't take this for granted and this is something unique and special and amazing," she said. "The foresight our ancestors had in saying, 'This is a really incredible place that we need to make sure is still here for future generations' — I don't know that we in the last 50 years have done such a great job of conveying how fragile that can be."