Archived News
2008: Real estate takes a major hit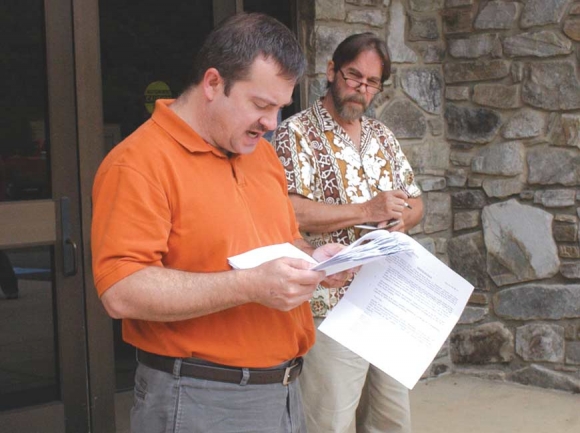 In this 2009 photo, Rick Boyd conducts a foreclosure sale of two large tracts owned by developer Legasus outside the Jackson County courthouse while concerned citizen Thomas Crowe follows along.
The housing bubble was finally bursting in 2008 as the Great Recession became the new reality in Western North Carolina and throughout the nation.
North Carolina had more than 42,000 foreclosures in 2008 alone as people found themselves upside down on their homes, investors had to cut their losses in the midst of developing luxury communities in the mountains and financial institutions were left holding all the debt.
The Smoky Mountain News was there reporting on every aspect of the recession, including the many massive residential developments in the region that fell victim to the idea that the bubble would never burst.
From 2004 to 2006, developers Tony Corliss and Theodore Morlok spent $56 million amassing 3,500 acres between Tuckasegee and Glenville to create River Rock, a five-parcel development between the Tuckasegee River and Cullowhee Mountain.
In another part of Jackson County, developers borrowed about $20 million in 2005 to create Balsam Mountain Preserve, another high-end development with an Arnold Palmer designed golf course, nature preserve and other one-of-a-kind amenities.
Over in Swain County, Ami Shinitzky was working on Mystic River, a controversial narrow 35-acre strip along the banks of the Nantahala River that was divided into 32 pricey lots. In 2005, the average selling price per lot was $300,000.
These developments and thousands of others across the nation were relying on the ongoing sale of lots to not only make loan payments, but to construct the expensive amenities, building roads, installing water and sewer systems and marketing. In most cases, lot sales came to a grinding halt by 2008 and developers found themselves without enough money to pay the loan or complete the amenities. Some walked away from their investments while others, including Mystic River and Balsam Mountain Preserve, have fought their way through the recession years even through foreclosures and lawsuits.
While the overconfidence of developers was partly to blame, large financial institutions also had to take some responsibility for the real estate crash. When the market was booming, lending criteria was lax and many people were getting approved for loans they really couldn't afford. After several years of extreme risk taking throughout the industry, banks that wanted to stay afloat were forced to tighten up their policies when it came to lending money. The recession brought on a new set of rules — banks wanted to see a higher credit score and higher income than before. Some banks stopped lending money for large residential developments altogether, including United Community Bank, a regional bank headquartered in north Georgia.
"With the economic situation, we are going straight down the road," United Community Bank of Sylva President Becky Chastain said during a 2008 interview. "Right now banks are afraid to lend. There's no way to say when it (economic problems) will end. We take it day by day."
While UCB and other local lending institutions said they never participated in any of the risky lending practices that led to the housing crisis — like stated-income and subprime lending — everyone was having to take extra precautions in an effort to decrease the number of foreclosures.
No community was untouched by the recession and the housing crisis, but Western North Carolina was particularly impacted by the real estate crash. Nearly every aspect of the region's economy is reliant on a thriving real estate industry — from tourism and hospitality, home construction, tradesmen to small business. If real estate isn't doing well, the community isn't doing well. No one was making any money, unemployment skyrocketed, wages fell and a lot of Realtors were looking for a new profession to see them through the recession. For example, the Franklin area had 275 licensed Realtors in 2007 and by 2015 it was down to about 100.
Technically, the recession only lasted through 2009, but the recovery for rural communities in WNC was much slower. County officials today talk about how they're still rebounding from the recession years when it comes to home values and property tax revenues that impact their annual budgets.
County governments are required to perform property revaluations every eight years, but the recession presented a unique problem. Trying to assess property during the height of the recession was not going to be an accurate representation of values, and using those recession level values could be a devastating impact on county budgets.
Macon County has a policy to perform an assessment every four years, but when it came time for a revaluation in 2010, county leaders chose to postpone the process until 2013.
"We have to give the market more time to stabilize so we can determine where the market actually is," Tax Administrator Richard Lightner told commissioners at the time.
Sherry Patterson of Daytona Beach, Florida, looks out at the mountain views from a rental cabin she is considering purchasing just outside of Bryson City. Jessi Stone photo
The last revaluation done in 2006 during the housing boom had Macon property values going through the roof — up 69 percent on average — but the 2014 assessment showed real estate values down by 15 percent on average. The most recent revaluation for 2019 showed little growth, but also finally showed a stabilization in values, which is a good thing, according to Lightner.
Other counties performing assessments during the recession years found that homes were still maintaining their value even though fewer homes were being sold. While that was good news for county budgets, many residents didn't understand how they could have higher property values during the recession.
"Our market has held stable," Tracy Madgeburg, an independent appraiser who works in Haywood and Jackson counties, told SMN in May 2009. "It has not had drastic decreases in prices by any means, though things are staying on the market a lot longer, and in the past six months, there haven't been many buyers."
By 2015, Realtors were willing to start talking about rebounding from the recession, but this time the discussion was centered around sustainable growth and perhaps even reluctant optimism about the future economy. They knew the booming times of 2004 to 2006 were never going to return, which was probably for the best anyway.
"I think it would be unhealthy if it got back to where it was. We couldn't sustain the growth that was happening," Becky Ramey, a broker/owner at Franklin RE/MAX, said in 2015.
Things were looking up though — the number of sales started to pick up, home prices started to rise again and the number of foreclosures began to fall. With nowhere to go but up, it was now a buyers market with no better time to purchase a new home. If you had good credit and a steady income, you could find a great deal no matter what your price range.
The Smoky Mountain News continues to follow the current real estate trends as a way to evaluate the status of the local economy. Demand and sales are back on the rise in all four counties we cover, but inventory is low within the $100,000 to $200,000 price range. If a home in the lower price range does come along, cash buyers are scooping them up quickly. A lack of inventory and an increase in demand from people moving to the area is driving up home costs and creating a severe shortage of affordable housing options.
In early 2017, Beverly-Hanks Agent Broker and Board of Realtors President Ellen Sither said a perfectly balanced market has six months of inventory; Haywood County currently had just four months. In 2007, the sales volume of all real estate in Haywood County — residential and commercial, homes and land — was $266.4 million. That volume declined to just $166 million during the depths of the recession in 2011, but has since recovered to the tune of $236.6 million for 2016.
The worst of the recession may be in the rearview mirror, but its aftershocks will be felt for years to come. If WNC learned anything, it's that no investment is fool proof, not even mountain real estate, which historically has been thought of as the most secure investment one can make. Now we know demand and home prices can only be on the rise for so long before something's got to give.
"Everyone assumes in this situation there is no risk. It is guaranteed. Most people never saw the risk. Everybody got carried away," Waynesville lawyer Gavin Brown said during a 2014 interview looking back at the housing crisis.