Archived News
2009: Ghost Town comes crashing down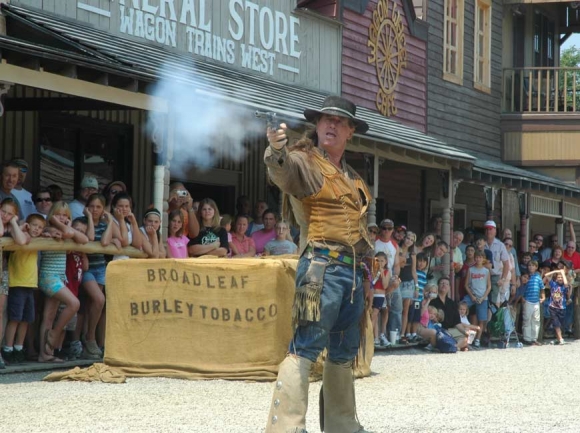 Visitors watch intently as one of Ghost Town's performers participates in a mock gunfight in 2007. File photo
Decades after it first opened in 1962, Ghost Town in the Sky still commands a wistful loyalty from thousands of people who remember it during its heyday and are eager to return.
Even now, Facebook groups devoted to the mountaintop amusement park in Maggie Valley see regular posts from people around the world asking, "It is open? Will it open? When?"
It's not, and hasn't been for some time; almost 20 years ago, the park began a long, slow slide into disrepair that opportunistic entrepreneurs are still trying to sort out, but 2009 was the year it all really started to fall apart.
As current park owner Alaska Presley tells it, Virginia native R.B. Coburn was all set to put his amusement park in Ratcliff Cove, on the other end of Haywood County, until someone sent him to her.
"We got acquainted with him and then Hubert, my husband, took him over to see uncle Dan Carpenter who owned that property on the mountain," Presley told The Smoky Mountain News in April of this year. "He and my husband built Ghost Town."
Up to 400,000 people a year flocked to the park, accessed from its iconic chair lift 1,400 feet below. When they arrived at the top, they were greeted by an old-timey wild west-themed main street, carnival-style rides and dozens of costumed performers — dancers, merchants and gunslingers who each day would act out cowboy gunfights in the streets.
"I had to hide behind my daddy because I was afraid of the gunfire," said Spartanburg resident Libby Withers Wilder, who nonetheless still holds fond memories of going there as a child in the 1960s with her family.
After years of declining revenues, likely due to the growing prominence of more modern mega-parks featuring licensed characters — from Bugs Bunny to Batman — R.B. Coburn finally retired in 2002, and closed the park. There it sat, for five long years, until new owners reopened it just in time for the greatest recession in modern history.
Ticket sales in 2008 were reported as "sluggish," as gas prices surged and the Great Recession laid waste to the lifetime investments of millions of working-class Americans of the type who'd kept the park afloat all those years.
By 2009, almost $500,000 worth of liens had been placed on the property, according to Ghost Town's then-General Manager Steve Shiver, and Ghost Town LLC — more than $12 million in debt — also owed $2.5 million to 220 local vendors and contractors, including more than $97,000 in sales tax collections owed to the state and $70,000 in municipal and county property taxes.
The company approached tight-fisted lenders without success, and ended up pouring nearly $4 million of its own money into the constant repairs and renovations required, but still had to declare Chapter 11 bankruptcy.
"We were on the cusp of making this thing work, and then the credit markets absolutely fell apart," said Shiver in March 2009.
As Shiver — and thousands of others — looked forward to the park's May 2009 opening, Ghost Town's signature attraction, a roller coaster called "The Cliffhanger," hadn't run since 2002 and was still having trouble getting certified by the state regulatory agency charged with amusement ride inspections.
In late April of 2009, Ghost Town asked the Town of Maggie Valley for a $200,000 loan — about $125 per taxpayer — and said it was critically needed if the park was to reopen at all.
"We are in a tedious and precarious time. We wouldn't be here unless we were at the end of our rope," said Shiver. "My whole livelihood is at stake and my whole future is at stake."
Alderman Mark DeMeola told Shiver he was reluctant to put taxpayers on the hook, but Shiver countered that without a healthy Ghost Town, taxpayers would suffer as well.
After a contentious few weeks arguing over the issue with Shiver, the town held a public hearing on May 18, just days before the park's scheduled May 22 opening. In an odd twist, Shiver told Maggie Valley Aldermen at that meeting that he would withdraw his loan request because a private business owner had offered to help.
Although the park did open on time, albeit with a $3 increase in the $28 adult ticket price, the roller coaster still wasn't licensed.
That didn't sit well with some, like Greenville, South Carolina residents Judy and Keith Parker who at the time owned a second home in Maggie Valley and told The Smoky Mountain News that they wouldn't go up the mountain until everything was working.
"We are kind of holding off until then," said Judy.
The rebuilt coaster did indeed open, on July 1, but only for that day; state inspectors shut it down the next morning over a hairline crack in the seat frame on one of the cars.
In August, The Smoky Mountain News reported that even the $1.53 million in revenue the park took in during May, June and July wasn't enough to cover operating costs of $1.85 million.
When the park closed for the season in the fall of 2009, workers were stiffed on their last two weeks of pay. The Maggie Valley Sanitary District even had to shut off water to the site, due to unpaid bills.
A February 2010 mudslide complicated plans to reopen Ghost Town. Patrick Parton photo
The situation only worsened from there. Months after that ill-fated 2009 season, in February 2010, a 175-foot-wide mudslide stretching more than half a mile brought 30-foot high heaps of debris down Rich Cove Road at 30 miles per hour. Rich Cove Road is an access road that leads up to the park.
Two weeks later, creditors voted to reorganize, rather than liquidate, the park and its massive debt. In May, owner of the Great Smoky Mountains Railroad Al Harper offered to put up $7 million to stave off foreclosure and buy out all of the original 2006 investors.
That plan fell through, and Ghost Town never reopened for the 2010 season. In August, BB&T foreclosed on the park, citing $9.5 million it had been owed, dating back to 2007. The park didn't open in 2011, either, but in February 2012, that same "private business owner" who helped Shiver with the last-minute $200,000 loan in 2009 stepped up to buy the park at auction, for $2.5 million.
"Only an Alaska Presley could ever get Ghost Town to run again," Waynesville Mayor Gavin Brown told SMN writer Caitlin Bowling at the time. "She is a very sharp lady; she sees value there. [But] in today's market, in today's world, I don't see any value there."
Presley quickly found major mechanical and cosmetic issues at the park, including with the coaster, the chair lift and the water supply. She estimated it would cost about $11 million to restore it to its former glory.
"Poor management and bad debts has plagued it for years," Presley told Bowling in that same story. "A friend thought there was demons on that mountain, it has had such bad luck."
The park stumbled along for the next four years, opening periodically, sporadically, partially or temporarily, until in June 2016, more than 15 years after R.B. Coburn first closed it, it failed to open and hasn't reopened since.
A month later, Libby Withers Wilder was lucky enough to be given permission to visit Ghost Town once more, with her brother Mike.
"He had been sick for probably the last 20 years of his life," said Wilder, who sprinkled Mike's earthly remains near Ghost Town's church and faux cemetery. "He would joke about it — he didn't want a memorial, he didn't want an obituary posted, he didn't want a gravesite. He said 'If you can take me to the mountains, and you can take me to Ghost Town, that would be fine.'"
Not long after Mike's visit, the property was put up for sale by Presley at $5.95 million.
Alaska Presley (center) prepares to purchase Ghost Town at auction in 2012. File photo
In June 2018, another group of investors sought to succeed where others, including Presley, had failed. Former Disney executives Valerie and Spence Oberle said a deal was in the works to rehab the park, but as the rest of 2018 played out, that deal was revealed to be little more than a wish upon a star.
It started with a series of botched public relations events that had even longtime Maggie Valley residents scratching their heads; a promised media event, memorabilia sale and late fall reopening never happened, and then a strange series of anonymous letters began showing up at The Smoky Mountain News.
The Oberles, as it turns out, had another business partner who they'd kept in the background, perhaps purposely.
Lamar Berry, once the chief marketing officer of well-known fried chicken chain Popeye's, was the money man — charged with rustling up the dollars they'd need to purchase Ghost Town from Presley.
Turns out, Berry was haunted by allegations of fraud and failure in regard to a unsuccessful 2005 effort to establish a chain of sandwich shops modeled after epic layabout and passionate sandwich-eater Dagwood, of the classic Chic Young comic strips.
Peter J. Tamulonis, an investor in the franchise, sued Berry and others, settling in arbitration.
"When you think about the legal position for what we were saying, we were able to prove we were lied to and misled," Tamulonis told SMN in 2018, "I would say I had a horrible experience and you should investigate this guy. I would be very concerned about letting him touch my money or any of my loved ones' money."
Another Berry project, a proposed boardwalk in Lake Charles, Louisiana, also fell apart in 2010 "because those behind it say they never could get the financing to pull it all together," according to an October 2016 report by KPLC-TV.
In October 2018, a lien was filed against Ghost Town by local engineering firm Clark and Leatherwood for $52,551 in labor and materials used in the rehabilitation of the park's A-frame entrance building from June 4 through Aug. 31. That same month, Berry was sued by a local innkeeper who said he was owed more than $3,000 for lodgings.
Perhaps unsurprisingly, Berry wasn't able to come up with the money to buy the park by a previously established Nov. 30 deadline and subsequently left town.
Presley's still looking for a buyer, and the Oberles are again purportedly in the mix, but nothing's really changed since the last futile attempt to revive the park.
Even though people continue to clamor for it — Haywood Tourism Development Authority Executive Director Lynn Collins recently said she still gets regular calls inquiring as to the status of the park — residents of the tiny Haywood County town of Maggie Valley have learned to live without it, even though they'd welcome a rejuvenated Ghost Town.
"Everybody bases everything on Ghost Town," said Brenda O'Keefe, former owner of equally-iconic Joey's Pancake House, in Maggie Valley. "I don't. I have tried to say, 'People, this is not about Ghost Town anymore. This is 50 or 60 years later. We have the national park, we have the Smoky Mountains, we have the Blue Ridge Parkway.' That's what Maggie Valley is really about. We have the Appalachian culture, clean streams and rivers and we're the closest mountain range to Florida. That's why people are coming here."