Archived News
2012: Table games come to Harrah's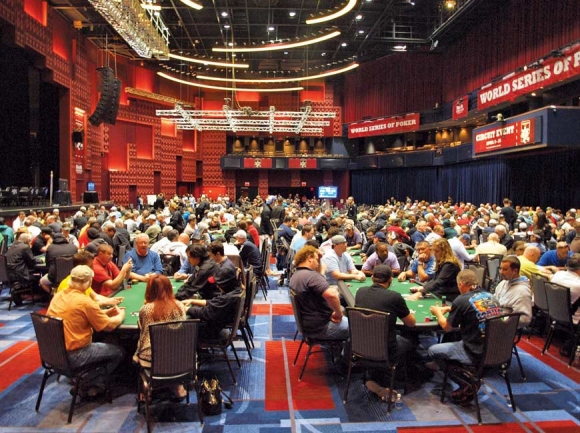 Harrah's Cherokee Casino Resort, an economic powerhouse that employs 5 percent of the workforce in the seven western counties and provides hundreds of millions of dollars each year to the tribe's government and citizens, first opened its doors in 1997.
But back then it was a much smaller, much quieter place than the nearly 2 million-square-foot behemoth that exists today.
Expansion was part of the plan from the beginning. In 2002 the tribe completed an addition that included a 252-room hotel tower, 15,000 square feet of convention space, a gift shop, an indoor pool and an indoor waterfall. The very next year it broke ground on a second hotel tower, which added another 324 rooms to the mix. By 2008, ground had broken on yet another expansion, a $650 million project that included a third hotel tower, a 16,000-square-foot spa, a new showroom, restaurants, shops, three additional parking garages and a remodeled gaming floor. A fourth hotel tower, with a budget of $250 million, is under construction and scheduled to open in early 2021.
All these changes have left their mark, but two developments stand out among the rest. In 2009, Cherokee voters allowed alcohol to be served at the previously dry casino. And in 2012, the tribe received permission from the state to add live table games to its array of gaming offerings.
"We understood that something could happen here that would be magic," then-governor Beverly Perdue said during an Aug. 22, 2012, celebration at the casino. "It wasn't about live gambling; it was about economic development."
As a result of live gaming, the casino planned to go from 2,100 to 2,600 employees and increase visitation from 3.6 million to 4 million within the first year, SMN reported at the time.
Per capita distribution data indicates that live gaming has made a big difference. Between 2012 and 2013, per capita amounts grew by 18.85 percent, despite the number of people receiving the shares increasing by about 200. The distribution amounts have grown every year since, though never by as much as they did in 2013. The next biggest jump came between 2015 and 2016, when the distributions grew by 12.45 percent following the September 2015 opening of Harrah's Cherokee Valley River Casino and Hotel in Murphy.
Though live gaming was approved in 2012, efforts to secure it began about 10 years earlier during a Tribal Council trip to Raleigh.
"(Tribal Council Member Albert) Crowe said council members were there as 'corporate citizens' to let the state know what the tribe has been doing to boost the economy of Western North Carolina," SMN reported in a story published Feb. 19, 2003. "He noted that Harrah's has provided jobs for the surrounding counties as well as the reservation and has infused local economies with increased revenues. He said that table games would increase employment and revenues."
While Crowe said the meeting was "very positive," negotiations between then-Principal Chief Michell Hicks and then-Governor Mike Easley never went anywhere.
Perdue's election in 2008 "signaled new hope" for live gaming, SMN reported on April 7, 2010, but a lawsuit filed by a video game firm that year stalled the process. The suit argued that the governor does not have the right to negotiate gambling compacts — instead, the plaintiffs said, that power lies with the General Assembly.
Meanwhile, Cherokee was going on faith that live gaming would eventually be approved. The tribe was in the midst of a gaming floor expansion, expected to be complete in 2012, that was intentionally planned with a flexible design that could be easily adapted to accommodate live gaming.
By 2011, that faith seemed pretty well founded. After years of lobbying and months of hard negotiating, the tribe completed its deal with Perdue to bring table games, real cards and live dealers to Cherokee. The deal still wasn't final, however. For it to become effective, the General Assembly needed to amend state statute to allow Class III gaming on tribal lands. That approval came on June 6, 2012.
In the end, Cherokee agreed to give the state a share of its gross table gaming revenue, beginning at 4 percent and inching up a final level of 8 percent by 2032. Those funds would be used for public education. In return, the state granted the tribe exclusivity in the table gaming business west of Interstate 26 — the tribe had offered a bigger share of its revenue if the state would agree to a larger zone of exclusivity.
"It has been along hard process," Hicks said in a Nov. 23, 2011, SMN story. "With any negotiation you are going to have doubts, but at the end of the day we kept pushing."