Archived News
2018: WCU sees a year of change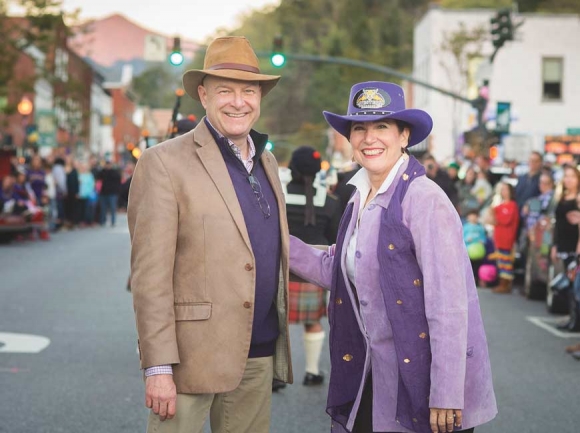 David Belcher and his wife Susan pose during the 2017 Homecoming Parade in downtown Sylva. WCU photo
This roller coaster of a year at Western Carolina University started before it started, when the school's beloved chancellor David O. Belcher announced Nov. 27, 2017, that he'd be stepping down at the end of the year.
Belcher, who was hired to lead the Catamount Community in 2011, had been fighting brain cancer since his diagnosis in April 2016. Surgery to remove the tumor initially seemed successful, but in August he announced that the cancer had returned, spurring a new treatment regimen. Then that treatment stopped working, and Belcher decided to go on medical leave effective Dec. 31, 2017. Provost Alison Morrison-Shetlar took over as acting — and then interim — chancellor of WCU.
WCU began 2018 as a school that was strong — in enrollment, development, academics, school spirit and a variety of other metrics — but yet adrift. Belcher had been more than just an administrative leader for the university. He could often be found on campus, interacting with students, cheering on the football team and generously dispensing high fives. Among his staff, he was known as a visionary leader who fostered a collaborative and energizing work environment where a sense of humor was always appreciated. From students to staff to community leaders, nobody seemed to have a bad word to say about David Belcher. Campus wasn't the same without him.
"Remember always that we — that you — are in the business of changing lives," Belcher said during his parting words to the Board of Trustees in an emotional December 2017 meeting. "And with your continued passion, support and commitment to this university, there is no limit to what you can accomplish."
Belcher passed away six months later, on June 17, 2018 — Fathers Day. More than 800 people attended a touching and musical celebration of his life held on campus June 23. He would be sorely missed by those whose lives he'd touched, and he would be difficult, if not impossible, to replace professionally.
Nobody in the university community could have known just how difficult the task would prove.
An energetic, 21-member search committee formed in December 2017, conducting a series of community forums to gather input on what to look for in a new chancellor, then soliciting resumes and combing through the submissions to narrow it down to a list of people to invite for phone interviews; then a smaller list for off-campus, in-person interviews; and a still-smaller list for on-campus interviews tightly planned to keep the search confidential. From there, the committee chose three names for the WCU Board of Trustees to approve sending on to UNC System President Margaret Spellings.
All was going as planned until the July 12 Board of Governors meeting during which the body was expected to approve Spellings' final pick for the post. But instead of voting yea or nay on the candidate — whose name remains unknown — the board held a contentious two-hour closed session that didn't result in a vote at all. The candidate ultimately withdrew from consideration, kicking the search back to square one.
In a statement announcing the withdrawn nomination, Chairman Harry Smith said that the board planned to complete "an expedited review of the chancellor search process" in order to "refine and improve it," implying that this review should take place before WCU resumed its search. It was later revealed that the episode occurred after board member Tom Fetzer reportedly found some discrepancies in the nominee's resume and emailed that information to board members the day before the July 12 meeting. Fetzer found the alleged discrepancies after violating confidentiality rules by giving the candidate's name to a private firm, which Fetzer asked to check out the resume.
"I'm disheartened that we did what we were supposed to do. We followed the guidelines that were supposed to have been in place, and the Board of Governors I would say didn't uphold their end of what was agreed to," Leroy Kauffman, a WCU professor of accounting who has been involved with the Faculty Senate for many of his two-plus decades at the university, told SMN at the time.
The search sat stagnant until September, when WCU received word that it could relaunch its efforts, using exactly the same search process that had been in place before. The Board of Governors did develop new rules for UNC System chancellor searches, but those rules would not apply to the WCU search already underway, they said.
This loop in the roller coaster came just as WCU prepared to embark on a school year full of unknowns. Fall 2018 was the first semester for the N.C. Promise Tuition Plan, which lowered in-state tuition to $500 per semester for undergraduate students at WCU and two other UNC schools.
Belcher and then-UNC President Margaret Spellings talk before a press conference during Spellings' 2016 visit to campus. Holly Kays photo
The program was expected to have an impact on the number and quality of applications to attend, but the school had no way of knowing for sure just what that impact would be.
A record 2,189 freshmen enrolled for fall 2018, with overall enrollment rising by 5.48 percent over fall 2017 — nearly twice the increase WCU was aiming for.
"It came in a little hotter than we expected or actually intended," Sam Miller, WCU's vice chancellor for student affairs, told trustees during a Sept. 6 meeting.
Admissions staff shortened its deadlines and adjusted marketing strategies ahead of the fall 2018 semester, hoping to attract fewer applications, and that worked — the university received 136 fewer applications than it had in 2017. But the 2018 applications were of a higher quality, and WCU extended offers of admission to 113 more students than it had the previous year. A greater proportion of admitted students accepted their offers than in 2017. The university also saw a marked increase in transfer students, with 1,105 enrolling in fall 2018 compared to 786 in fall 2017.
Spellings visited WCU Oct. 24 to celebrate the success of N.C. Promise, applauding the university's academic offerings as "A-plus-plus on every level." But just two days later, she made headlines when she announced her resignation from the post she'd held for less than three years. That news sent a wave of uncertainty through the university community, which now had no way of knowing who would be choosing the final chancellor candidate from the list of three the trustees would eventually approve.
The Board of Governors has yet to announce a search process for a permanent presidential hire, but Dr. Bill Roper has been serving in the interim role since January.
It was a tumultuous year, but Western's leaders say that the university is heading in a positive direction. And while Belcher will continue to be missed by many, the university is on its way to a new era of stable leadership following the April 25, 2019, election of Kelli R. Brown, Ph.D., to the post.
Chancellor-elect Kelli Brown shakes hands with Western Carolina University students during a reception to welcome the chancellor-elect to the university. WCU photo
Brown, 60, will serve as the 12th chancellor — and the first female Chancellor — of WCU. She most recently served as provost and senior vice president for academic affairs at Georgia College & State University, Georgia's public liberal arts institution, and has more than 30 years of higher education experience.
"I recognize that I'm following the footsteps of a beloved leader. All leaders stand upon the shoulders of those who came before them. Just as David Belcher built upon the solid foundation left behind by his predecessor, I pledge to do everything within my power to ensure Western Carolina University continues to thrive during my time among its stewards," Brown said at her welcoming reception in early May. "And like David Belcher, I'm fortunate to have a wonderful partner at my side to help me. I want to assure you Catamounts you will come to know and love this man as I do. Dennis and I are thrilled to be joining the Catamount family."
Brown will start her new job July 1.