Archived Arts & Entertainment
This must be the place: Ode to my grandfather, ode to soldiers past and present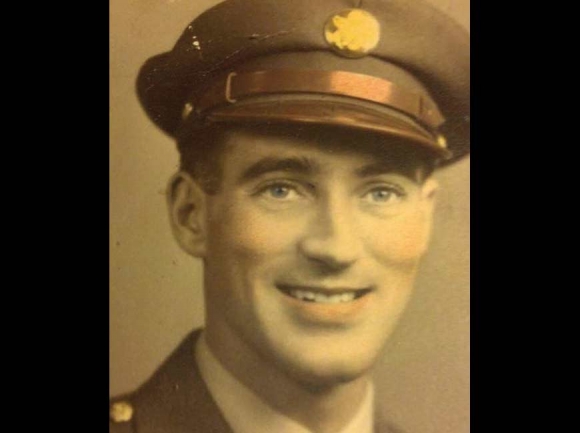 Frank Kavanaugh, 1941.
The first time I was aware that my grandfather, Frank Kavanaugh, served in the military was being nine years old in 1994 and watching him talk on the local North Country TV channel, Home Town Cable.
At the time, my late grandfather was 74 years old. He sat on the couch in his home in Rouses Point, New York, my late grandmother sitting quietly on her recliner behind the view of the camera. "Fred" was questioned by local personality Bob Venne about what it was like to be a 21-year-old Army soldier stationed at Pearl Harbor on the morning of Dec. 7, 1941.
Stated by President Franklin D. Roosevelt as "a date which will live in infamy," he declared war on Japan following the attacks on the U.S. military base in Hawaii, Dec. 7, 1941. The attack sparked America's involvement in World War II. And there was my mother's father, front and center at one of the biggest turning points in the history of mankind.
That interview was really one of the only times Fred ever talked about his time in WWII, which included stops all over the Pacific Theatre, most notably the Battle of Guadalcanal.
Like many of "The Greatest Generation" who fought in that war, most we're simply grateful to have survived it, walking away with a true sense of what not only freedom means, but also the crucial importance of taking a righteous stand against evil in the name of all that is good and just in this universe.
Watching that Home Town Cable segment set fire to my lifelong love and passion of interviewing veterans of all wars and conflicts. Even as a kid, way before I became a journalist, I would randomly start a conversation with any and all folks who adorned hats that would state they were veterans of WWII, Korean War or Vietnam.
I still provoke those conversations, which is something I picked up from father, who has never met a stranger, especially a veteran (my dad also served in the Army during Vietnam, with his father, Frank Woodward, serving in the European Theatre in WWII, most notably at the Battle of the Bulge).
It's important to sit and learn from those rapidly aging and disappearing veterans. They saw the worst sides of humanity, and yet have so much wisdom and humility to dispense, just so long as you take the time to engage with them.
In my 12 or so years as a professional journalist, the people and stories I look forward to the most are the ones where I get to sit down and immerse myself in the life and times of an American veteran.
Back in 2016, I did an interview for The Smoky Mountain News with WWII veteran and Canton native Paul Willis. He faced combat in the hedgerows of Normandy and was involved in skirmishes in Brittany, Luxembourg, the Hurtgen Forest, the Battle of the Bulge and the Rhine River.
And it was during the Battle of the Bulge where he received the Purple Heart for injuries sustained (he also was awarded the Bronze Star). Willis passed away in 2018 at age 97.
You can read our entire conversation by going to Google and searching "Veteran reflects on World War II, life and poetry." Below is a piece of that sit-down chat with my friend, who I miss very much…
GKW: How do you see the world these days?
PW: I have hope. These terrorists today are just something I don't get. You can't beat them when they just go and kill themselves. They claim acts of terror, where you didn't ever used to claim things like that. They want to. I think the mass of people in the world, in a way, are better today. Back in the Depression, nobody had anything, and maybe weren't able to help others. But, nowadays, people try and do help each other, a lot.
GKW: I always think the good of humanity will prevail.
PW: I think so, too. I think the good will win. In fact, I think there's more good than evil in the world today. Especially in civilized countries. So many people now are against Islam, but actually it's a religion that isn't like the way the terrorists portray it. I've read a lot about Islam. I've read the Koran. They are a very peaceful religion. For hundreds of years, Christians and Muslims got along. America is better today, in a lot of ways. Just like the Muslims have these extremists, we as Americans have these school shootings and violence. But, it doesn't define us as a people. The violence is a minority.
Thanks to all of you out there who served and continue to serve our country, for it you who keeps the flame of freedom and compassion burning bright, even in the darkest of times.
Editor's Note: If you would like to watch the entire hour-long Frank Kavanaugh interview about his time at Pearl Harbor and serving in World War II, go to YouTube and search: "Frank Kavanaugh & Pearl Harbor 12-1-94."
Hot picks
1 Featuring The Milk Carton Kids, Calexico, Yonder Mountain String Band, and more, the third annual Cold Mountain Music Festival will take place May 31 and June 1 at the Lake Logan Conference Center.
2 Country and bluegrass musical icon Marty Stuart & His Fabulous Superlatives will perform at 7:30 p.m. Saturday, June 1, at the Smoky Mountain Center for the Performing Arts in Franklin.
3 Thomas Rain Crowe will present the collected poems of Yvan Goll he edited, titled The Inner Trees, at 6:30 p.m. Friday, May 31, at City Lights Bookstore in Sylva.
4 The Groovin' on the Green summer concert series will host Andrew Scotchie & The River Rats (blues/rock) at 6:30 p.m. Friday, May 31, at The Village Green in Cashiers.
5 The Cherokee Gourd Artists Gathering will be held from 9 a.m. to 5 p.m. Friday, May 31, at the Cherokee Indian Fairgrounds.