Archived News
Low bid participation delays shooting range improvements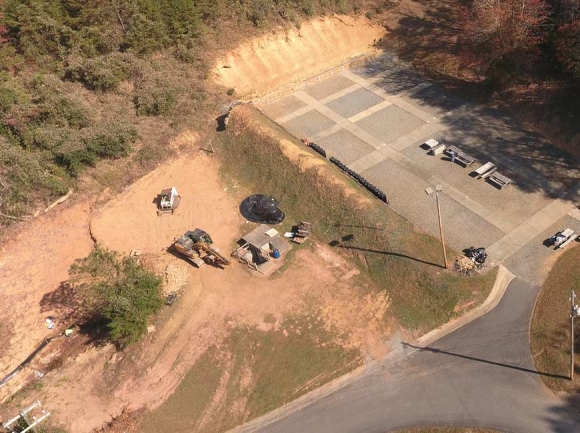 Southwestern Community College firing range.
Planned improvements to the Southwestern Community College firing range aimed at reducing noise pollution and lead buildup will have to wait after bids for the project came in nearly double the estimated cost.
"The size of the project is sometimes a concern and a challenge," SCC President Don Tomas told the Jackson County Commissioners during a May 14 work session. "We get it over $500,000, it's probably a different story, but that's not what we want to do. What we want to do is what we need to do to make sure we meet the goals of commissioners with the contamination and the noise."
The current year budget, approved in June 2018, had included $287,000 for the project, which would have resulted in backstop improvements aimed at reducing lead buildup and various changes to reduce noise — planting cypress trees, adding two firing lanes to reduce range times, an electric target system and a raised berm with a wall.
SCC put the project out to bid but didn't get any responses back, so they bid it again, this time receiving just one response — a flat $500,000. Because that offer was much more than the school had planned to spend, the project went through a third round of bidding, again with no response.
Contractors are busy right now, and a medium-sized project like this can be hard for them to get to, said Tomas.
"I'm not in favor of authorizing $500,000 right now," said Chairman Brian McMahan. "I think at best we ought to see if we could break it down to do just the backstop. That's something that's necessary no matter what happens."
Lead has been a known issue at the shooting range since 2014, when it was found that 60 tons of the toxic metal had accumulated in the clay backstop over the range's 30 years of operation. That revelation spurred multiple rounds of testing and mitigation that have at this point cost the county about $500,000. Replacing the backstop would prevent such a buildup from occurring again and make it easier to clean out the used bullets.
The sound issue, meanwhile, came to commissioners' attention in 2017 after they received complaints from residents living near the range. While commissioners were sympathetic to the complaints, they also pointed out most if not all of the residents who complained moved there after the range began operations and that the facility is essential to law enforcement regionwide.
More than 25 agencies use the range to train and certify their officers, said Curtis Dowdle, dean of public safety training for SCC.
Commissioner Ron Mau asked May 14 if building an indoor shooting range would fix the noise issue. Dowdle replied that while an indoor range would work fine for handguns, it wouldn't cut it for rifles and shotguns.
"I can't pay my instructors enough or their hearing to handle it, as well as their bodies," he said. "We can't do that to our recruits either."
In addition, he said, night rifle qualifications are now required.
"I wish we had better news, but we'll create some options and we'll come back," said Tomas.