Archived News
Primary election nears in Cherokee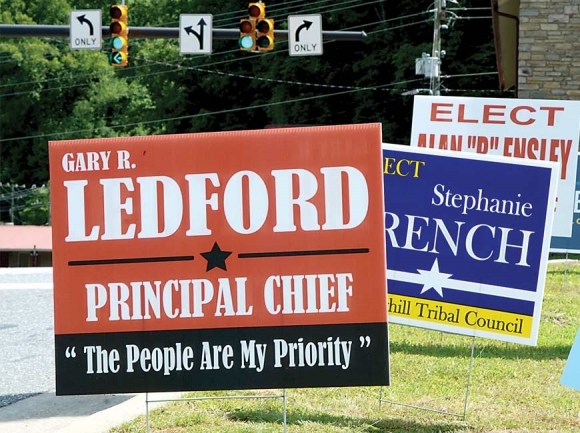 Clusters of campaign signs are a common sight along Qualla Boundary roadways. Holly Kays photo
Early voting is now over in Cherokee, with polls to open for the Primary Election on Thursday, June 6, in what has already been an eventful election season.
Voters will cast their ballots to narrow the field of candidates running for principal chief, vice chief, Tribal Council and school board, with the top two candidates for each seat progressing to the General Election, slated for Thursday, Sept. 5. After June 6, the number of candidates will drop from 54 to 34 — two candidates apiece for principal chief and vice chief, 24 candidates for 12 Tribal Council seats and six candidates for three school board seats.
An informal survey of potential voters at the Food Lion in Cherokee indicated that, while the election is certainly in the public eye, many people are reticent to share their thoughts on the matter publicly. Of about 15 enrolled members The Smoky Mountain News approached, the majority declined to be interviewed.
One man, wearing a tribe-issued polo, said that because he works for the tribe he has to "play it neutral." Another woman said she shouldn't say anything, as she tends to "run her mouth" when she gets going on politics, while a group of three tribal members, one of whom was wearing a T-shirt promoting a candidate for chief, said it was "too political" to comment on. A couple more people were in a hurry to pick up groceries and get going on their Memorial Day weekend and didn't want to stop to talk to a reporter, while a few more said they weren't registered to vote. Another woman said she couldn't be interviewed, as she speaks only Cherokee and little English.
However, four more people were happy to give their thoughts on the upcoming election.
"There's a lot of things that they promise they gonna do, but the administration that they're in, they don't never get anything done," said Willard Lossiah, 69, of Big Cove. "They don't never see any changes, and I'd like to see the changes if they say they're going to do something."
Lossiah said he definitely plans to vote but hasn't yet decided who he'll support. That choice will largely depend on which candidates come by to see him before the election — in Cherokee, personal visits to potential constituents are an important part of any campaign.
"I always wait until the voting day, and I don't ever vote until late in the evening," said Lossiah. "And if anybody hasn't talked to me I guess they don't get my vote, and if they lose maybe it might be that one vote that could have won it for them."
Cory Brady, 31, of Yellowhill, had a similar perspective. Like Lossiah, she hasn't decided who to vote for, and she hasn't had any visits from candidates.
"None of them's really come and talked to me yet," she said.
Birdtown voter Estefan Welch, 30, said he's definitely planning to vote, and that he'll be voting for change. He doesn't think the current Tribal Council spends the people's money wisely, and he wants new councilmembers. But when asked if there was any candidate in particular that he was excited to vote for, he didn't name any Tribal Council candidates. Rather, he said, he was looking forward to voting for James "Bud" Smith for vice chief and Teresa McCoy for principal chief.
A 60-year-old voter from Big Cove who declined to give his name also mentioned McCoy as a promising candidate, and he echoed Welch's concern about the current Tribal Council's spending habits.
"I'm glad Teresa (McCoy) gets to run because I think they're scared of her. That's why they were trying to keep her from running, the way I see it," he said. "The same way with (former Principal Chief Patrick) Lambert when he was running. I think he's trying to get stuff straightened our around here with the corruption. That's why they got rid of him."
For McCoy, the road to candidacy has been a difficult one, and a challenge to her placement on the ballot is still pending.
Of the 55 candidates who signed up to run for chief, vice chief, Tribal Council and School Board during election filing, only 52 were initially certified to run by the Eastern Band of Cherokee Indians Board of Elections. Mary Crowe and Teresa McCoy, who signed up to run for principal chief, were not certified initially, and neither was Sharon Bradley, who signed up to represent Big Y/Wolfetown on the school board.
Following appeal hearings, the election board certified Bradley but declined to certify McCoy and Crowe. McCoy appealed that decision to the Cherokee Supreme Court, which overturned the election board's decision and ordered it to certify McCoy.
The day after that certification transpired, tribal member Robert Osley Saunooke filed a protest to McCoy's certification for election. His protest used much of the same argument the election board had used in its initial denial of certification — namely, the charge that McCoy had "defrauded the tribe" when she accepted an honorarium and travel compensation from the University of Alabama in 1996 for a trip in which the tribal government had already paid for her time and travel expenses. Defrauding the tribe is one of the disqualifications for candidacy listed in tribal law and in the tribe's Charter and Governing Document.
On May 17 the Cherokee Supreme Court granted a petition from McCoy to prevent the election board from holding a separate hearing on Saunooke's protest, but Saunooke in turn protested that decision, on May 20 filing a motion to intervene as a party in the case and have the court dissolve its May 17 order. As of press time, the court had not yet entered its ruling on Saunooke's petition.
Go vote
Polls will be open 6 a.m. to 6 p.m. on Primary Election Day Thursday, June 6, with polling places available in each community.
The principal and vice chief offices, all 12 Tribal Council seats, and school board seats for Big Y, Painttown and Yellowhill are on the ballot. The top two vote-getters for each seat will proceed to the General Election Sept. 5. There will not be a Primary Election for Snowbird/Cherokee County Tribal Council or for the three school board seats, as no more candidates have signed up to run for those offices than will fit on the General Election ballot.
Voter registration is currently closed, but it will reopen on June 10. To register, tribal members 18 and older should bring their enrollment card, an identification photo, a physical address and a mailing address to the election board offices located in Suite 140 of the Ginger Lynn Welch Building between 7:45 a.m. and 4:30 p.m.
Election results are displayed at www.livestream.com/accounts/10717024 as they are tabulated. The Smoky Mountain News has complied a voters guide at www.smokymountainnews.com/news/item/26702. Candidates who wished to be added to it can email reporter Holly Kays at This email address is being protected from spambots. You need JavaScript enabled to view it..