Archived News
Former charter school director fired following sexual harassment complaint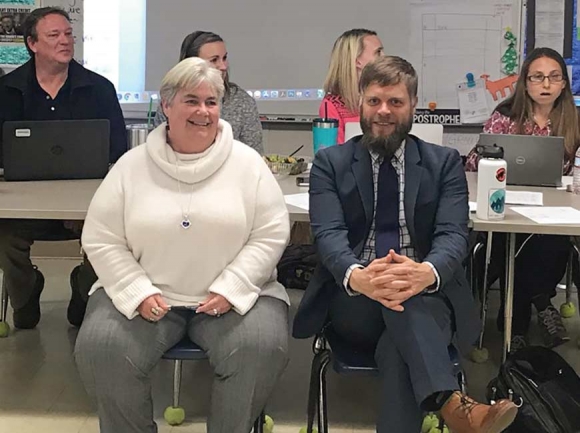 Nathan Duncan (right) is pictured along with Bonnie Brown during a Q&A session with Shining Rock Classical Academy parents during the search process for a new school director. Duncan was given the job in January 2018. File photo
Editor's note: This is the third in a series of stories on Haywood County's public charter school, Shining Rock Classical Academy. The following story includes offensive language and sexual content that may not be suitable for all readers.
Dana Pusser felt a heavy burden lifted off her shoulders last Friday after tendering her resignation and returning her professional belongings to Shining Rock Classical Academy.
When she accepted a teaching position at the public charter school at the beginning of 2018, she saw it as an opportunity to use her experience in public and private education to help a new school develop and grow, but on Friday she was quick to say she'd never return to teaching again — not after the sexual harassment and gender discrimination she says she endured at SRCA.
"I won't teach again. I guess there's a part of me that's glad I tried administration, but I know now it's not for me," she said. "I'm sad this was my experience — it's hard to think about that maybe I wasn't hired for the right reasons and to know I was devalued, disrespected and my boundaries were violated."
Pusser said the harassment she experienced was at the hands of former SRCA School Director Nathan Duncan, who was terminated in February 2019 following an internal investigation into the formal grievance Pusser filed against him. The grievance outlined numerous allegations against Duncan for inappropriate comments, lewd language and unwanted touching.
While Pusser thought the alleged harassment and discrimination was the worst part of it, she also suffered emotionally and physically from the stress she endured after she filed the grievance. Not only did she have to remain silent among her curious colleagues as the internal investigation played out, but she said she experienced retaliation from fellow administrators Josh Morgan, the current interim school director, and Tara Keilberg, the school's finance director who was also a founding board member of SRCA.
"She was nasty to me and told me I'd done the wrong thing," Pusser said of Keilberg's reaction to her grievance. "I think she didn't want the castle to crumble because she had conflated the success of Shining Rock with the success of Duncan. She was an ostrich putting her head in the sand."
Duncan is the second school director Shining Rock has had since opening its doors in 2015. After the first director Ben Butler left abruptly in the fall of 2017, the SRCA board wanted to be thorough in its search for the next leader by conducting public interviews and allowing parents to ask the final candidates questions.
Duncan's background seemed best suited for the job — he helped found the Academy at Trails Carolina in Hendersonville and had master's degrees in educational leadership and international relations. His enthusiasm and bold ideas convinced the board he was the perfect fit for SRCA's mission of providing experiential outdoor education along with a rigorous curriculum.
On the surface Duncan appeared to be everything the school needed, Pusser said, but the facade slowly started to deteriorate.
"He had everyone fooled," she said.
Because personnel issues are not a matter of public record, no one knew the reason why Butler left and no one knew what had led up to Duncan's termination. Not knowing anything going on behind the scenes, the SRCA board's decision to fire Duncan only a year later had many parents and teachers wondering what went wrong.
Now that Pusser is no longer employed with SRCA, she said it was time for her to come forward with what she says happened. According to her, Interim Director Josh Morgan told her it would be inappropriate for her to share the internal personnel issue with other employees or to go public. She did consider that stance — speaking out could create more discord within the struggling school community and distrust among SRCA parents. She thought about Duncan's family and the possible impact it could have on his children. But ultimately, she knew she wasn't responsible for the consequences of Duncan's actions.
"I told Anna (Eason — former SRCA board chairwoman) how grateful I was for how the board handled the situation," Pusser said. "It was hard to watch parents lambast the board — they handled it admirably, but I let her know that this was a part of my healing and finding peace of mind and finding integrity. The weight of this secret is not mine to hold. I'm speaking out in my personal capacity because I feel it's important to me."
Joining SRCA
Pusser's first experience with Shining Rock was as the stepmom of two students. Following the school director search she and her husband attended the Q&A session with Duncan before he started the position. During her initial conversation with him they discussed her own experience in education.
Pusser, 37, has an undergraduate degree in history with a minor in Spanish. She also has a master's degree in teaching from Converse College in South Carolina. Her work with Outward Bound, an outdoor education program, is what brought her to Western North Carolina. She also taught at a public elementary school in Greenville, South Carolina, as well as Claxton Elementary in Asheville. Before joining SRCA she was as a second-grade teacher at Carolina Day School in Asheville for four years.
"When I mentioned my background he said he wanted to talk, which led me basically to propose how I could contribute as part of the team because I have a passion and love for education and wanted to help make the school a better place," she said.
She didn't want to be a classroom teacher — she wanted to work in administration to help create a positive culture at SRCA that included restorative justice, responsive classrooms and other new approaches she had learned during her time at Carolina Day. While Duncan told her he didn't have an open administration position yet, he encouraged her to join as a teacher until he could create the ideal position for her. Pusser began teaching fourth grade at SRCA during the spring semester of 2018.
"The harassment started when I was a teacher. In April in my fourth-grade classroom he came in to talk to me. I had mentioned my 12-year-old stepdaughter wanted to go to West Point Military Academy and his response was that, 'She was going to have to ­­f___ a lot of people.' I just had a look of shock on my face and then he said he knew several people who went there and 'that's what females have to do to get ahead there.'"
She knew it was inappropriate and wrong but wasn't really sure what to do or who she should tell as a brand-new teacher. Maybe she was overreacting. Maybe it was all just a bad joke.
Shining Rock Classical Academy opened in 2015 and is Haywood County's first public charter school. File photo
Joining leadership
It didn't take long for Duncan to create an Associate Director of Culture position tailored for Pusser. She said he went through the normal process of posting the job and conducting interviews but said he told her the job was hers no matter who else applied. The announcement of her promotion to the new position was announced in May.
On May 21, 2018, Pusser said Duncan invited her to join him at his wife's family home at Lake Junaluska after school to discuss what her new job would entail and other school-related issues. Hindsight is 20/20 and looking back she wishes she would have just said no.
"I felt the pressure of following the direction of my boss as a new administrator. We drove separately, and I guess I assumed his wife or someone else would be there but it was just the two of us," she said.
She said he showed her around the house and then took her to the kitchen where he had stocked the fridge with hard ciders since he knew she was on a gluten-free diet. At that point, she knew she needed to leave because she felt uncomfortable but she didn't know how to leave without making it awkward.
"I drank one cider because I felt like that's what I was supposed to do. He drank much more quickly than me and we were discussing nothing pertaining to work," she said. "He made several sexually charged comments that made me uncomfortable. He suggested I would need to have lots of sex with my husband now, because I wouldn't have time soon with the job."
The topic of difficult parenting conversations came up and Pusser said Duncan made reference to her having to soon talk to her stepdaughter about how to shave her private parts.
"The comments made me incredibly uncomfortable and intimidated. I left as quickly as I felt comfortable enough to do so," she said.
Allegedly, over the next few months there continued to be inappropriate comments from Duncan about her stepdaughter — how she had "hit the gene pool lottery" and that she was going to have sex with a lot of boys and break a lot of hearts.
"In the months following he wanted to hire (my stepdaughter) as a babysitter and I kept saying no," Pusser said.
Aside from the inappropriate comments, Pusser said he treated her differently than the other administrator Josh Morgan, who was her equal counterpart. She said she was given menial tasks like stocking the coffee bar, picking out window dressings and organizing fire drills.
"The more I shut down his advances the more menial tasks he'd give me," she said. "He absolutely treated me patronizing — he didn't value my education and contributions."
Pusser said the situation didn't improve with time, claiming there were unsolicited comments about her body and her clothing even when students were around. It got to the point where she'd try to find excuses not to have to get up from her desk to give him a hug — she'd try to be busy when he came in the room or have her lap full of things or be on the phone. Pusser claims he'd start by saying "In a total nonsexual way ... " and then proceed to say something inappropriate.
"Then he started asking for side hugs behind closed doors. I never said yes and he'd do it anyway. He pulled me in to where my face was up against his beard and held me there until I broke the contact," she said. "I had a panic attack one morning at home getting dressed for work. I love to be creative with style — I like to express myself through my outfits — but trying to avoid the unwanted attention from him seemed impossible. I was trying to figure out what I could wear that felt like me but that wouldn't invite comments."
Speaking up
Making the decision to come forward with allegations against Duncan wasn't an easy one for Pusser, but she felt like she didn't have any other choice once she had exhausted all of her internal avenues. She had been telling Morgan about her allegations of sexual harassment for several months. While he allegedly encouraged her to speak up, Pusser said he actually had an obligation to tell someone according to the rules outlined in SRCA's handbook.
"I kept him updated in real time — he knew the full extent of everything that was happening and he had a responsibility as an employee to come forward if he was aware of inappropriate behavior," she said.
Then she went to Finance Director Tara Keilberg since she also acts in an human resources role for the school. She said she didn't tell her everything but told her about the comments about her stepdaughter and the incident at the house at Lake Junaluska.
"I do know I told her enough to signal alarm bells. I told her enough to have reasonable confidence that something would happen, but I didn't continue to share with her because I got a much icier reception from Tara, like it was an unwelcome complication," she said.
The only thing that came out of it, according to Pusser, was that Keilberg told her she had a "big sister talk" with Duncan and felt that it wouldn't happen again — but it did.
That's when she decided to file a formal grievance with the board of directors. She said she couldn't risk Duncan doing this to other teachers or students.
"It was really hard for me to speak the truth knowing the personal and professional impacts it would have, but I did it for all the other teachers and other students there," she said. "Thank God I have resources to take the risk of losing my job. What if this had happened to a young inexperienced teacher relying on her own salary or a shy individual — it haunted me there could be other victims of his behavior. If he would say that about my own kid I don't know where the limits are."
Pusser said she outlined all the incidents that she had been writing down since April into her formal grievance letter that she sent by certified mail to Eason on Feb. 3, 2019. On Feb. 6, she said Keilberg informed Morgan about the grievance and Pusser was told to only communicate with Morgan. Duncan was placed on leave. On Feb. 8, Eason called a special meeting of the board of directors to discuss the grievance in a closed session and that's when the investigation got underway.
Former SRCA Board Chairwoman Anna Eason welcomes Nathan Duncan to the team in January 2018. File photo
SRCA's lawyer David R. Hostetler, a Raleigh-based attorney who specializes in education law and represents a number of charter and independent schools across the state, began conducting interviews with Pusser, Duncan and other administrators. By Feb. 14, the grievance committee — made up of three board members — met to hear Hostetler's findings and recommendations. Pusser said the lawyer found her allegations to be credible and found Duncan's denial of the incidents to not be credible. Morgan also corroborated the allegations as did statements from Pusser's therapist.
The board acted swiftly — by 3 p.m. that day Pusser said the board was finalizing Duncan's terms of separation.
Though the board acted professionally and appropriately, Pusser said she was retaliated against during the investigation.
"Josh (Morgan) was very afraid he would get in trouble once the investigation was started with the attorney because he realized he'd known for months and I believe he didn't want to jeopardize his position," she said. "I underestimated how calculating he was — I naively thought we were friends. Once the investigation started he told me it was the right thing to do with the grievance but then said, 'this conversation didn't happen' because if he became head of school it would become obvious he had a conflict of interest."
On Feb. 7, Pusser said Keilberg sent her an email saying she was changing the process for reporting absences among administrators. Up until that point, Pusser said it wasn't uncommon for people in leadership positions to email the others saying they were going to stay home and work if they didn't feel well or had another personal reason. Now, Keilberg wanted her to have a more formal process, but the email was only sent to her and not Morgan or Duncan.
She said Keilberg also tried to make it appear that Pusser was only filing the grievance because she was unhappy with her evaluation from Duncan. During that time, Pusser said a policy was changed that would require administrators to hold a principal's license, which is something Pusser doesn't have and Morgan does. Even though she knew the change could leave her without a job in the future, she said she supported that decision because it was what was best for the school.
Morgan called a leadership meeting Feb. 11 after the grievance was filed in an attempt to delegate duties and make sure everyone was on the same page. Pusser said Keilberg was visibly upset and told Morgan she was so angry with her that she couldn't sit through the meeting.
"She said she was angry with me and asked to leave the meeting because she didn't know if she could speak to me. Her only concession, all she would say is 'I wouldn't trip you if you were walking down the stairs.'"
Meanwhile, rumors were swirling around school as to why Duncan had been absent, but Pusser had to remain quiet. Amid all the turmoil following the board decision and Duncan's departure, Pusser said she took a personal day on Friday, March 1, because of all the stress. That same night she had a medical episode while at home. Her husband, who is a doctor, described the episode like she was having a stroke with temporary paralysis and respiratory blockage. A doctor's appointment with another physician confirmed the episode was stress induced and advised her to take time off, which is when she went on FMLA (Family Medical Leave Act) leave from SRCA. She said she had no plans to return, especially after Morgan told her she wouldn't be returning to her original position. She said she was told she could return and only do classroom evaluations. Her stepchildren will also not be returning to SRCA.
"There were so many reasons to stay quiet, but in my time away it became clear to me that I had to move from victim to advocate. I had to speak the truth because silence protects the abusers," she said.
Public's right to know
Personnel records are not considered public record under North Carolina's Public Records statutes. However, other states like Georgia and Florida do allow public inspection of personnel records of public employees like teachers, police officers and municipal employees. While some argue that public employees should have some expectation of privacy in their positions, others argue that their salaries are being paid with taxpayer money and therefore their records should be accessible.
These issues can come into play when a law enforcement officer is accused of unnecessary force or when a county manager is being investigated for embezzlement. In the case with SRCA — a publicly funded charter school — many believe the community has a right to know why the school's top administrator was terminated.
While SRCA's board of directors can not speak specifically to Pusser's allegations or Duncan's termination, the board did respond to a request for a statement to include with this story.
"Shining Rock Classical Academy's mission is to inspire learning through community, environment, and values. In order for the school to achieve this ideal learning environment within Haywood County, the SRCA board's enduring focus and highest priority is to ensure the security and safety of all community members, including students, staff, and stakeholders. Integrity is a fundamental principle within the SRCA community. Moreover, it is our responsibility to protect all members of our school community; in addition, we must abide by confidentiality requirements, board policy, and the law. Consequently, the SRCA board, administration, and other employees are not at liberty to comment publicly on any grievances or personnel matters.
We remain grateful for the support of parents, students, and faculty and look forward to the future of SRCA."
The Smoky Mountain News attempted to reach out to Duncan to allow him to comment for this story, but the last known cell phone number for him has been disconnected and his whereabouts are unknown.
SRCA is in the process of hiring a new school director as well as a marketing director. According to the job opening listed on Indeed.com, the position would include creating a marketing and communications plan, promote and strengthen the school's brand, oversee fundraising efforts and work with the media. The position will pay $38,500 to $45,000.