Archived Outdoors
Believing Bigfoot: Locals log Sasquatch evidence in North Carolina's mountains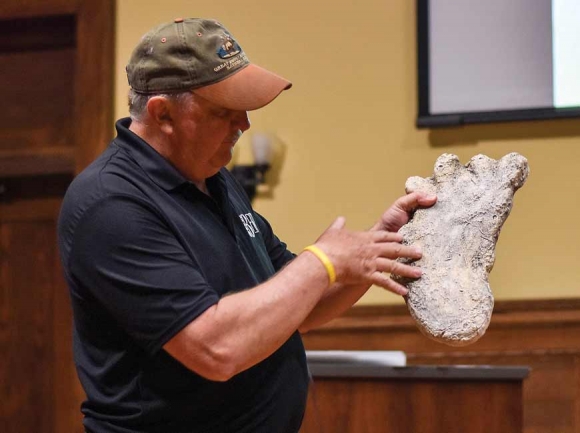 Holding a casting of a Bigfoot track, Carpenter discusses his understanding of the as-of-yet scientifically unacknowledged native primate known as Bigfoot. Holly Kays photo
Jeff Carpenter knows the woods.
A native of Otto who's spent most of his adult life the next county over in Sylva, he learned from his father Earvin Carpenter what it means to be an outdoorsman and a mountain man. He knows how to hunt and track and orienteer. He's seen more than a few bears, heard more than a few coyotes, spent more than a few nights camped out in the backcountry.
But over the last 15 years, he's become convinced that there's something out there that doesn't show up in standard field guides.
"When a myth turns into reality or mixed reality, it's a heck of a thing," Carpenter said to a packed room at the Jackson County Public Library May 13. "It's hard to describe that."
The myth in question — or the reality, depending on your persuasion — is the existence of Bigfoot.
Sasquatch.
The North American wood ape.
A native primate that walks on two legs, is taller than any man, and is hitherto unrecognized by the scientific community at large.
"I just know what I saw, what I've experienced, what I heard," said Carpenter. "I know they're a real thing. I know that sounds crazy but…"
Nearly 200 people crowded the library's community room that night to hear Carpenter tell the story of how he went from skeptic to believer, and to experience the audio recordings of purported Bigfoot howls, the plaster castings of purported Bigfoot tracks.
'It's a shock'
Carpenter's journey to belief began in 2004, when he found what he described as "strange tree twists" while out in the woods with his son Will. The trees went up to about 8-and-a-half feet, and then they ended, their tops twisted off.
"I'm walking around going, what the heck is going on? I can't find these tops," Carpenter recalled for the audience. "Will said, 'Dad, you're stupid. They're underneath the tree. They were stuck underneath the tree point first. Woah."
One year later, the two were out in the Nantahala National Forest around dusk, and in a mossy spot they found about four large tracks going down a seep — according to Carpenter, the tracks were large and much different than a bear's, as the toes were on the inside rather than on the outside.
In 2008, he heard two large howls at 2 a.m., sounds he said were unlike any other known creature out there in the woods or domesticated in people's yards. Throughout the next five years, he found more tree twists, more tracks, and eventually he stumbled on the website of Sasquatch researcher Matt Pruitt. Pruitt suggested that Carpenter get in touch with the Bigfoot Field Researchers Organization, a nationwide network of Bigfoot believers that seeks to collect and verify sightings of the creature.
Reticent to go hang out with "a bunch of crazy people," Carpenter initially declined the offer. A graduate of Western Carolina University and director of the Jackson County Parks and Recreation Department for more than two decades before retiring, he considered joining a Bigfoot research group to be a bit too much on the fringe.
But eventually he reconsidered. Since 2013, Carpenter has been an official investigator for the BFRO.
"It took him (Pruitt) three years of talking to get me to go to one, and I'll tell you I probably met the best people I've ever met in my life doing this stuff from all kinds of walks of life," Carpenter said.
The BFRO has logged 24,120 Bigfoot sightings and experiences since its founding in 1995, with incidents posted for every single U.S. state and Canadian province. Each report is farmed out to an official BFRO investigator like Carpenter, who interviews the people involved, visits the site and writes up a report. Only the reports delivered by credible witnesses whose stories line up are added to the website, which breaks the incidents down by state and county for easy searching.
One of those incidents was filed by Carpenter himself.
It happened under a waxing crescent moon on June 23, 2015, as Carpenter was taking a drive along U.S. 64 in Macon County as part of his BFRO research. As he rounded a slight turn, he saw a coyote on the right side of the road. He slowed down and took a look to his left, which is when he saw the creature standing just off the road, behind the guardrail.
"My sighting was brief but I did get a good look at it," Carpenter wrote in the report he filed online. "I could not believe what I saw! I went up the road and turned around as it caught me off guard I did not think to stop. I was trying to talk myself out of what I saw."
What he saw, Carpenter wrote in the report, was a reddish-brown upright figure that stood on two legs with "a most impressive width." The shoulders were "very large" and the head slightly forward, with no neck visible. It narrowed from waist to shoulders in a V "larger than any man" and had a main coat of red-brown with gray-white underneath.
Afterward, he drove around the area for about four hours, performing Bigfoot howl calls to no avail — though he did get responses from some coyotes and then from an owl. A wild boar was feeding on the side of the road about 100 yards from where he saw the creature. When he returned with a friend the next day to look for tracks, none were found.
"I cannot fully explain my feeling after the sighting," he wrote. "I really noticed I was feeling strange when I had gone to get a drink a few miles away in a store. I noticed I was sweating and feeling very odd. I think that I was slightly in a state of shock. I feel like this was due to me seeing something I had not seen ever before and something that was hard for me to process."
Carpenter calls that state of shock a "body reaction" and says its presence is an important part of knowing if a report is real or not. Of the Bigfoot reports he receives for BFRO, he estimates about 70 percent to be made up — and the lack of a body reaction is a giveaway that the report is not genuine.
"It would be like if you looked over there and there was Jesus standing in the door," he said. "It's not supposed to be there. You've been told it's not supposed to be there. It's a shock when you see one. It's actually a shock."
Still, Carpenter is sure of what he saw, and his certainty is bolstered by a separate report that occurred only six days later on June 29 and, as the crow flies, about 5.5 miles away.
After this Bigfoot experience in 2015, Carpenter sketches out what he saw. Donated photo
That report came from a pair of hikers backpacking on the Appalachian Trail in Macon County. Shortly after laying down for the night, the witness wrote, they heard a howl that lasted 10 to 15 seconds and "could not be mistaken for any other animal." Over the next two hours they heard "random whoops" as well.
"The next day while hiking we came across several very interesting signs along the trail," the witness wrote.
They found what looked like a game trail crossing the hiking trail, with footprints that "clearly were not made by bear or any other four-legged animal." The tracks were about 5 feet apart, and about 3 inches deep where the heel had sunk in.
After following the trail in both directions for about 150 yards, the hikers continued their journey and, about a mile later, found another trail that crossed the main trail, with footprints identical to those seen before. On that game path were three large white mushrooms placed upside down along the way.
"The witness is very knowledgeable in the outdoors," Carpenter wrote in his follow-up investigation for the BFRO. "He has a good knowledge of wildlife and was very to the point that what they heard was not coyotes or any known animal. He has many wild animals on his farm and has never heard this before."
Army of believers
Macon County has one of the highest number of Bigfoot sightings in North Carolina, as reported by the BFRO — five incidents are logged on the site. Montgomery County has far-and-away the most reports, with 13, followed by Onslow and Cleveland counties with six. In Western North Carolina, Macon has five reports, Swain has three and Haywood and Jackson both have one. No reports are published for Clay, Cherokee or Graham counties.
The BFRO is not the only organization out there dedicated to documenting the reality of Bigfoot.
The North American Wood Ape Conservancy is a 501c3 nonprofit with land in Oklahoma and a group of staff and supporters dedicated to proving the wood ape's existence beyond the shadow of a doubt. Their idea is to tag and track one to obtain a specimen, and according to Carpenter they were quite close to success — but then the tracker's battery died.
"There are very few examples of an animal being listed through photographs or even DNA evidence alone," reads the group's FAQ page on its website. "A specimen is required. As such, the North American Wood Ape Conservancy is actively proceeding with plans to obtain irrefutable definitive proof to secure recognition of the existence of this large undocumented primate species."
Stories of a giant, hairy creature have populated the mountains longer than anyone who lives here today. The Boojum, Hootin' Annie, Knooby and Stone Man are all prominent names in local folklore, and Native American tribes across the country have long-held stories about similar beings.
For a scientific perspective, Bigfoot believers often turn to Jeffrey Meldrum, Ph.D., a professor of anatomy and anthropology at Idaho State University in Pocatello. Meldrum's research focuses on sasquatch-related evidence, and his lab houses more than 300 footprint casts attributed to the mystery primate. Meldrum has published a Sasquatch field guide and is author of the book Sasquatch: Legend Meets Science. He is also editor-in-chief of the research journal The Relict Hominid Inquiry, which explores and evaluates "the possible existence and nature of relict hominid species around the world."
When Meldrum, Carpenter and people in their line of Bigfoot philosophy talk about Sasquatch, they're not talking about some sort of supernatural monster, a one-of-a-kind being that requires existence of the supernatural to maintain plausibility. Rather, they're talking about an animal — some sort of rare, native primate that's related to humans somewhere down the line.
Meldrum, who began his career studying the human evolution to bipedalism and thereby becoming an expert in footprints, shifted his focus to the Bigfoot question after being shown a set of footprints in the Blue Mountains of Washington in 1996. It was a long line of 35 to 45 "absolutely clear" prints in the mud that had to be either "the real McCoy" or "a very, very clever hoax."
"I was rather agnostic at that point of my life in attitude toward the subject matter, but this enlivened and animated it tremendously," he said. "Now I've got over 300 footprint casts in my laboratory and have studied them more than any other person on the planet. When people ask me what's the most convincing evidence, for me it's the footprint evidence."
There's a local following as well. The Marion-based group Bigfoot 911 discusses investigations and evidence on its closed Facebook group, and the Cashiers-based website www.skyshipsovercashiers.com tracks Bigfoot sightings in addition to UFO and alien encounters. On Sept. 14 Marion will host the second annual WNC Bigfoot Festival.
Jeff Carpenter presents a variety of purported Bigfoot footprint castings for audience members to inspect. Holly Kays photo
Driven by curiosity
When Carpenter opened the floor for comments at the end of his presentation, the room was quiet. But after a moment, the stories began to flow.
"We lived in a neighborhood. I lived in the 11th house in the block and we happened to look up and there was one coming at the end of the block across the road, and I know what I saw because there was a street light," said one woman, voice trembling, recounting a story from the 1970s when she was an 18-year-old living in Florida. "He went right under the streetlight and he stopped and looked toward us. He stopped and looked and then he ran."
Another audience member, a young woman from Cherokee, told a story that she'd kept silent for years, about waking up in the middle of the night and seeing a Bigfoot in the streetlight outside her bedroom window.
"I kept that to myself for years and I was talking to my sister and I just told her, I said, 'You know, I saw something when I was growing up," she said. "You heard stories. They called them the hairy man. And we got to talking about that so I told her what I had seen."
Despite the stories, scientists like Meldrum, who unequivocally believe in the creature's existence, are rare. Bigfoot does not appear in standard listings of native wildlife. No zoo holds a specimen, living or otherwise. No trail cameras have picked up images.
All that despite the fact that the creature, as described by believers, is something on the order of 7 feet tall with a home range of many square miles in a country of 330 million people.
Justin McVey, district biologist for the N.C. Wildlife Resources Commission, said that the agency doesn't have an official position on Bigfoot one way or another. While McVey routinely takes calls concerning deer, elk, bears and all manner of other wildlife, Sasquatch sightings aren't something that lights up his phone lines.
"I haven't had any reports of any sightings, and it's not something we deal with," he said.
Meldrum says there are rational explanations for the shortcomings of evidence that skeptics often bring up — America still has vast swaths of unsettled land, recent research has shown that primates are adept at locating and avoiding trail cameras, etc. But to hear those explanations, you have to begin at a place that assumes Bigfoot's existence is at least a possibility.
"As a scientist we're charged with asking questions and determining the answers to those questions," said Meldrum. "As soon as I witnessed those footprints, I felt obligated as a scientist to determine what it was that left those footprints."
That same curiosity drives Carpenter, though he has no desire to be the one who proves Bigfoot exists. In some ways, he hopes nobody ever does.
"Sometimes I think they need to be left alone," he said. "It would be kind of bad when you really think about it. You want to see it locked up in a cage somewhere? I don't know about that."
The good news is — whether through our imaginations or through the forests of North America — Bigfoot still roams free, far from the metal bars of any zoo.
Leave a comment
4

comments
From the personality energy essence, Seth to Jane Robert's husband, Robert Butts:

There are multitudinous species of viruses and so forth that man has not encountered and recognized, and there are connections between viruses and other species of living matter that remain unknown. There are indeed two different kinds of upward-walking mammals, much like your own species, but much larger, and with infinitely keener senses. They are indeed amazingly swift creatures, and through scent alone they are aware of the presence of man when any member of your species is at all in the immediate area — standing, say, at least several miles away. Vegetable matter is a main diet, though often supplemented by insects, which are considered a delicacy. They have, for that matter, devised many ingenious insect traps, so that hundreds or more can be caught, for many are needed since insects are so small. These traps are often constructed on trees, in the bark, in such a fashion that the tree gum itself is used to trap the insects. The traps appear to be part of the tree itself, so as to protect them. These creatures do indeed remember, but their remembering operates extremely rapidly — a kind of almost instantaneous deduction that comes as sense data is interpreted. That is, received and interpreted almost at once, or simultaneously. (Pause at 4:40.) Offspring do not occur until the individuals are well past the age that you would consider normal for breeding. Otherwise the procedure is the same. With some territorial variation, such creatures reside in many of the world areas on your planet, though their overall population is very small — altogether, perhaps, several thousand. They rarely congregate in large groups, but do have a family and tribal-like organization, with at the very most twelve adults in any given area. As offspring are added, the groups break up again, for they know well that in larger numbers they would be much more easy to discover. They all use tools of one kind or another, and live indeed in close concord with the animals. There is no competition between them and animals, for example, and they are not basically aggressive, though they could be extremely dangerous if they were cornered, or if their young were attacked. They grow quite sluggish in wintertime, in very cold climates, and their temperature drops, as is characteristic of hibernating animals, except that their temperature is more sensitive to daily variations, so that on some winter days they can forage for food very well, while on the other hand they may hibernate for even weeks on end. (4:46.) They have a keen understanding of nature, and of natural phenomena. Language is not developed to any great degree, for their sensual ordinary equipment is so pure and swift that it almost becomes a language of its own, and does not need any elaboration. Those senses possess their own variances, so that without any word such as "now" or "then," the creatures are able to know quite accurately how many living creatures are in the vicinity, how long they have been there (pause) — and their experience with time is one that follows the seasons in such a way that they have formed a wordless, fairly accurate picture of the world, including navigational direction. I am mentioning this material because of the program you saw today, and also because I knew of your interest.

Friday, 04/08/2022

My mom lives in Franklin NC off of Highlands Rd., a little past the area where the Bi-low was. She noticed an X in her backyard made out of two branches just after they had moved in a few years ago. One day my mom was planting in her backyard. She had gotten tired and left one of the potted plants overnight to be planted the next day. The next day it was gone and she noticed a marble at the bottom of her steps on top of the dirt. The marble was clean. Another time, my mom went to her mailbox and there was another marble on top of the dirt by her mailbox. She has also smelled a skunky type scent when her windows were open and another time it sounded like something knocked into or slapped the back of her house. I left the other comment about my nephew and I seeing bigfoot in a field on Wells Grove Rd in Franklin NC, but I submitted it too quickly and was not able to edit to add this information as well.

Thursday, 03/31/2022

Back in September of 2015 I was visiting my sister who lived in Franklin NC. I was driving on Wells Grove Rd to go to Walmart and my nephew, who was 11 years old at the time said "Auntie, I see a bigfoot walking in the field". I looked over and I saw something tall, large, and dark walking in the field but, not being a believer back then, I said "Yeah right!" It was early evening around dusk, so it was still light enough out to be able to see something walking in the field. It was where there is some type of field used in farming, but there was nothing growing there at that time, so there was full view of the body and you could see that something was walking upright, on two legs. It was just past the area near the cross road of Angel Cove Rd., but we saw it in the field on Wells Grove Rd.

Thursday, 03/31/2022

I have experienced the bigfoot in mountains around my home close to north carolina.

Tuesday, 09/14/2021