Archived Opinion
The magic of New York City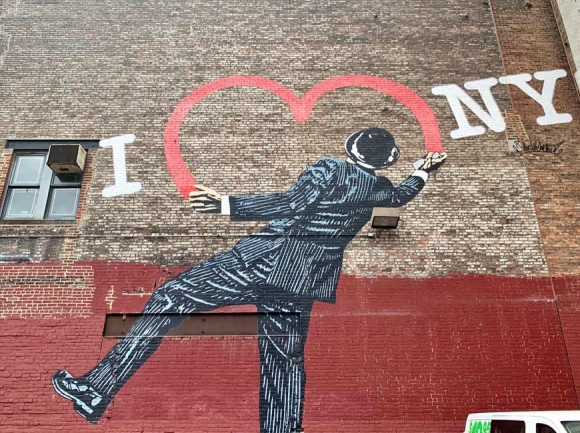 I was seven years old when my parents first took me to New York. We couldn't afford to stay in the city so we rented out part of a home in New Jersey and commuted to Manhattan. These were the days before Airbnb and VRBO, so I commend my parents for being resourceful enough to find a way for us to make the trip, despite a tight budget.
In the bank of my life memories, that first trip to New York City is magical.
Clear in my mind are ice skating at Rockefeller Center, watching the Rockettes Christmas Spectacular, seeing "Starlight Express" on Broadway, riding a horse-drawn carriage in Central Park and watching street performers as we waited in line for the Statue of Liberty.
I also remember dirty streets and slews of homeless New Yorkers lining the sidewalks with cardboard signs and mangy dogs. This was perhaps my first experience with true compassion. My heart hurt and I wanted to dump all my souvenir money into their tin cans. My dad let me offer some change, but he cautioned me about giving it all. Mayor Rudolph Giuliani and others cracked down on crime and homelessness over time, creating a safer and cleaner city.
About four years later, my mom and I visited again. I was 12 years old and asked to model ballet shoes for Capezio, a dance attire company with headquarters in New York. It was just my mom and me. I remember us buying theatre tickets on the street and shopping for knock-off Gucci purses from a vendor. With her having passed away, this is also a very special.
Throughout the years, I've visited New York other times with friends and family. A couple years ago, I wrote a press release for an indie film. The director invited me to attend the premier of the movie at a theatre in Times Square, so I stayed with my best friend from graduate school who at the time lived in Greenwich Village.
I didn't have solid plans to return to the Big Apple until recently. My boyfriend, Matthew, planned to attend a conference held at a hotel in Times Square. He invited me to join him and I couldn't refuse. Not only do I yearn to travel in general, but New York, in particular, has a hold on me.
We packed a lot of activity into an awesome three-day trip. We saw "Mean Girls" on Broadway, dined at the famous Gallagher's Steakhouse, picnicked in Washington Square Park, laughed like crazy at a late-night comedy club and spent an afternoon with my graduate school friend who now lives with her family in Brooklyn. We encountered many kind New Yorkers, which has always been my experience when visiting.
One afternoon we went running on the Hudson River. We stopped to snap some photos on the water when a man approached. He told us he'd lived in that neighborhood since 1978 and spent many of his mornings walking his dog on the very pier we were standing on.
He showed us the spot where Sully Sullenberger made an emergency landing in 2009. He also pointed out the Freedom Tower standing tall in the distance to signify the 9/11 Memorial. You could sense the emotion as he spoke of that day and how odd it was to see the Twin Towers on the skyline for so many decades and then for them to vanish in the blink of an eye.
One morning there they were. The next day they were gone. And New York would be forever changed.
My 10-year-old son desires one thing for his eleventh birthday in January, and that is to visit New York City. I'm not sure if his desire comes from me talking about it all these years or from his own research. He wants to be a commercial pilot, so he watches a lot of videos highlighting cities from around the world. Whatever the reason, it's the only thing on his birthday wish list.
It's funny how life comes full circle. When my boys visit New York this year, they will be the same ages my older sister and I were when we made our inaugural trip so long ago. A lot has changed since then, but the pulse and heart of the city remains. I can't wait to see the wonder in their eyes as they take everything in for the first time.
There is something enchanting about the city that never sleeps. I agree with Dorothy Parker when she said, "London is satisfied, Paris is resigned, but New York is always hopeful. Always it believes that something good is about to come off, and it must hurry to meet it."