Archived News
Cold Mountain Music Festival returns to Lake Logan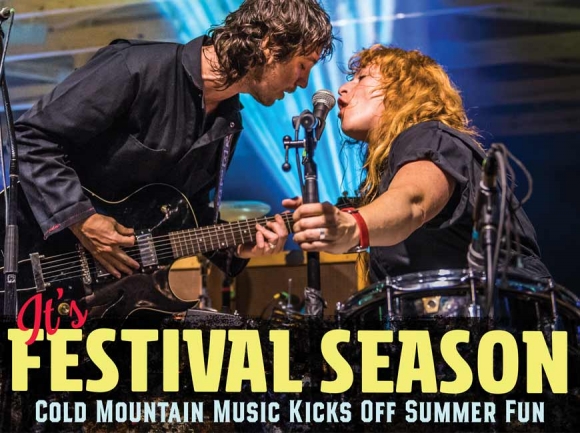 The third annual Cold Mountain Music Festival will take place May 31 and June 1 at the Lake Logan Conference Center. The festival will feature top-notch national and regional acts, with styles ranging from Americana to soul, folk to indie-rock, singer-songwriter to bluegrass.
Friday's schedule will be The Travelin' Kine (4 to 5 p.m.), Joe Lasher (5:30 to 6:30 p.m.), Ruby Velle & The Soulphonics (7 to 8:15 p.m.) and The Milk Carton Kids (8:45 to 10 p.m.).
SEE ALSO: Kenneth Pattengale of The Milk Carton Kids | Grizzly Goat to kick off CMMF

For those camping and staying in cabins, the Friday after-party (sponsored by Wicked Weed Brewing) with Ol' Dirty Bathtub will be held at Boojum's Cave around 10:15 p.m.
Saturday's schedule will be Logan Ledger (1:30 to 2:30 p.m.), Driftwood (2:45 to 4 p.m.), J.S. Ondara (4:15 to 5:15 p.m.), Kat Wright (5:30 to 6:45 p.m.), Yonder Mountain String Band (7:15 to 8:45 p.m.) and Calexico (9:15 to 10:30 p.m.).
Gates will open at 10 a.m. on both days. The event will raise funds and awareness for Lake Logan and Camp Henry.
The festival will also include food trucks, craft beer vendors, a kid's area, and more all in one of the most pristine settings imaginable. The centerpiece of the 300-acre property is a mile-long lake surrounded by the Shining Rock Wilderness Area of Pisgah National Forest.
There are also lodging options, including cabins and camping onsite. For more information and/or to purchase tickets, visit www.coldmountainmusic.org.
Yonder Mountain String Band
Formed in Colorado in 1998, Yonder Mountain String Band overtook the Rocky Mountains and the festival circuit with its own unique tone, one seamlessly blending bluegrass, string music and Americana.
They hit the road, and hit it hard, a place they've called home for the better part of two decades. For them, it's about the live experience, where you connect into a feeling of something bigger than yourself, that idea of community and camaraderie — trademarks of the string music circles, and also the Grateful Dead, which the band points to as another paint stroke of influence on their improvisational capabilities.
Calexico
Calexico is a beloved rock band from Tucson, Arizona. For the better part of two decades, nine studio albums, and countless trips around the globe, Joey Burns and John Convertino have embraced a multitude of diverse styles and well-cultivated signature sounds.
Kat Wright
Based out of Burlington, Vermont, Kat Wright, whose voice is both sultry and dynamic, delicate yet powerful, gritty but highly emotive and nuanced, has been described as "a young Bonnie Raitt meets Amy Winehouse."
Add to that voice enough stage presence to tame lions, and the combination of feline femininity proves immediately enchanting. There's soul flowing in and out of her rock-n-roll with a serpentine seduction.
Some of soul music's sweet, grand dames belt, shout, seethe, and succumb, while Wright sings gently like a heartache's apology. It's funky in spots and beautiful all over. And it hurts a little — like it should.
J.S. Ondara
Ondara offers a unique take on the American dream on "Tales of America," his debut album. Growing up in Nairobi, Kenya, Ondara listened to American alt-rock and making up his own songs for as long as he can remember.
After discovering the music of Bob Dylan, he moved to Minneapolis, Minnesota, in 2013 to pursue a career in music. There he began making his way in the local music scene, continually writing songs about what he saw, felt and experienced in a place far different from home.
Driftwood
Formed in 2005, Driftwood is an Americana/folk-rock band from Binghamton, New York. The group consists of Dan Forsyth (guitar, vocals), Joe Kollar (banjo, guitar, percussion), Claire Byrne (violin, vocals), and Joey Arcuri (upright bass, vocals). Their music has been described variously as "fusing traditional Americana and with contemporary influences and timeless subject matter."
Ruby Velle & The Soulphonics
Deep, raw funk. Stax Records style Southern soul. Uplifting Motown-channeling anthems. Hailing from Atlanta, Georgia, Ruby Velle and the Soulphonics are the heirs to the thrones of the old-school masters.
But, they're much more than just a group of revivalists trying to create a period piece. Powerhouse singer Velle and her band will settle for nothing less than bringing these classic sounds glimmering into the now with a fresh new modern sheen.
The Travelin' Kine
From Charleston, South Carolina, The Travelin' Kine are 2014-2017 City Paper "Americana Artist of the Year" winners. This hardworking local outfit has logged serious miles honing their sound: a mix of potent songwriting and fiery country chops, doused with a few shots of whiskey.
With the help of a seasoned crew of local talent, singer Slaton Glover delivers a musical message of hellfire and heartbreak, leaving it all on the stage at every performance. Releasing their first album in early 2016, The Travelin' Kine's first single "Change in the Wind" was voted 2015 CPMA "Song of the Year."
Logan Ledger
Native Californian Logan Ledger came to music fairly early; he began singing as a young child and started playing old-time and bluegrass music on guitar at age 12.
Enamored of early roots music recordings of Appalachian ballads and string bands from the 1930s, he soon discovered the music of Hank Williams and George Jones — he describes it as "a bomb going off in my mind" — and devoted himself wholeheartedly to learning all he could about country music.
Joe Lasher
Lasher is a young country phenom whose dynamic performances have been captivating his home state of North Carolina for years. With influences like Tim McGraw, Eric Church, Florida Georgia Line, and fellow Ashevillian Luke Combs, his infectious positive attitude makes him a natural both onstage and off.
Ol' Dirty Bathtub
It may not be your grandpappy's bluegrass, but he'll dig it, too. Based out of Sylva, this five-piece string band plays an original mix of Americana, folk, and bluegrass. The band's debut album, "Pack Mule," was released last year on Beehive Records.
Getting festive
The festival season in Western North Carolina is now underway. Below are additional events:
• May 31-June 1: Cold Mountain Music Festival, Lake Logan
• May 31-June 1: Ole Smokey Spring Farm Fest, Clyde
• June 6-8: Cherokee Bluegrass Festival
• June 6-9: Highlands Motoring Festival
• June 8: Cherokee Voices Festival
• June 13-16: Taste of Scotland & Celtic Festival, Franklin
• June 15: Front Street Arts & Crafts Show, Dillsboro
• June 28: Mountain Street Dance, Waynesville
• June 29-30: Village Square Arts & Crafts Show, Highlands
• July 12: Mountain Street Dance, Waynesville
• July 13: Blueberry Festival, Cherokee
• July 18-28: Folkmoot International Dance & Music Festival, Waynesville
• July 20: Appalachian Heritage Festival, Franklin
• July 26: Mountain Street Dance, Waynesville
• July 26-27: Hillbilly Jam, Maggie Valley
• July 26-28: Macon County Gemboree, Franklin
• Aug. 2-3: Lake Logan Multisport Festival
• Aug. 9: Mountain Street Dance, Waynesville
• Aug. 9-10: Mountain High BBQ Festival, Franklin
• Aug. 17: Franklin Folk Festival
• Aug. 24: Qualla Arts & Crafts Open Air Indian Market, Cherokee
• Aug. 24-25: Village Square Arts & Crafts Show, Highlands
• Aug. 30-31: Smoky Mountain Folk Festival, Lake Junaluska
• Aug. 31-Sept. 1: Cashiers Rotary Arts & Crafts Festival
• Sept. 1-2: Canton Labor Day Festival
• Sept. 21: Green Energy Park Youth Art Fest, Dillsboro
• Sept. 27: Mountain Street Dance, Waynesville
• Sept. 27-29: Guest Appreciation Festival, Nantahala Outdoor Center
• Sept. 28: Mountain Heritage Day, Cullowhee
• Oct. 5: Colorfest, Dillsboro
• Oct. 5-6: John C. Campbell Folk School Fall Festival, Brasstown
• Oct. 8-12: Cherokee Indian Fair
• Oct. 10-12: Autumn Leaves Craft Show, Franklin
• Oct. 11-13: Cashiers Leaf Festival
• Oct. 12: Church Street Art & Craft Show, Waynesville
• Oct. 18-19: Fall Harvest Festival, Stecoah
• Oct. 18-20: Leaf Lookers Gemboree, Franklin
• Oct. 19: Apple Harvest Festival, Waynesville
• Oct. 26: PumpkinFest, Franklin
• Nov. 2: WNC Pottery Festival, Dillsboro
• Nov. 7-10: Highlands Food & Wine Festival
• Nov. 29-30: Hard Candy Christmas Art & Craft Show, Cullowhee
• Dec. 6: Waynesville Christmas Tree Lighting
• Dec. 6-7/13-14: Lights & Luminaries, Dillsboro
• Dec. 6-8: Balsam Range Art of Music Festival