Archived News
Shining Rock defends interim head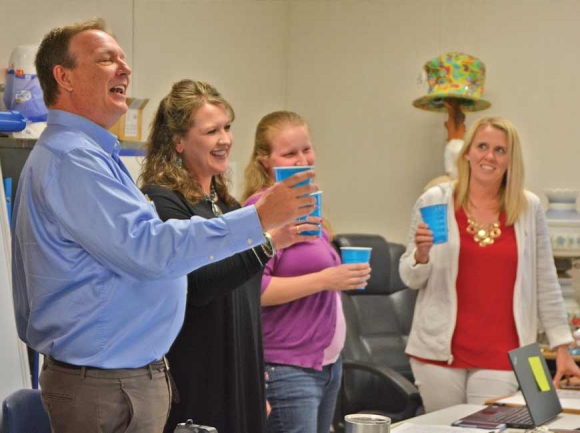 Shining Rock board members Mike Mehaffey (from left), Michelle Haynes and Melanie Norman toast to outgoing Board Chair Anna Eason (far right). Cory Vaillancourt photo
Editor's note: This is the second in a series of stories on Haywood County's public charter school, Shining Rock Classical Academy, which has been beset by academic and organizational problems since opening in 2015.
He may be a "stern but respectful" disciplinarian, but he's never been known to intimidate or bully students, he's great with kids of all ages and he's brought stability to Shining Rock Classical Academy.
That's what a room full Joshua Morgan's supporters told Shining Rock's board of directors about the interim head of school during a meeting on May 15, less than a week after three parents painted a very different picture of Morgan in complaints to Shining Rock's board.
The three women — Laura Arrington, Kelley Messer and Melissa Taylor — filed formal grievances May 9, alleging a litany of improper disciplinary behavior by Morgan toward students. Messer also initiated an investigation by the Waynesville Police Department.
The grievances filed against Morgan were turned over to the school's attorney, David R. Hostetler, a Raleigh-based attorney who specializes in education law and represents a number of charter and independent schools across the state.
When reached by phone May 17, Hostetler said that he's conducting an investigation in accordance with the school's grievance policy, and would issue a report by June 7. That report will assess whether or not the grievances are reliable, and could include conclusions and recommendations for Shining Rock's board.
Those complaints seem to have derailed Shining Rock's hiring process for the new head of school, at least for now. Morgan has served as interim head since February when the board terminated then-Head of School Nathan Duncan. Morgan has since emerged as a leading candidate for the permanent position, out of a group of four.
A hire was widely expected May 15, and many expected it to be Morgan. On May 8, then-Board Chair Anna Eason said, "We would hope to have a decision made at the [May 15] meeting, but if we need more then we will take time to get more because again, we want to get this right."
Shining Rock's board of directors took no action during that meeting, which saw Shining Rock teacher Jon Schleifer, who's known Morgan for a decade, tell the board Morgan was "professional and caring."
Alyson Wiemar, a parent of two at the school, said her kids weren't afraid of Morgan and hadn't seen any of the behaviors alleged in the grievances — nor had another parent, Erin Norman.
Shining Rock teacher Sara Jenkins, along with almost a dozen others, stood up and took turns reading from a bulleted list of reasons why Morgan would be the best choice for SRCA. The list lauded Morgan for holding a "bro lunch" with middle school boys, wearing clown wigs to get kids excited at pep rallies, and inspiring teachers and students to be "better versions of themselves," among other things.
Despite the praise, the board's lack of action means the search for a new head of school will continue; since the personnel discussions occurred in a closed session, it's not known if the grievances against Morgan factored into the board's considerations.
The previous week, Eason wouldn't answer questions regarding how those allegations — as well as Messer's revelation that she had initiated an investigation by the Waynesville Police Department — would affect the hiring process.
Eason, however, is no longer Shining Rock's chair — during the May 15 meeting, board member Michelle Haynes was selected by the board as the new chair. Unlike traditional public school systems that have to hold elections for their governing board members, public charter schools in North Carolina aren't required to hold elections — board members are simply appointed by the rest of the board.
Haynes refused to answer any questions after the May 15 meeting and insisted questions be sent by email. She responded to emailed questions May 19 regarding the hiring process going forward (See CHAIR left).
Haynes said Shining Rock will "allow the grievance process to be completed prior to making any decision," meaning that if Shining Rock's attorney is correct in his estimation of when those grievances will be resolved, no hire will be made before June 7.
Whoever ultimately gets the job will have some major work ahead of them. Since opening in 2015, Shining Rock has had trouble following N.C. sunshine laws governing transparency, and has also seen school performance scores drop from above the county's average in 2015-16 to below the county's average in 2016-17 to below the state average in 2017-18.
Shining Rock seeks board members
If you're looking to become involved with public charter school education, Shining Rock Classical Academy is looking for you.
"We are interested in growing our board," said Michelle Haynes, newly elected chair of the board of directors. "There are also opportunities to serve on a committee (Finance, Facilities, Development, Academics) or be involved with NEST, our parent-teacher organization."
Board members attend one monthly meeting, as well as relevant committee meetings. Time commitments vary, but applicants interested in serving should check out the board handbook, bit.ly/SRCAboard, and then email This email address is being protected from spambots. You need JavaScript enabled to view it.. Board terms are three years, and may be renewed once.